Cowboy Jerky At The State Fair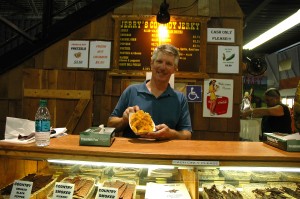 I'm a fiend for beef jerky, a beef jerky connoisseur if you will. Every year I attend the California State Fair and one of my regular stops is Jerry's Cowboy Jerky Stand. Some of the best beef jerky I've chewed on is Jerry's Cowboy Jerky. Jerry's has been at the California State Fair for 25 years, according to Andrew Osbourne, who now runs the show at the jerky stand.
The cowboy jerky compound is located on 24th and Fruitridge Road in South Sacramento. It's a local family-owned business. It all started when Andrew's father-in-law, Jerry "Crawdaddy" Malone, retired from the Los Angeles Police Department and became a commercial pitchman. One day, Jerry saw a beef jerky booth and thought to himself: "You know what? That's the way to go."
It was as simple as that.
So, that's what he did, as Andrew told it. Cowboy Jerry Malone passed away back in 2012, but his jerky booth lives on.
They only employ friends and family at Jerry's jerky stand. "We try to take care of the people who take care of us. They volunteer and come to the fair for free and we make sure they don't go hungry." Andrew quipped, "They work for jerky."
I was thinking of filling out an application.
As I tore into the flat hickory stick, Andrew helped customers and told me about his beef jerky empire. My head was sweating from the spices while I doused my tastebuds with ice cold water after a few bites.
The jalapeno shooters are their spiciest jerky. They used to sell something called the 911 Jerky. It was so hot that his father-in-law was afraid of a lawsuit. Andrew remembers one time this girl was "probably 100 pounds, soaking wet and she ordered the 911 jerky, ate it, and never batted an eye. Then there was the guy who looked like he could probably bench press a house try the 911 jerky and he turned to tears," Andrew said.
They have a large variety of protein-packed jerky to choose from at Jerry's. From sweet to spicy. The Cowboy slab to the steak jerky. The teriyaki jerky is the most popular. They sell about 1,200 pounds of jerky each year at the State Fair.
They also sell churros, caramel corn, pretzels, and giant dill pickles. One woman was looking at the big jar of pickles in water and said: "That's the biggest pickle I've ever seen." Andrew called them the Double Dills.
Then he asked me, "Do you like nachos?" I joked, "Only the gluten free nachos." He called them "Dirty" nachos…I was intrigued.
He brought back a huge pile of nacho chips, smothered with cheese, and shredded beef jerky. Dee, who's worked with Andrew for 10 years, came up with the idea for "Dee's Dirty Nachos" – catchy name, tasty snack. I really could not stop eating them. I was taking notes with my nacho-tainted fingers. I was making a pig of myself. I'm glad my wife wasn't around to see it.
Beef jerky is pure Americana. It's not just for cowboys. Since 1996, jerky has been selected by astronauts as space food several times for space flight due to its light weight and high level of nutrition. I guess the beef jerky pairs well with Tang.
I personally like it for fishin' trips and road trips. It's a handy snack.
Jerky is also commonly included in military field rations. It is particularly attractive to militaries because of its light weight, high level of nutrition, and long shelf life.
Every year they have servicemen that come to the jerky stand and stock up on the Cowboy jerky as they're getting ready to go overseas. They better have lots of water in the canteen!
One year they had some leftover jerky. Two of Andrew's nephews were stationed over in Iraq and he sent them each two or three pounds of jerky. "They were the heroes of their unit, everybody loved it," Andrew said.
You can find Jerry's Cowboy Jerky stand in Buildings A and C. Don't forget the toothpicks!
---
Curtis Park Caramels Enter The Cookies and Confections Competition
Curtis Park resident Brenda Alexander Mitchell started entering the State Fair contests in 2008 because she wanted a blue ribbon.
Her first entry was a craft competition – a toe-sock chicken. It made honorable mention in Arts And Crafts. That just wet her appetite for more State Fair contesting. She was hooked. "I just love the Fair," she said.
This year Brenda, who's nickname is "Bee," is making Earl Grey Caramels for the California Kitchen's Cookies and Confections competition. She had tasted some chocolate infused with Earl Grey tea and that's where the idea for the Earl Grey Caramels came from.
She's dipping the bottom of the caramels in chocolate and sprinkling some salt on top. Instead of See's Candies, it's Bee's Candy!
She'll have some stiff competition at the California Kitchen Cookies and Confections contest. They don't want just a hunk of brown caramel. "It's gotta look pretty." The judges are looking at taste, texture, consistency and appearance. None of the judges are Oompa Loompas, but one is a culinary teacher at American River College.
This is the first time Brenda has made candy for a State Fair competition. The last time she entered a competition for the Fair it was in cookies. She made Mexican chocolate chip cookies. In 2012, she won her division and won best in show. It was fun because she got a really big ribbon.
She took a year off from competing in the State Fair contests in 2013 because she says, "I was busy dieting." She actually lost 70 pounds last year. Hopefully she won't gain anything back from all the caramel and chocolate taste testing. "There's lots of sampling, you gotta get it right," Brenda told me.
She gave me a sample of the caramel, dipped in chocolate with a sprinkle of salt on top. It gave it a little crunch. I could also taste a small hint of the Earl Gray tea. She was still perfecting it while I spoke to her in the decadent smelling kitchen. She was perfecting the caramels all day and into the night.
She updates her progress on her Facebook page and posts photos of the caramels. One of her Facebook friends commented: "I would love to try them!!!! Can I just subscribe to your dessert of the month club???? YUMMMMMMM!"
I'm sure Brenda hopes the judges are as wildly enthusiastic about the caramels as her Facebook pals.
Brenda said one of the reasons she loves caramel so much is she used to wear braces and could never have the chewy candy.
Tempering is the key to good chocolate. If you properly temper your chocolate, it realigns the crystals in the chocolate to give it a shiny look and also gives it that snap like when you bite into a Hershey's chocolate candy bar. It also keeps it from melting in your hand.
Brenda added, "and you need a good thermometer."
She used an oiled sterling silver knife to cut the caramels into squares. "You don't want to just squish the candy," Brenda said.
She also added the best ingredients. The Earl Grey tea was from Teavana in the Arden Fair Mall and the caramel ingredients were from Corti Bros.
Brenda just does it for fun and every year she's won something. "I can't imagine that my luck might hold out but I'm hoping that I can get some attention with this". I'm rooting for Bee's candy to win Best In Show.
Iron Steaks on 13th and Broadway is now being called "Iron Grill" or simply "Iron." Even their website address has changed www.Irongrillsacramento.com.
The owner of Iron Grill, Bill Taylor, told Land Park News his reasoning, "With beef prices moving up almost 30 percent, we are looking at what we can do with other food. We still do steaks and do them well, but we want to provide people with options and our chef is passionate and loves being creative. People want value and it's not enough to be static. Keeping the menu simple allows us to be flexible."
Executive Chef Keith Swiryn and the chefs at Iron not only grill some of the best steaks in town, they also offer jambalaya, fried chicken, and pasta primavera. Numerous new entres to choose from. Iron Grill…they're more than just steaks.
If you have an item for Over the Fence, email greg@valcomnews.com.