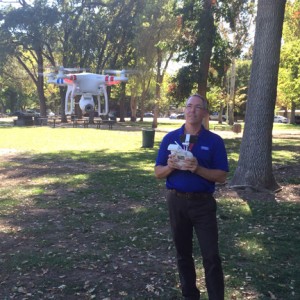 Some drone videos showcase remote Alaskan ice caves, cascading waterfalls in Costa Rica, even earthquake damage in Napa. Sacramento resident Tim Pantle showcases the beauty of the Sacramento area with his aerial photos and drone videos on his blog "Love Where You Live".
I hung out with Tim while he was getting aerial views of the Urban Cow Half Marathon that was held in William Land Park recently. He also filmed some nice shots of the golf course, Fairytale Town and the Sacramento Zoo.
We spoke about the good, the bad, and the ugly of quadcopters. Drone videos have been somewhat controversial but Tim is the "Mister Rogers of drone video operators." He does nothing nefarious — just good, wholesome, fun videos of the Sacramento area.
What spurred Tim's quadcopter hobby is he wanted to start a blog of some kind. One day, he saw a picturesque drone video of the old Fair Oaks Bridge and he was hooked. "I've always been that tech-geek and used to be really into photography," Tim said. He loves the challenge of "getting the good shot."
He was getting plenty of good shots of the Urban Cow Half Marathon and William Land Park the day we got together.
At the start of the half marathon, the announcer told runners to "wave to teh drone," as Tim's Phantom 2 Vision Quadcopter was filming over head.
When Tim was filming on the fifth hole at Land Park Golf Course, a golfer took a practice swing from the fairway then turned around to smile and wave. The drone makes a loud buzzing, swarm-of-bees sound, so I was surprised the golfer let the quadcopter bother him. Most golfers demand complete silence before hitting a fairway wood on a par 4 hole.
The Phantom 2 Vision reminds me of the Starship Enterprise from the old Star Trek series. It has a similar look. If you can operate a joystick, you can certainly operate a quadcopter. Tim syncs it up with GPS. It's the ultimate in tech gadgetry for a photographer. If the battery goes dead, or it loses connection with his remote it'll fly back to where it started and land. It has a brain! The controller has a WiFi extender that allows the drone to send a signal to his phone so he can see what the camera sees.
The Phantom 2 Vison has quite a few different names, including an aerial drone, quadcopter, UAV or Unmanned Aerial Vehicle. The term drone came about because the vehicles sounded like worker bees known as "drones."
Tim's a real estate agent with Coldwell Banker and he thought the quadcopter or drone would be a great aspect of selling real estate. "Unfortunately I can't use it for real estate because of FAA rules of no commercial, at the time that I bought it that rule wasn't in place."
There are a few rules when it comes to the Unmanned Aerial Vehicle. The laws are still trying to catch up with the technology.
You cannot use it for commercial purposes. You can't go above 400 feet. It's also a big "no no" in national parks. Yosemite National Park has banned drones after they became a nuisance to vistors of the park. Another rule is you can't fly within three miles of an airport.
Whereas Tim uses his drone for good, clean, wholesome fun, other drone operators aren't as level headed and responsible as Tim.
There have been many publicized incidents of aerial drones causing problems. One drone operator flew over a nude beach in Hawaii that created an online stir.
Technically, there's nothing illegal about being a "creepy pest" because it was a public beach. When the operator was confronted by one of the sunbathers he accused him of breaking the law by being nude in public, which is technically illegal in Hawaii.
Got that? Being nude illegal, filming people nude, legal.
One man actually shot down a New Jersey man's drone after it hovered near his home. He blew it out of the sky with his shotgun. Kaboom! The guy who shot down the drone was arrested and charged with Possession of a Weapon for an Unlawful Purpose and Criminal Mischief. Oops.
Then there is the case of a 17-year-old teen who was innocently filming the shoreline of a beach in Florida. A woman became enraged and assaulted him because she thought he was filming bikini-baring beach goers. The video of the confrontation is quite disturbing. The woman called the police; but, after they viewed the I-Phone video from the teen's camera, she was arrested for assault.
Tim told me he thinks "some of the news coverage is overblown."
I spoke with Rob Watkins at RC Country Hobby on Folsom Boulevard and he said, "I'm more concerned in the type of person and how they're flying them than the quadcopters themselves."
Rob mentioned an incident where a guy was flying his drone over the Sand Fire in the Sierra Nevada foothills. It caused the grounding firefighting aircraft.
"We sell a lot of them here and they're fun to fly. It just concerns me what people are doing with them," Rob said.
What Tim is doing with his drone videos is making people feel good. The feedback Tim gets is all positive. His most popular drone video is the Del Campo High School campus. He's actually from the graduating class of '86. His quadcopter gives an aerial documentation of the campus as it slowly glides over the mighty oak tree that is at the center of the campus. The aerial video ends on the newly build Cougar football stadium. He also has an ethereal soundtrack that plays during the video. It elicited quite a few emotional responses on a Del Campo High School reunion page. Gregory Hansel, a class of 1984 alumni said, "Am I the only one who got a bit emotional seeing that? School hasn't changed much. A lot of memories."
Tim also has an enchanting drone video of the Sacramento River at the Tower Bridge. The quadcopter glides right over the golden bridge to reveal an aerial shot not many people have seen — the tip top of the Tower Bridge. It's accompanied by some Joe Satriani-style guitar riffs. He also filmed a video of the American River near the Fair Oaks bluffs and bridge, another picturesque drone video of the area Tim calls home.
If you search You Tube, there are numerous beautiful, edgy, and just plain magical videos of nature's beauty. These drone videos, by far, outnumber the irresponsible and innocuous ones that tend to get headlines. Waterfalls, cliff diving, and amazing Alaskan glacier views are just some of the subjects drone videos have beautifully captured.
Drone videos are also publicizing social justice like the Occupy Central protests in Hong Kong. There is an aerial drone video of hundreds of thousands of people in the street peacefully protesting.
There's also aerial drone videos by The Swandiri Institute, an organization focusing its research on the political-ecology and social-ecological analysis of environmental change happening in Indonesia.
Drones are even helping to save the whales. The Ocean Alliance is a group that uses aerial drones to collect a broad spectrum of data from the whales without disturbing them. From the data, they advise scientists and policy makers on pollution and how to prevent the collapse of marine mammals and other sea life.
See? Aerial Drones are being used for good.
Which brings me back to Sacramento's drone video photographer, Tim Pantle. He takes great pleasure in making drone videos that people have an emotional connection to. Tim also uses his common sense. "I don't fly over people's houses and if somebody shows any inkling they're upset, I just leave. I'm not looking for any trouble."
Tim is very careful and cautious with his quadcopter. When we were together, his plan was to fly over the Sacramento Zoo, but he was also a bit hesitant. Tim said, "I don't know if I could fly over the zoo because it might disturb the animals. Common sense says, don't bug the animals."
He did manage to get some aerial footage of the zoo and no animals were disturbed.
Whether it's Sacramento parks, historic bridges or our beautiful waterways Tim only uses his quadcopter for good. He also takes pride in giving Sacramento a bird's eye view of the city he loves.
To check out all of Tim's videos go to www.LoveSacramento.Blogspot.com
Got an item for Over The Fence? Greg@valcomnews.com