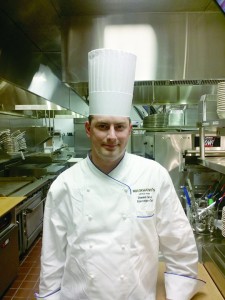 daniel grice
A 300-seat restaurant with an old Italian flair adorned with black and white photos and a mixture of rich mahogany and marble tables sets the stage for the newest addition at Arden Fair Mall, Maggiano's Little Italy.
Touted in 2014 by Entrepreneur as "one of the next great restaurant brands," Maggiano's is bringing made-from-scratch, Italian-American menu, generous family style portions and distinct ambiance to its first ever location in the Sacramento area. Maggiano's opens its doors to guests on Tuesday, Sept. 2 at 11:30 a.m. at the Arden Fair Mall, marking the brand's 48th location in the country, the fifth in California, and the first in Sacramento.
The Arden-Carmichael News caught up with Executive Chef Daniel Grice, a Carmichael resident to talk about his background and his excitement for Maggiano's.
Asked about his first experiences with Maggiano's, Daniel said he dined at one of the locations in Orlando where he "fell in love with their food." After moving to San Jose, he applied with that location and was fortunate enough to join the team.
Daniel attended culinary school at Paul Smith's college outside of Lake Placid, New York and started in the restaurant business as a dishwasher in Mama's Café, an Italian restaurant, in Pennsylvania. He tells the Arden-Carmichael News: "I loved the energy of the kitchen and have been doing living my passion and my dream ever since."
Describing his love for Italian food, Daniel said Italian cooking is as much about the experience of friends and family as it is about the food. "Huge portions, great wine and a welcoming atmosphere. It's easy to get hooked on Italian style dining."
When Daniel stepped in the San Jose location in 2009 as the sous chef, it was a difficult time for restaurants. After two months, he was promoted to the executive chef position with the goal of driving everyday traffic, a new idea for a restaurant generally known for special occasions like anniversaries and weddings. That strategy proved successful, as during that time, sales grew.
Daniel was promoted to run the Chicago location, which had been running for 22 years, but which needed "fresh leadership." He said he ran that for the last three years, up until he saw opportunity in Sacramento. "My second home has been Northern California."
For the last two months, he's come to appreciate the good food in this "smaller city," adding his appreciation of the city's surroundings. "I love the fact Sacramento is centrally located," he said.
With "quite a few wines from California" on the wine list, he's made time to visit Sonoma twice and Napa once.
While the management team transferred from other locations, and aside from one bartender and a cook, Maggiano's at Arden Fair has hired 159 people, from servers to bartenders, cooks and dishwashers. Even though the company, Daniel said, prides itself in low turnover, "we're always hiring. As people are promoted, were always looking for more people to back-fill other positions."
Located right near main entrance of the mall, Maggiano's is near Season's 52 and BJ's, 1689 Arden Way, Ste. 1148.
Previously occupying the space was Forever 21 before the clothing store moved to its current location inside the mall. "It took quite a bit of time to convert" the space from a clothing store to a full-scale restaurant, but it's another occupied spot in a small that is now 98 percent full, he said.
Some additional highlights of what Sacramento guests can expect at Maggiano's:
Sacramento location is set to feature the brand's new 'Lighter Take' menu before national roll out.
"We're thrilled to be part of Sacramento's thriving dining landscape. We invite our friends and neighbors in the community to enjoy classic Italian-American food made with care and served in an atmosphere reminiscent of authentic Little Italy," said Mike Sellmeyer, general manager of Maggiano's Little Italy in Sacramento. "Our talented chefs and teammates bring established traditions of generosity and making people feel special to the communities we serve. Whether guests are looking to celebrate a special occasion or just let our chefs do the cooking on a weeknight, Maggiano's will deliver a memorable dining experience."
Lighter Take Menu: The Sacramento restaurant is one of the first to offer the brand's new 'Lighter Take' menu, which features new preparations of classic dishes including Chicken Parmesan and Fettuccine Alfredo, delivering the same flavors and generous portions with at least one-third fewer calories.
On the House Classic Pastas: In the spirit of generosity and family that originated in Little Italy neighborhoods more than 100 years ago, guests that order a Classic Pasta get another classic pasta to take home, compliments of the chef. Classic Pasta dishes start at just $12.95. Since launching this guest favorite in 2009, the brand has given away more than 11 million Classic Pastas.
Exclusive Wine Pairings: Wine enthusiasts will enjoy pairing authentic Italian-American dishes with varietals they cherish or newly discovered favorites from a selection of more than 50 acclaimed wines including Salute Amico, an exclusive partnership with world-renowned Ruffino winery.