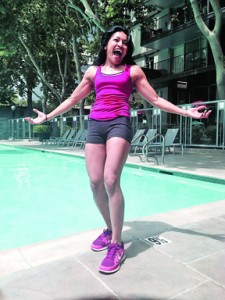 Sacramentan Maria Tobar is trying to break two world records – one for the most amount of push ups over 24 hours and one for the most in an hour, which she plans on starting 23 hours into the challenge. Currently, Eva Clarke from Australia holds the record, but Maria wants the record to be held here in the United States. The marathon of push-ups Maria is soon to undergo will take place just before the start of the annual Run to Feed the Hungry.
"We're going to call it 'Push Ups to Feed the Hungry,'" Maria said in a brief interview with the East Sacramento News. "Right now we are training. It's going to be a very mindful challenge, but I want to give it a try," she said.
And if that wasn't enough, Maria plans on running the 10-K race after 24 hours of push-ups.
Working out with Savage Workouts, an independent trainer located at 1500 7th St., Maria said 16 people she trains with regularly are signed up for the race.
The current record for most push ups in an hour is 1206 and Maria's best currently stands at 878 in an hour. Meanwhile, 9,241 is record for most amount of push ups over 24 hours.
She said a year and nine months ago, she couldn't do 20 push ups, but now she is hitting 900. "I always liked to do exercises and all that, but the reason we are doing this is to break a record."
As her trainer Chris Savage told Valley Community Newspapers, she just kept pushing and soon got over 550 without a break.
"We found out the world record was measured in one-hour increments and we attempted (to break) the world record (earlier this year). She performed 878. So we measured her 100 push-up time since she needed more speed. Now we have increased the workload a bit and she gets 614 in a half hour, just ahead of world record pace. We have her do total body training – so dead lifts, pull ups, burpies, sprints, etc. She is an Olympic level athlete and this takes awhile to build. In our personal trainer school, we focus on one month of stability, one month of muscle building, one month of max strength and then power workouts.
In addition, Maria had many corrective issues at the beginning (tight hip flexors, tight calves, asymmetrical weight shift). Maria spent her first year of training just realigning her body. She averaged eight hours of intense training per week since January 2013. After spending the first year realigning her body, 2014 has been all about performance enhancement. 
"Since she no longer had corrective issues, all of her workouts make her better. Sometimes people don't spend the time to correct their posture and they end up injured or note being able to improve. Maria was a very receptive student and always did what she was told. Her diet is perfect and she had a positive mental attitude."
Since the team is now in "power mode training," a typical workout after 15 minutes of stretching, is as follows:
Sprint one mile (at 7 minute pace)
Do 100 pushups
50 dead lifts (100 pounds)
50 body weight pull ups
Repeat three times in 45 minutes
Describing the dedication to complete the exercises, Chris said, "These workouts are extremely taxing, both mentally and physically. You always know when Maria is working hard because she starts giggling."
And the results cannot be underestimated. Maria is now in the best shape of her life at 40 years old. She lost 40 pounds. She is the world record holder for consecutive pushups without leaving plank position. She can complete 14 dead hang pull ups.
Whoever wants to join Maria over the 24-hour marathon can, she said. "People will be taking naps but I will be push ups. We have been training a lot, getting upper body strength, working our shoulders and core. It's a challenge but I think I can get it accomplished. Also we are doing it for a charity."
People can donate to Push Ups to Feed the Hungry at www.gofundme.com/pushups4thehungry