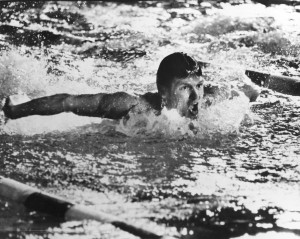 Former Carmichael resident Mike Burton was once Arden Hills' best known swimmer. / Photo courtesy of Arden Hills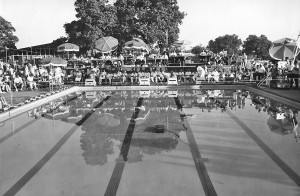 Many Olympic swimmers were trained in competitive swimming at the Arden Hills Swimming and Tennis Club. The photograph above shows one of the many swimming meets that was held at the club. / Photo courtesy of Arden Hills
Note: This is the fifth article in a series about the Arden Hills wellness resort.
During its lengthy history, Arden Hills has been the training place of many fine athletes, including 10 Olympic swimmers.
Certainly, when many people think of Arden Hills' history, they first think of swimmers Mark Spitz and Debbie Meyer, who were featured in the last article of this series.
But the history of this facility, which is located near the northwest corner of Fair Oaks Boulevard and Mission Avenue, extends well beyond those famous Olympians.
Overshadowed by Spitz's Olympic accomplishments is Mike Burton, another well-known, former Olympic swimmer, who trained at Arden Hills.
But those who are familiar with Burton's success as a swimmer know that he was once Arden Hills' best known swimmer.
In fact, former Arden Hills swim coach Sherman Chavoor at one point claimed that Burton was this community's best all-time swimmer.
But Burton, who graduated from El Camino High School in 1965, was not an instant success as a swimmer.
When he was 13 years old, Burton was riding his bicycle when he was hit by a furniture delivery truck and had a tendon severed below one of his knees and the ball joint of one of his hips pushed into his ribs.
Burton spent a month in the hospital and was laid up for about four months.
A year after doctors determined that he would likely never be able to compete in sports again, Burton opted to become a competitive swimmer.
When he was 15 years old, Burton began working with Chavoor at Arden Hills.
Initially struggling as a competitive swimmer, Burton was then unable to win competitions against the club's female swimmers.
Burton's determination to win, led him to constant improvements and eventual Olympic qualifications.
Prior to becoming an Olympian, in 1966, the then-5-foot-10-inch, 155-pound Burton joined weightlifter Tommy Kono as the only other local athlete to set a world record.
Burton would end that year having set two world records and one national record and being named the United Press International's Swimmer of the Year and The Sacramento Union's Athlete of the Year.
Burton, who would set many swimming records, resided in Carmichael before attending the University of California, Los Angeles on a swimming scholarship.
An article in the Aug. 14, 1967 edition of the San Francisco Chronicle notes that Burton had broken the world 1,500-meter mark in successive Amateur Athletic Union meets.
Like Spitz and Meyer, Burton was also a multiple, Olympic gold medalist.
Burton won two gold medals in the 1968 Summer Olympics and another gold medal in the 1972 Summer Games in Munich, West Germany.
Another big name in Arden Hills swimming history is Sue Pedersen.
Pedersen, who was born in Sacramento, was already being considered as a possible future Olympic swimmer when she was 13 years old.
At that time in her life, Pedersen, who was then attending St. Ignatius School at 3245 Arden Way and was a member of the Arden Hills Swim Club, had already set nine AAU Junior Olympics records.
She also won three AAU titles and three silver medals at the Pan American Games in 1967.
At the age of 14, Pedersen was among the Arden Hills swimmers to earn a spot on the 1968 Chavoor-coached U.S. Olympic women's swim team.
During the 1968 U.S. Olympic Team Trials in Los Angeles, Pedersen won the 100-meter freestyle finals in 59 seconds. And at the same time, she set a new U.S. record in that event.
Prior to Pedersen's record setting mark, only four women had ever completed the event under one minute. One of those women was Arden Hills' swimmer Erika Bricker, who was the 1967 titlist of the Pan American Games.
And while competing in those Olympics, Pedersen, who was then a student at Rio Americano High School, earned four medals – two golds and two silvers.
Furthermore, the Chavoor-coached women's team won 65 percent of the medals won by the U.S. at the 1968 Olympics.
A downtown celebration was held in honor of the returning Olympians, who were residents of the Sacramento area at that time. They were: Pedersen (double gold and single silver medalist), Meyer (triple gold medalist), Burton (double gold medalist), John Ferris (double bronze medalist) and Vicki King (1,500-meter alternate).
During the celebratory event, Vice Mayor Albert Talkin said, "You have brought glory to Sacramento. We haven't had anything like this since the Gold Rush. If people don't know where Sacramento is now, they'll never know."
Other local residents who participated in the 1968 Olympics were U.S. kayak team crew members Cleve and Mike Livingston.
In presenting this story of Arden Hills' Olympic swimmers, it is certainly important to name John Nelson, the club's first Olympic medalist.
Nelson, who attended Yale University, earned a silver medal in the 1,500-meter freestyle event at the 1964 Summer Olympics in Tokyo.
In the 1968 Summer Olympics, Nelson was a teammate of Spitz on the gold medal winning, 4-by-200-meter freestyle relay team. And Nelson also earned a bronze medal in the 200-meter freestyle.
Another former Arden Hills swimmer, Ellie Daniel, was a two-time Olympian and world record holder.
She competed in the 1968 Summer Games and earned a gold medal in the 4-by-100-medley relay, a silver medal in the 100-meter butterfly and a bronze medal in the 200-meter butterfly.
In 1972, Daniel competed in the Summer Olympics and received a bronze medal for her third place finish in the 200-meter butterfly.
Today, Daniel serves as a prosecutor with the Los Angeles County district attorney's office.
Among the other Olympic swimmers who trained at Arden Hills were Sacramento natives John Ferris (two bronze medals at the 1968 Summer Olympics; former world record holder) and Dave Fairbank (two gold medals at the 1972 Summer Games; former world record holder).
Arden Hills had no Olympic qualifiers for the 1976 Olympics in Montreal, and only one for the 1980 Olympics in Moscow. That one qualifier was Jeff Float.
Although Float was denied an opportunity to compete in the Moscow Olympics due to the American boycott of those Games, he did qualify for the 1984 Olympics in Los Angeles.
During the latter named Olympics, Float, a former world champion swimmer, won a gold medal in the 4-by-200-meter freestyle relay.
Float, a graduate of Jesuit High School, has the notoriety of being the first legally deaf, American athlete to win an Olympic medal.
Another one of Float's many accomplishments as a swimmer was winning a gold medal in all of the 10 events that he competed in at the 1977 World Games for the Deaf in Bucharest, Romania.
Altogether, Arden Hills-trained swimmers earned 32 Olympic medals, 22 of which were gold medals, and set more than 200 U.S. and world swimming records.