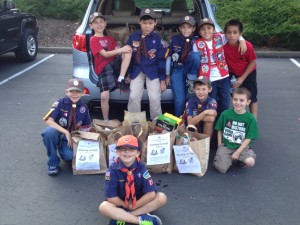 Pocket Aglow:  Kristi and Jeremy Morioka are ready for Opening Night of their third annual Pocket Holiday Lights display on Little River Drive near Martin Luther King School.  The "Angry Birds" theme returns this year. Notes Kristi, "When we are home, we pass out candy canes when 'Let it Snow' is played."  As for the inevitable questions about their SMUD bill, "We end up paying about $150 more on electricity each month, but we use all LED lights to be energy efficient as possible." And yes, the family's motive is pure as the driven snow: "We started this display because my husband loves Christmas," Kristi says. Given recent neighborhood vandalism, Kristi asks neighbors and friends to keep an eye on their display and advise them if anything is astray.  This year the Moriokas will also collect toys for foster children via Sleep Train's toy drive program. Not just loving Christmas, but displaying that love. … 
Holiday Fish:  If you need a break from turkey or ham, Banzai Sushi on Riverside and Florin Road offers a tasty alternative.  Open since 2005, this local favorite "takes pride in providing quality food for an affordable price to our neighborhood families and friends,"  says owner Lynn Fu. "We have new sushi rolls with a new menu. I also try to have a special each day on the board."  During the cold winter Lynn recommends, "My favorite in the winter: ramen noodles to warm people up. Our most popular is the spicy chicken from medium hot to crazy hot. The dish is very good for a person with a cold."  There's a recipe for health and sustenance this winter: spicy chicken! …
Soft-boiled Vandals:  Jose Negron sent out the very first "Urgent Alert" on Nextdoor-Pocket when his car and truck were egged by a group of vandals on Melanie Way behind the Rush River Bel Air shopping center on Saturday, Nov. 23.  Jose advises, "I left my car outside during a bike ride and got home about 10:15 p.m. and saw my both my car, truck and about five cars total on my street that were hit by eggs.  The eggs were thrown so hard it even cracked the paint on my car!"  Jose has been a 10-year resident of the Pocket and figures, "These kids must be coming in from other parts of town, because my street only has about three teenagers."  Negron is further frustrated that this recent incident is a repeat of an egging that happened about three weeks ago.  He wants to encourage neighbors to file vandalism reports with the police department, a process that takes only about 10 minutes online and alerts cops to trouble spots and trends.  He hopes that once the culprits are caught, police will tie the eggings together. Jose didn't offer his ideal punishment, but one idea would be to make the eggers peel and eat 100 hardboiled eggs each,  Cool Hand Luke style. … 
Scouting for Food:  Let's applaud local Cub Scout Pack 259, where Cubmaster Lee Adamson reports, "Scouting for Food is an annual event that the Pack has participated in for the past several years.  Dens distribute fliers throughout Pocket/Greenhaven neighborhoods and then a week later, we go back through those same neighborhoods to collect food that our neighbors have left out."  This year, 11 boys from the Pack participated in the campaign on November 24.  Adamson says, "The food is collected and then taken to a local food bank.  This year Pack 259 collected nearly 200 pounds of canned foods and other non-perishable items.  The food was then distributed to the SSIP Food Closet here in Sacramento."  The Pack hopes to conduct a larger drive next year using social media with food drop off locations.  Solid community work by our Cub Scouts!
Kings arena Town Halls:  Our neighbor R.E. Graswich (pro-arena) will be engaging in a series of Town Hall debates and community discussions against John Hyde (anti-arena) around the Sacramento region.  The January 9 event will be right here at the Robbie Waters Pocket-Greenhaven Library, 7 p.m. to 8 p.m.  Seating will be limited so get there early to learn about the pros and cons of a project that will change the face of downtown Sacramento.