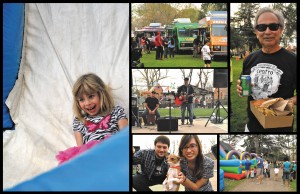 Photos by Monica Stark
SactoMoFo is back every second Friday of the month for Food Truck Mania at McKinley Park.
March's lineup on Friday, March 13 included Krush Burger, Bacon Mania Truck Sacramento, Gameday Grill, Drewski's, Smokers Wild BBQ, Cruzin Crustacean, La Mex Taqueria, Green Papaya Food Truck, Smokin Hot Pizza, Happy Cow Ice Cream, The Sweet Spot, and Frenchy's Waffles. Live music was provided by Jimmy Ashley and proceeds from the beer garden benefited the Front Street Animal Shelter. Boy, there were a lot of dogs at the park!