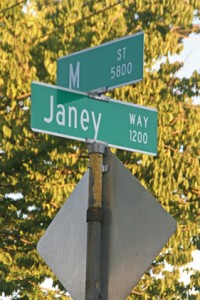 Last Friday night, my wife and I attended the Music Circus production of "A Chorus Line." We loved the show.
One of the most compelling stories in the production was the story of Paul, a young, gay, Puerto Rican dancer trying to earn a part in the chorus line.
During his interview for the part, the choreographer asks Paul to tell his story.
Despite his reluctance to open up about his life, Paul breaks down and tells all.
As a boy, he was different from all the other boys. He didn't like sports and really didn't want to rough it up. He wanted to dance.
So, he taught himself to dance by watching Hollywood musicals. By the time he got into high school, his difference from other children caused trouble for him. They teased and bullied him. Eventually, he sought the help of a psychologist who told him he was perfectly normal and urged him to drop out of school and pursue a career in dance. So, he took the psychologist's advice and left school. But, it wasn't that easy for the 16-year-old boy from the Bronx find a job as a dancer?
Ultimately, he got a job dancing in drag in a club on the lower east side of New York. His new occupation embarrassed him and he didn't dare to tell his parents. However, when the manager of the show decided to take it on the road to Chicago, Paul asked his parents to give him a ride to the airport after the evening show. That night his parents surprised him by arriving early to pick him up, and when he walked by them in full costume, gaudy dress and all, they recognized him. This made him feel horrible, but he went on to finish the show.
After the show, he walked out the stage door and discovered his parents talking to the show manager. He saw his dad point a finger at the manager and say: "You take good care of my son."
At this point in the interview, Paul broke down and said, tearfully, "that was the first time my dad ever called me his son."
This was a touching moment in the show and it brought back memories of my father. I remember him introducing me to his friends, saying proudly, "this is my son, Marty."
What made Paul's story even more meaningful to me is that just two days before seeing "A Chorus Line," I attended the funeral of one of the Janey Way fathers, Virgil Petrocchi. In fact, he was the last surviving Janey Way father.
His son, Dan, delivered the eulogy. It was a good story about a man who lived a good life, had a good sense of humor, gave sound advice to his children and cared deeply about all the children in the neighborhood. Virgil, like all the Janey Way fathers, played a special role in my life.
These men coached little league, took the boys camping, set off fireworks on the 4th of July, and taught us how to live our lives with honor and dignity.
With Virgil's passing, all the Janey Way fathers have left us, but we will always remember them in our Janey Way Memories.