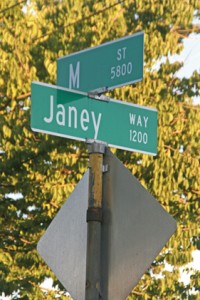 Janey Way
When I was growing up on Janey Way, we spent lots of time at my Aunt Margaret's house on Hillsborough Lane in South Land Park.
By the time I hit teen age, Grandma Petta had grown too old to host our extended family gatherings at Thanksgiving and Christmas, so Aunt Margaret took on that responsibility. She had a big house with a game room in the back. That made it a perfect place for all the children in our expanding extended family.
Besides the game room with its full sized pool table, the thing I remember most about Aunt Margaret's house is a painting which hung on her living room wall. It featured towering rocks in colors of red, pink, brown and tan, contrast against a brilliant blue sky. The horizon lay covered with cactus and small evergreens. You could see a smattering of snow in the distance.
I pondered what I saw in this picture. It seemed surreal. How could snow be found in such a parched looking landscape? A few weeks ago I found the answer to this question.
My wife Barbara and I had seen an ad on television touting the national parks in Utah. We were taken by the beauty of these sites, so we decided to go and see them.
The wonders I saw there, brought back memories of Aunt Margaret's picture.
We visited three national parks and one state park: Zion, Bryce Canyon, and Canyon Reef national parks and Petrified Forest state park.
Bryce Canyon Park brought back long-forgotten memories of the painting on Aunt Margaret's wall. Towering, shear-faced rocks spread out across the horizon. Interspersed among them, were smaller rocks with human shapes, forged by weather over millions of years. Small pines and cactus filled the spaces between the rocks, and nestled underneath it all, were patches of white snow. Yes, in the mountainous dessert, eight thousand feet above sea level, they still have snow in April.
It is true, reality is stranger than fiction. There is a place where rocks are pink and red, the sky is bluer than one could ever imagine and snow covers the parched ground. I don't know where the picture on Aunt Margaret's wall is today, but I do know where it was most likely painted. It is real, not the figment on some artist's imagination.
Now, the painting that so impressed me in my youth, is yet another unforgettable, Janey Way memory.