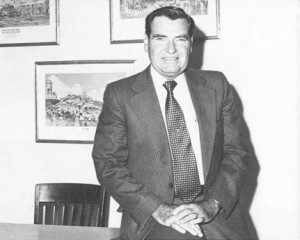 Restore the Roar and the C. K. McClatchy athletic department have created the BILL MORGAN ATHLETIC AWARDS for a male and a female senior athlete who have excelled as team leaders and in sportsmanship while at McClatchy. The awards will be made next May along with the S. A. Pepper Award for outstanding male athlete and the Woody Adams Award for outstanding female athlete.
The importance of the BILL MORGAN ATHLETIC AWARDS will be to recognize team leaders and those athletes who represent the best ideals of sportsmanship as senior Lion athletes. The male and female athletes will be chosen by a committee from Restore the Roar and the McClatchy coaching staff.
Bill Morgan was born in Missouri in 1928 and moved to Sacramento as a boy. He graduated from McClatchy High in 1946. He loved sports and particularly McClatchy sports.
Bill went on to Sacramento State College where he played on the first baseball team and was a member of the first graduating class. He spent time in the army during the Korean War but never left the US.
Bill returned to teach history at McClatchy from 1954 to 1962. He could often be seen after school playing basketball along with coach Del Bandy with many of his McClatchy students.
Leaving McClatchy for awhile, Bill returned as the third McClatchy principal in 1967 when Kennedy opened. He could often be seen behind the backstop watching the champion 1970 and 71 baseball teams. In 1971 Bill was appointed Assistant Superintendent of secondary schools for the SCUSD.
As a district administrator Bill couldn't stay away from his Freeport school and would often drop by before school in the morning to have coffee with the staff and custodians. Finally in 1978, he returned to McClatchy for 10 more years as principal.
He enjoyed watching McClatchy rise as a football power again in the 1980's and McClatchy's dominance in basketball and baseball throughout the decade. His 14 years as principal is the second longest in McClatchy history.
In 1987, Bill was moved to Kennedy where he finished his career as principal. However, his heart was always with McClatchy and he would keep in touch with former staff and his many Lion friends. During the 1980's Bill came across students whose parents he had taught and grandchildren of friends from his generation at McClatchy.
Along with sports, Bill loved history and particularly the New Deal and Harry Truman, a fellow Missourian who was his favorite president. Bill's aunt was Truman's secretary for many years so he actually met President Truman and spent time with him discussing Truman's presidency. Bill is survived by son Derek and daughter Delynn.
To make donations to the BILL MORGAN ATHLETIC AWARDS fund go the Restoretheroar.org and log on. Information about where to send your donation will be on the website.