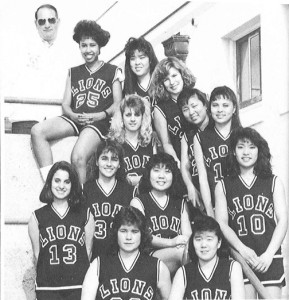 The C.K. McClatchy Sports Hall of Fame enters its third year featuring athletes and teams mainly from the 1980s. Forty-three athletes, three coaches, and three teams will be inducted on Saturday, Oct. 11, at the Asian Sports Foundation Hall off Laguna Boulevard. As of press time, 437 people have signed up to attend, so remaining seats are limited.
The 1980s proved to be a strong decade for McClatchy sports teams. Under Bob Sandoval, the football team began to win again, and the 1984 team is the only team to ever win 10 games in a season.
Led by Donald Hair ('85), who broke the state high school record by scoring 42 touchdowns in a single season, the Lions knocked off No. 1 Christian Brothers and beat Grant in the playoffs before losing to Elk Grove. Against Grant, Hair would score twice in the first half, and Kevin Elam ('86) to Chuck Smith touchdown pass would seal the game.
Junior quarterback Elam (UC Davis), Hair (Sac State), and senior flanker Craig Bowens (Fresno State) would be named All-City and All-Superior California. Junior defensive tackle Peter Gould ('86) would make first team All-City and wide receiver/linebacker Zebadee Brye would make the 2nd team All-City.
Hair would be honored as "Prep of the Week" by the Sacramento Bee, the Sacramento Union, FM102, Quad 106, and channels 3, 10, 13, and 40. He would be named Sacramento's Football Player of the Year for 1984 and was featured in Sports Illustrated.
Dennis Gastinell was a bruising fullback, and Shane Turner (San Francisco State) a blocking tight end. The line consisted of Todd Barmby, center; Bob Taylor and Mike Werblum, guards; and John Morehead, and Clenzo Johnson, tackles.
Doug Farmer, end; Gould, tackle; Richard Dalrymple, tackle; Brye, linebacker; and Chuck Smith, safety were top defensive stars, with Mike O'Malley the kicker. Mike DeNecochea backed up Hair and returned kicks.
One of the top games of the year was against Davis in the pre-season. Davis had star running back Mark Hicks who would play at UC Berkeley. With Davis marching late in the game to take the lead, Hair stripped Hicks of the ball at the one-yard line and ran 99 yards for a 27-18 win.
Athletes with names in bold print will be inducted into the 2014 CKM Sports Hall of Fame, and players from selected teams attending the banquet will receive medals.
McClatchy wrestling under coach Greg Fong was a Sacramento powerhouse in the mid-1980s. He had a winning combination in the 84-85 season with seniors Andy Lopez (captain), Jahlani Bent, Eric Guillen, Matt Poole, Richard Dalrymple, and juniors Mark Sprenger and Leo Woodfork.
Coach Fong's game plan was to present the most strategic lineup to each opponent. The key to this was the versatility of the wrestling squad that included Juan Bonillas, Jimmy Culleton, Stanford Hirata, Rafael Perez, James Sprenger, Andy Blanco, Phillip Herndon, and Jeff Friend.
They took home the Metro League dual meet championship and won the Metro League tournament that year, building a foundation of excellence that carried on for several years. Team members included:
98 lbs Juan Bonilla/Jimmy Culleton; 105 lbs Stanford Hirata; 112 lbs Andy Lopez; 119 lbs Jahlani (Jay) Bent/ Christian Clinger; 126 lbs Mark Sprenger; 132 lbs Rafael Perez; 138 lbs Mike Bruce/ James Haldeman; 145 lbs Matt Poole/James Sprenger; 154 lbs Eric Guillen; 165 lbs Andy Blanco/Tony Blanco; 175 lbs Phillip Herndon, Mike Tabor/Danny Victorio; 191 lbs Leo Woodfork; Heavyweight Richard Dalrymple/ Jeff Friend.
Lopez, M. Sprenger, and Guillen won gold medals in the Metro League meet, while Bent, Woodfork, and Dalrymple took second place. Hirata, Poole, and Herndon finished 3rd. Guillen, Sprenger, and Woodfork finished second in the sub-sections.
Cross-country and track would rebound dramatically under coach Dub Carter, who is being inducted posthumously. Almost every school day in the 80's, you could see Carter and his Lion runners racing through Land Park in the late afternoon.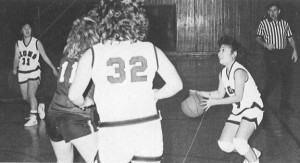 Inductee Liz Baccigaluppi (81) would become McClatchy's first great female distance runner, leading the Lions to victory in both cross-country and track. As the decade rolled on, the Lions dominated the Metro-league in both boys' and girls' cross-country and track.
Baseball would continue its winning tradition throughout the 1980's, the first eight years under the leadership of Hall of Fame inductee coach Bernie Church. In the late 70's and early 80's, the Lions would come within a game and a half of winning five titles in six years.
Baseball hall of fame inductees include Dion James (80), Jon Leake (81), John Mikacich (84), Greg Chenu (86), Pat Zalasky (88), Aaron Fuller (89), and Pat Wallace (89). Wallace would earn All-City honors in soccer, basketball, and baseball as a senior.
Boys' basketball would also rebound strongly through the 80's with the 1988 team winning 20 games and two tournaments. The 1989 team went to Hawaii to win a tournament and finished high in the Metro League under coach Harvey Tahara. They were building for the 90's, a decade of superiority.
The 80s would produce outstanding female athletes who were nurtured by 1970s/1980s softball and soccer leagues, and local swimming and tennis clubs. Maureen O'Conner Nowak ('83), Shannon Padovan ('86), Karen Henderson ('88), Krista Margetich ('88), Charmian Coombs Tallman ('89), and Tammy Olson Rocco ('89) are Hall of Fame inductees this year
Asian youth basketball would begin to produce a long series of male and female athletes throughout the decade. Last year's inductee Jeff Ota ('79) would be the first, and the 80s would produce Bonnie Lee ('82), Cary Kushida ('83), Gayle Ichio ('87), Pat Wallace ('89), and many star players of the 87-88 Metro League champion girls' basketball team. The 90s would have many more.
Girls' basketball would continue to develop, when in 1987-88, the girls' team, under Hall of Fame inductee Charlie Becker, would win their first Metro League championship. Hall of Fame inductees Margetich ('88) and Sundae Brooks ('89) would lead the team in scoring and rebounding.
Guard Allison Okubo led the team with 119 assists. Krissy Sakamoto, Ingrid Collins, Tracy Uda, Heather Johnson, Corine Onga, and Tammi Smith all contributed nightly. Melanie Conti, Rochelle Nada, and Kristina Moy rounded out the team.
Overall the team was 18-8 and they won the Metro League with an 11-3 record. All-Metro League Brooks would lead the Lions in scoring and rebounding. "Brooks was everything a coach was looking for in a player. She could rebound, shoot, and play multiple positions. She was also a team leader."
Brooks would lose most of her senior year with an injured ankle. Margetich would be All-Metro in both basketball and softball, and be the first player in McClatchy history to play in two Optimist All-Star games: basketball and softball.
Other outstanding members from the '80s include Eric Ross ('80), Leake ('81), and Russ Ortega ('85) for basketball; Kevin (KC) Clark ('82), Mikacich ('84), and Jeff Chenu ('88) for football, and Randy Gregson ('88) for golf. Fifteen athletes from the 40s thru the 70s will also be inducted.
Last chance to get tickets!!! The CKM Sports Hall of Fame expects to sell out by the last week in September. Go to restoretheroar.org for information or call Bob Sertich at 441-0657 for ticket availability.