Over The Fence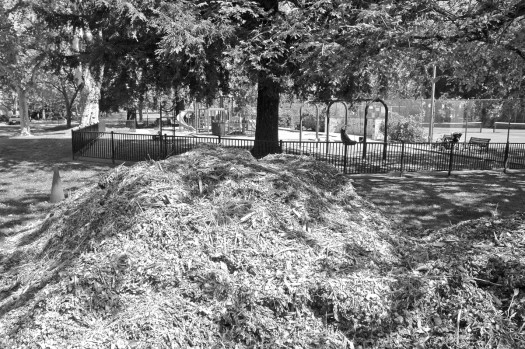 An observant Curtis Park resident was briskly walking the track around William Curtis Park when she witnessed a man backing his Ford Ranger up to a huge pile of shredded bark meant for the children's playground. She thought to herself, "What a shame to steal from the City and the children of our community."
She dialed 9-11 and reported the alleged thievery to police. My first thought was, why is there a mountain of bark dumped in the middle of the park? What would Leslie Knope (the main character of Parks and Recreation) do?
I called the City Parks And Recreation department and spoke to Lori Harder. She mentioned that the Sierra Curtis Neighborhood Association has officially adopted William Curtis Park through the City of Sacramento Partners in Parks program and it was part of the April 6th "Clean Up Day" at the park.
I then asked Terri Shuttle, who is the executive director of the SCNA, if she knew anything about the Curtis Bark Pile and she mentioned it was indeed part of a neighborhood cleanup day. They had requested bark for various spots; unfortunately, they were unable to bring the bark until a week later when no volunteers were readily available.
Soooo, one of the board members took it upon himself to work in the park one day to spread the bark using his pickup truck. Good for him! That's when the police showed up. Oops. Turns out the Curtis Park resident who initially called the cops was barking up the wrong tree. Turns out the board member was just being a good deed doer. Now he is hesitant to go back and finish the job. The SCNA is looking at schedules to line up volunteers to take care of the rest of the pile but no date has been set.
Last month there was another episode of Yard Crashers direct from Hollywood Park. The lucky couple who received the grand makeover, "A Taste Of Tuscany," had a viewing party at Broderick's in West Sacramento. For those who don't know, "Yard Crashers" is a backyard improvement show where host Matt Blashaw surprises shoppers at Lowe's, Green Acres, Emigh Hardware and other home improvement and garden stores with promises of an amazing backyard transformation. From drab to fab!
A lot of the episodes have been filmed in our own backyard in Sacramento. The Yard Crashers crew invades yards with jackhammers, cement trucks, shovels, shears and chainsaws. Before you know it they're digging up turf, trees, shrubs and removing the greenery that has no purpose and replacing it with thoughtful landscape design.
There have been at least five episodes of Yard Crashers filmed in the middle class neighborhood of Hollywood Park alone in the last few years. Why Hollywood Park? Perhaps it's because it has Hollywood in the name. Showbiz! Or it could be that the neighborhood has the perfect palette for the backyard makeovers.
The production company, Big Table Media, is actually based out of Sacramento. So it's a short commute.
The show likes people who are showbiz ready, have a personality, and aren't afraid to get their fingernails dirty. Also, have a backyard that needs some drastic improvements. On the show's website they accept viewer submissions. Include a picture of you, your pathetic backyard, and why your yard deserves to be crashed. That's a route you can take if you're interested in getting a backyard makeover and want to be the envy of your entire neighborhood. The show airs on the DIY network as well as HGTV. The website for submissions is at www.Diynetwork.com
Last month I wrote about how Raley's, which purchased the former Capital Nursery lot on Freeport Blvd, has no official plans for it…yet. There have been blue prints created and lots of rumors bandied about. Raley's official spokesperson stated last month they have "no immediate plans for the site."
I recently received an email from an "Over The Fence" reader with a great suggestion for the abandoned site. Phil Shroeder mentioned he thinks the property would be a good location for Beer and Food Festivals. "It would be ideal for a Sacramento Oktoberfest. High school musicians could be taught to play appropriate fest music and vendors could supply food and beer. The bus lines are right outside and the police are right down the street. It is just a dream I have of being able to hold European festivals right here in good ol' Sacramento."
I like the way Phil thinks! Sounds like a great idea. Throw in some lederhosen and dirndls and it could be a beer and sausage party on Freeport!
I have my own dream for that empty lot. I'd love to see somebody bring "The Zombie Hut" back to Freeport Blvd. "Delightfully different dining with a Polynesian atmosphere." Oh, and luscious fruity island cocktails topped off with cheery miniature umbrellas. It would be the pride of the neighborhood!
Readers: What would YOU like to see at the former Capital Nursery spot? Send me your ideas at Greg@Valcomnews.com and I'll publish them in next month's column. Also, if you have any local neighborhood gossip or items of interest, feel free to send me an email at Greg@valcomnews.com