By DARBY PATTERSON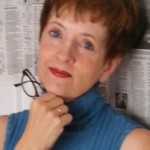 Darby Patterson
The contrasts surround us. People who reach the ripened age of 80 with energy, vitality and purpose and those who slowly decline throughout their 70s to wait of the infirmities of age to claim their final breath. I was talking about this with a Linda Kelly, co-owner of AmeriTechnology in Sacramento – a woman a tad over 60 and leading the baby boomer edge in a once non-traditional technology role. What's the real difference between people who age successfully and those who do not, we wondered. Is it genetics or habits or attitude? According to research, successful aging is a combination of each of these qualities and heavily influenced by things that are under our control.
Linda bemoaned the fact that older adults have a wealth of experience, talent and wisdom to bring to society. We no longer need (or want) to retire in the same way as our forebears did. She correctly recalled that in her parents' day (when most people survived into their mid-to-late 50s), folks expected to retire by 60, maybe spend some time traveling and enjoying grandkids, and then slowly go into that 'goodnight.' People who made it to 65 had "longevity."
With the average life span of Boomers now at 77.4 years, and more centenarians than ever before in history, we can anticipate many more years of productive life. As baby boomers, we don't want to be disengaged, disregarded and put out to pasture. According to Linda, the old paradigm is not only outdated, it's also dangerous. "I see it as a destructive pattern for society as a whole," she said.
Medical and social science support her theory. Today there is ample research to show us how to live well longer. Information from credible studies on aging is no longer limited to massive textbooks and scholarly papers. It's readily available to most of us via the Internet. Many Websites are devoted to the topic and offer guidelines that are based on work that comes from leading universities and health organizations.
What are these experts on aging saying? There are some common threads across the spectrum of research. The value of exercise is one point of agreement. About 30 minutes five days a week seems is recommended by many experts – some advise more and others say we can get by with a little less. But, there is no  doubt that aerobic exercise such as walking, bicycling, swimming and even dancing produces measurable cardiovascular benefits, feeds muscle health, improves brain function and elevates mood.  These aspects of health, in turn, allow us to remain physically active and emotionally engaged in life – in contrast to simply checking out by plopping down in the Lazy Boy Lounger and watching sitcoms – a brain numbing and belly-building practice!
Add to this mild aerobic workout a modicum of weight or resistance training. You'll be able to twist the caps off the peanut butter jar, easily climb stairs and carry groceries. This activity can be done at home with a simple set of light weights. Experts say about 90 minutes (or more) a week will make a noticeable difference. It's about maintenance – not muscle building.
I particularly like the research that's emerging on brain health. Researchers from Columbia University documented the growth of new brain cells in people who exercise. (We once believed that brain cells simply withered and died, never to return). In addition, the kinds of activities we do with our brains are now being examined for efficacy in affecting brain health. According to the deputy science editor of the New York Times who has written a book on the brain, the time-honored value of doing the crossword puzzle is being challenged. Scientists now say that such activities essentially tap prior knowledge. To enhance our brains we need to infuse them with new knowledge, challenge ourselves to learn or do something entirely novel. This activity encourages the formation of new neural connections (rather than exercising those already on board). Think taking a class, learning a language, taking up an art form or a new game that requires strategy – master programs on the computer.
Separate research shows that learning to play a musical instrument is a great way to build the brain – perhaps this is because an instrument requires intellectual engagement along with physicality and coordination – body and brain working in tangent. 
Baby boomers have the advantage of hindsight – we pretty much know what doesn't work. We also have the advantage of technology and easy access to resources. With these tools, our Boomer generation can exert influence and continue to contribute richly to the fabric of society.
Darby Patterson is a member of the Sacramento County Adult and Aging Commission and the author of "Meow.org, The Cat-Napping Caper." Visit Darby at www.storiesandbooks.com. E-mail Darby at darby@valcomnews.com.