Alice Birney gardens have taken over industrial looking campus
Neighbors take notice, one donated maple tree to kinderyard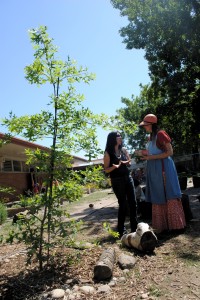 Three years ago, there was nobody there. The barren Alice Birney campus in South Land Park campus wasn't much to look at when the Waldorf-inspired public school moved in.
"It wasn't in the greatest of shape when we got it," principal Michelle Homing said. "It was very stark, very plain, very industrial."
But since then, working together, the Alice Birney community planted just "a little bit of everything" from vegetables to native flowers, to vines along the fence for color and beauty. They even created a pollinator path, built benches and now have a chicken coop — the soon-to-be-home of three chickens that now live with teacher Ms. Rodriguez, who uses her prep time to help children build a fence around the structure.
"We will start with three (chickens). They have been waiting to come here. They are at my house," said Ms. Rodriguez on a warm May morning as children were busy stapling chicken wire to boards for the fence.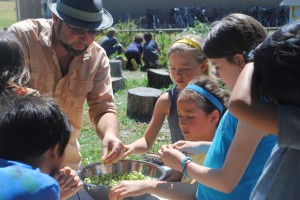 Across the yard, children were harvesting fava beans that they, with the help of teacher Mr. Melman, were going to cook. Some were too eager to wait and ate them raw, but they were told by their peers to be patient.
"This year we have a large variety of (vegetables). Almost every week we have something," Mr. Melman said.
Helping out in the yard was Ms. Alex Morton, a parent of two children, a fourth and a sixth grader. Last year, she helped out in the third grade yard and this year, she continued working the space three days a week. "I do it because I am not working. I have excess time. When you have time, you step up to volunteer. We have a tight knit community," Morton said.
She loves watching the children eat the raw spinach and kale right out of the ground. Formerly employed by the Dept. of Fish and Wildlife, Morton is thinking gardening may be her next career.
In essence, nature has become the classroom for the parents and students who attend Alice Birney. Planting what's in season, they use plantings for their cooking lessons, which of course, includes lots of measuring.
In the kinderyard, every Thursday the youngest students harvest and chop vegetables they have been growing in preparation for Friday soup days.
Meanwhile, as part of their curriculum, third graders work in a garden along 13th Street and the sixth grade has a garden between the patio and quad areas. They, too, are growing vegetables as part of their curriculum.
Then there are the first graders who work with their fifth grade buddies to take care of roses. In the corner gardens, herbs are growing.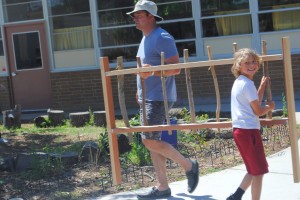 The grass area, which has used a lot of water in the past, recently has been transformed into a nice landscape with decomposed granite and mulch, thanks to a grant one of the fourth grade teachers got from the U.S. Department of Fish and Wildlife.
Parents have stepped up, writing and receiving grants, holding contests, fundraisers, auctions dinners. "We do everything," Homing said. The school's "green team" won them $350,000, which will be used to beautify the front of the school and for the installation of skylights in the portables.
One goal is to make gardens more lush, to have students learn more about native California plants, insects and birds. They've added in native plants that also use less water. Another goal is that the pollinator path would attract hummingbirds and butterflies.
It goes on.
"It's a whole school-wide focus caring for our environment and other living creatures," Homing said.
And that includes the South Land Park neighborhood.
Neighbors have taken a liking to the beautification of the school and one in particular anonymously offered a maple tree she grew from seed. The tree sits in the middle of the yard, but no one at the school knows who the mystery donor is. "Neighbors saw the parents working and offered that tree and planted it in the middle of the yard (one day in April)," Homing said. "It will grow as the children grow," she said.
The connection between neighborhood and school extends to the lifestyle changes some parents have made, as more are moving closer to the school, said Homing. So they've added bike racks closer to the entry to help promote biking and built benches to facilitate respite while parents wait for their children to get out of class. Before those improvements, Homing recalled parents waiting for their children in the mud. "It was terrible," she said.
The school recently held a pancake breakfast, which was followed up with working in the south side of the parking lot. They are mulching that whole area and will build a dry creek and a bridge to go over it. "Kids will have fun crossing the bridge and it will serve as a better entry into the campus," Homing said.
All this gives students authentic learning experiences, Homing said. "We're not quote-on-quote giving them a science lecture. They don't realize they are learning … They are having fun."