Two McClatchy seniors named champions of nationwide debate tournament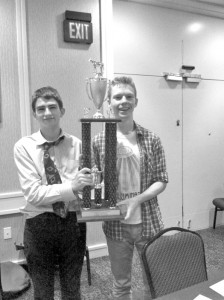 Akin to winning the Super Bowl, two C.K. McClatchy seniors, John Spurlock and Keenan Harris, won the Tournament of Champions — the most prestigious high school national debate tournament that exists.
Held at the University of Kentucky in Lexington over the last weekend in April, Spurlock and Harris, competed in 11 two-hour grueling debate rounds.
"John and Keenan are incredibly hard workers, and over the past four years I have been given the opportunity to watch these boys grow into capable and responsible young men.  The magnitude of this win cannot be overstated," said their teacher, Seth Blackmon.
And as they are set to graduate, they will continue to get better. Spurlock is going to UC Berkeley on scholarship in debate and Harris will be attending Wake Forest in North Carolina also for debate.
In the 42-year-history of the TOC, a California team has only won once before (in 2003 College Preparatory School in Oakland).  However, there has never been another California winner and certainly never a California public school, Blackmon said.
"We were competing against schools that have budgets upwards or in excess of six figures. CK McClatchy's debate budget is at best four figures.  Moreover, we are an afterschool program that has pushed ourselves to the limits to reach this level of success.  I couldn't be more proud of these young men.  They outworked their competition, including schools with numerous paid coaches," Blackmon said.
Competing in the toughest category, policy debate, involved as much research as a doctorate degree entails and is called that because the Affirmative Team, in its first speech, offers a policy option to affirm the resolution, which this year was that "The United States federal government should substantially increase its transportation infrastructure investment in the United States."
Blackmon explained the affirmative case advocates that the federal government should do something because it has beneficial results (sort of like debates on the floor of the assembly or senate).  "For example, the United States federal government should substantially increase its investment in freight rail infrastructure (early in the year there were also a number of teams discussing high speed rail/port dredging and a variety of other related policies…each school or team creates their own affirmative).
"The affirmative would then spell out the reasons why increasing investment in freight rail is the best policy option (especially in relation to what is happening in the status quo).  The negative teams burden is to prove that the affirmative policy is a bad idea.
"The negative team can do this by showing that the status quo can already do what the affirmative is proposing, by showing that passing the affirmative plan would lead to any number of negative impacts (like destroying the FG's budget, impacting international relationships, etc.) or by showing that the affirmative plan would trade off with a potentially better option."
Teams debated both sides of the resolution at every tournament, round by round.  For example, during the TOC prelim rounds we had three negative rounds and four affirmative rounds.  During elims, teams flip a coin to determine sides.  The winner of the flip gets to decide "Aff or Neg."