OVER THE FENCE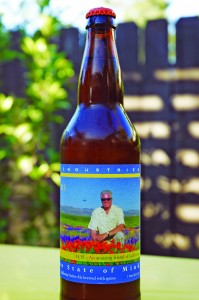 Everybody seemed to love TV personality Huell Howser. The folksy, playful host of California Gold was a California icon. The jovial larger than life personality who visited California landmarks, treasures and small towns passed away last January. In honor of Huell, Ale Industries has released "Golden State Of Mind", a tribute label for a "great friend of California" according to Stephen Lopas of Ale Industries. Both Stephen and his business partner Morgan Cox thought of Huell Howser as a bit of a hero and when they heard of his passing they felt compelled to do a tribute label. A case of "Golden State Of Mind" sold out in one day at Taylor's Market in Land Park. The ale is as popular as Huell! It was flying off the shelves according to Dave Hunter at Taylor's Market. A customer brought the Huell Howser beer to Dave's attention and their distributor said they had a "limited supply". Golden State Of Mind is also available throughout Sacramento at Whole Foods, Nugget markets, Bev-Mo as well as craft-centric liquor stores. I was able to get the last bottle at Taylor's and it was, as Huell would say….Amazing!
***
A local Hollywood Park neighborhood hangout in Sacramento is changing hands. The Jointed Cue on Fruitridge Boulevard has been sold. When I dropped by The Cue, owner Dave Stonier was joking with some old timers and talking about how proud he was of the legendary pool hall his dad Terry opened some 45 years ago. "I love the pool hall and I'm so proud of what my father and I have accomplished. But I have painfully decided it's time to let it go.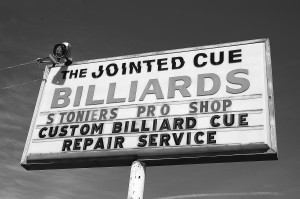 Patrons were shocked when Dave made the emotional announcement that the pool hall had been sold. He proudly showed me around the pool hall and talked about all his fond memories. The lively tournaments, the legendary pool players, and the camaraderie among friends.
According to Bob Jewett, a Jointed Cue regular who's also a certified instructor, there were a lot of amazing players in those tournaments in the 70's and early 80's. Players like Cicero Murphy, Lou Butera, and Cole Dickson stand out. Rudolph "Minnesota Fats" Wanderone was also there for some of the tournaments. At one tournament, a player named "Lassiter" was having trouble with his contact lenses and had to clean one. He couldn't get it out. He had the referee take something that looked like a golf tee, put the little cup onto the lens and pulled it out of his eye. I wonder if it made that suction cup noise?
Dave Stonier is particularly proud of the Tournament Room in the back of the Hall. It's the jewel of the joint. The classic stadium seats are from the old Coronet Theater on Watt Avenue. It's like stepping back in time. I bet there was a lot of cigar smoking and illicit gambling back in the good old days of the Jointed Cue.
People were calling from all over the country when the news broke of the Jointed Cue being sold. A woman from North Carolina who used to work at the pool hall shared some memories with Dave and even cried a bit on the phone. Other folks calling saying, "What's this I hear about the pool hall being sold?"
Dave says it was a tough decision but he's "at peace with it." He was approached months ago with the "if you ever want to sell" question.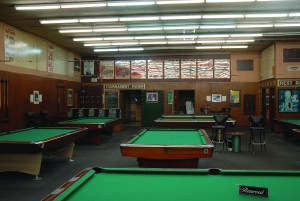 About this time he had been jammed up by an ADA compliant lawyer, and had begun to let the small fires and problems that he used to stomp out with energy and vigor get to him. That's when Dave decided to talk to Mike Murphy who had asked him if he was interested in selling. Dave didn't have to explain the history or legacy of The Jointed Cue and didn't harp on the sanctity of family business values. Mike got it. "I truly believe that the legendary pool hall that my family built is in good hands".
Dave Underwood, who's been working at the Jointed Cue for 17 years, said he's now referring to it as the "Re-jointed Cue". Dave was manning the grill where they serve up delicious burgers and fries. He thinks the new ownership change may be good for the Jointed Cue. Let's hope the new owner doesn't change too much, especially the cool counter.
When I asked Stonier what he's going to do now he said "take some time off…maybe go to Lodi."
***
Last month I told you Brick Oven Pizza was having its last family karaoke night in June. It also turns out the old school pizza joint in South Land Park has also served up its last pepperoni pizza. The owners, Gary and Amy Correllier, have decided to retire after 34 years of serving up delicious pizza to the Land Park locals. They even held a final aloha on their last day. Everyone was all decked out in Island outfits for the last hurrah. I have a feeling Don Ho would have approved.
***
The Jointed Cue, Brick Oven Pizza, and Brownie's Lounge have all been targeted by an ADA compliant attorney.
Dave Stonier at The Cue said it would have cost him over $30,000 to get the bathrooms upgraded. He mentioned it had a little something to do with him selling his beloved business. There were a few other ADA compliance signs in front of Brick Oven Pizza as well as Brownie's Lounge. I spoke to Clair Brownie over the phone and he was outraged. He used a few choice adult words when talking about the attorney involved in the ADA lawsuits and doubts the man ever entered Brownie's Lounge. "Nobody ever saw him." He also wondered why older mom and pop businesses like Brownie's are not "grandfathered in." Brownie said, "I guess if you wanna stay in business you gotta play the game." Let's hope these ADA lawsuits don't put all of our beloved mom and pop businesses out of business.
Do you have any local gossip or items of interest? Feel free to e-mail me. Greg@valcomnews.com