2013 C. K. McClatchy Sports Halls of Fame
After lengthy deliberation, the 2013 class of the C. K. McClatchy Sports Hall of Fame has been chosen.  Forty athletes and coaches plus five exceptional teams will be inducted at a dinner on Friday, October 11, at the Sacramento Asian Sports Foundation Hall off Laguna Blvd in Elk Grove.
The 2013 class includes many outstanding athletes and coaches primarily from 1963 to 1979, six athletes from 1944-59, and women athletes who were sports pioneers at McClatchy in the 1970's.  The class also includes three of McClatchy's greatest coaches in the 60's and 70's: Stan Dison (basketball, soccer), Scotty Bingham (track, cross country), and Jan Olmsted, who was instrumental in starting the women's sports program at CKM.
Outstanding teams chosen this year include the 1954 basketball section champs who had a 19-2 record, the 1970-71 baseball teams that won a section championship, the 1970 Girls Sports Club that established women's sports for McClatchy and the 1975 Boys Metro League soccer champions that went undefeated.
This year's class includes a federal judge, a Stanford baseball coach, an ex-major league baseball player, the youngest person to ever swim the English Channel and Lake Tahoe, the greatest track coach in Sacramento sports history, doctors, dentists, attorneys, and four outstanding athletes who returned to teach and coach at McClatchy (Mike Nishio, John Warren, Brad Klopp, and Jeff Ota.)
For more information about the induction dinner and how to get dinner reservations go to restoretheroar.org or golions@restoretheroar.org.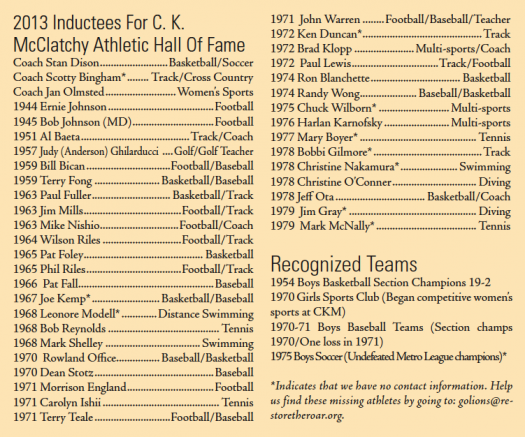 * Indicates that we have no contact information.   Help us find these missing athletes by going to: golions@restoretheroar.org