Bike And Pizza Worship At Sutter's Landing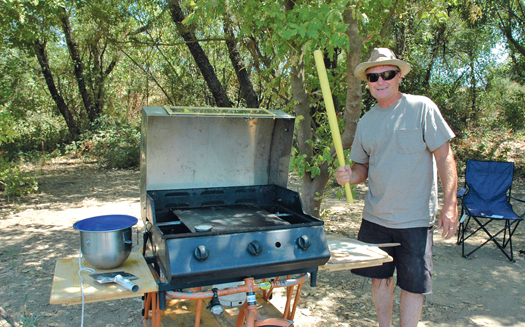 John Lucas is the "High Priest" of the Bike And Pizza Worship, which happens most Sundays along the American river under a canopy of trees. No long-winded sermons — just a group of friends casually gathering to shoot the breeze, create some delicious pizzas, and enjoy the Sacramento summer along the river at Sutter's Landing.
The afternoon I participated, there were dogs chasing tennis balls along the riverbank, swimmers swinging on a rope into the cool river, a couple playing paddle ball, and sunbathers listening to classic rock. Then along came John Lucas barreling down the hill on his cool Dutch Long John bike with a mounted pizza oven.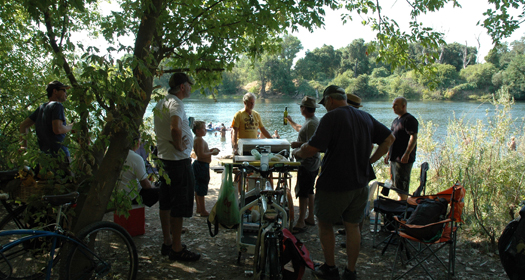 "Here comes the pizza guy!"
John's bike is something to behold. It's a Dutch Long John bicycle, a cargo bike first invented in the 1920's in Denmark by the Smith & Co. Company. It's like a food truck on two wheels!
John started welding at a very early age and is a metal fabricator. "I've made a lot of things in my life, fabricating is my passion," said John as he started to get everything ready for the pizza worship.
John constructed the entire Pizza Bike. He found the barbecue grill on the side of the road a couple blocks from Sutter's Landing. He cleaned it, fixed it up and welded the pizza cooker to the bike.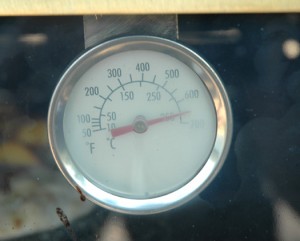 A propane tank sits comfortably waiting to be fired up. He recently added a stainless steel top as well as the temperature gauges. The pizza oven heats up to 600-700 degrees. "It's gotta be hot to cook pizzas," he said. There's even a window where you can watch the cheese toppings bubble. It's a masterpiece of manufactured metal.
John pulled out the homemade pizza dough he prepared at home and flattened it on the wooden cutting board he'd attached to the bike. He used his plastic Wiffle ball bat that doubles as a rolling pin to flatten the dough. Ingenious! The bike and pizza worship is all about improvising.
More folks started to gather once the pizza started cooking and the aroma wafted through the warm summer afternoon along the river.
John said he's trying to emulate the wood-fire oven. His pizza is in the style of Wolfgang Puck — lots of experimental and improvisational ingredients. John said, "You make it up as you go. That's the beauty of pizza, it's very open on the ingredients you can use." His first pizza was topped with ham, goat cheese, tomato, gorgonzola, and balsamic olive oil. It was delizioso…and made on a bicycle! I'd like to see Papa John do that.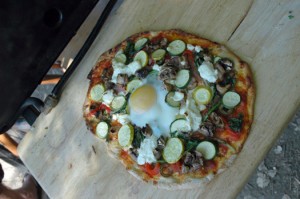 John's pizza bike is a big attention getter. As soon as he started cooking the pizza some of the beach goers came right over. "Hey, that's cool!" Another guy was taking pictures of it. A lady walking her dog said, "Wow, like that set-up!" Everyone wanted a piece of the pie.
John offers up his pizza slices to anybody who wants to try it. One of the folks who tasted John's pizza was Veronica Brookshaw. She said, "I'm from Davis where they have all kinds of cool bikes. Anything with food bumps up the coolness factor 20 percent." She devoured her slice of pie.
Kelly Cordano added, "I like that bike. I also like the pizza crust, it's just like out of a brick oven."
Matt Stein, who was at the river with a group of friends said, " I'd pay good money for this pizza." John doesn't charge for the pizza, he offers it up to anybody for free. He's not interested in selling the pizza – too many rules and regulations.
John mentioned he's been "trying to come up with a dessert pizza for awhile." That was his next creation. A nectarine pizza with sour cream as the sauce. He also added pecans on top as well as some "secret ingredients. It worked! The dessert pizza didn't last very long. After baking a couple pies John said, "I think it's time for a dip" and off he went into the river.
As time went by several more of the regular bike and pizza worshippers started showing up. It's BYOT. Bring Your Own Toppings. The worshippers all step in and become pizza cooks. After a veggie pizza was created one of the worshippers quipped: "That's got too many vegetables, it might throw my carnivorous system into shock."
That's when the meat-loving worshipper started flattening some dough with the Wiffle ball bat and making a "kid pizza" as he called it. All meat. No veggies. Although, according to the U.S. Government, pizza IS a vegetable.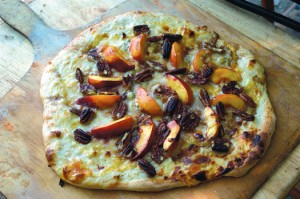 Then there was the breakfast pizza, which was just ham and egg. They were all coming up with future ideas for a breakfast pizza. Maybe bring some waffles and maple syrup next time. Or perhaps a Captain Crunch topping. Cuckoo for Cocoa Puffs pizza? All sorts of fun, creative ideas for a breakfast pizza. Pulitzer Prize winning journalist Anna Quindlen once said: "Ideas are like pizza dough, made to be tossed around."
The sun was slowly going down. Sunbathers along the bank of the American River were packing up their chairs and blankets and heading up the hill. I asked Greg McRae, another regular worshipper, "when does the bike and pizza worship end?" He said, "When we run out of dough…so we don't really know when that is."
Although on this day, John ran out of propane. And that's when the bike and pizza worship on the river came to a close.
American River, Anna Quindlen, Bike And Pizza Worship, breakfast pizza, Captain Crunch topping, cargo bike, Cuckoo for Cocoa Puffs pizza, Dutch Long John bicycle, food truck, greg brown, Greg McCrae, homemade pizza dough, John Lucas, Kelly Cordano, manufactured metal, Matt Stein, pizza guy, propane, Sutter's Landing, Sutter's Landing, Veronica Brookshaw, Wiffle ball bat, Wolfgang Puck, "High Priest"