Know your neighbor: Amber Stott
"Edibles everywhere!" River Park resident Amber Stott exclaims as she guides me through her backyard . Once a weed patch, her yard was transformed into an edible wonderland with the help of Turf Wars a few years ago and in just a few weeks, on Saturday, Aug. 31, it will be the site of a dinner fund-raiser for her non-profit, the California Food Literacy Center.
Stott is hoping with the extra dough (tickets aren't cheap – $250 for a dinner for one) she will be able to hire a volunteer coordinator to help run CFLC. Hank Shaw of Hunter Angler Gardener Cook is a good friend of Stott and will be the master chef. He's a James Beard Award winner, which is the highest honor in food. The price is a tax-deductible donation to CFLC. Ninety-one percent of the students they reach are on free or reduced school lunch, and the meals they make in class are often the last time they eat that day.
There will be limited seating – basically whoever can fit at the bar in Stott's backyard. "It's just beautiful when it's all dressed up for party," she said.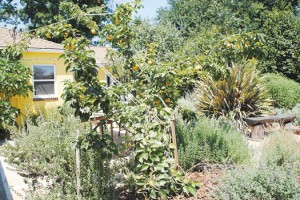 Hailing from New Jersey, the chef lives in Sacramento though he spends so much time in the woods, at the ocean "or wherever else he goes" said Stott. "He's gone probably 4-5 days a week."
A foraging-kind of friend, Shaw gave Stott some mushrooms last week. "I have some nice ones he gave me yesterday. Some chanterrelle.. Woohooo. I'm really lucky. He's the nicest guy in the world. So I asked him if he wouldn't mind cooking a dinner for us and he was like: 'Absolutely: Where do you want me to do it?' He's just great."
So what's on the menu?
"There will be zucchini, clearly," Stott said. (She has trouble eating all of it herself.) "Hank has a fun eggplant dish in mind. There's going to be some fun meats from his personal collection. So that will be a surprise – as far as the meat."
Her house painted a bright cheery yellow is much like Stott's cheery personality. Eager and excited about the life growing in her yard, she laughed a lot during the tour.
Finger lime, lemon grass, herbs, a Meyer lemon, a pineapple guava (which came with the house), Asian pear and pluot tree, persimmon, three blueberry bushes, persimmon, three blueberries, a spineless edible cactus, two olive trees (which are getting "super tall"), a mature orange tree, gooseberries, a lime tree that produces twice a year and of course, a vegetable garden on the side of her detached garage which is chock-full of tomatoes, peppers, egg plant ,melons, herbs, lots of zucchini pretty much sums up the food there. Stott laughed when asked what doesn't she have and said – "trust me, there's a list."
Stott was working at a different non-profit at the time they bought their house five ago and the executive producer of Turf Wars was a volunteer there and was telling Stott about this new show she was working on and Stott eagerly said "pick me. I have this house that has a blank canvas. And she said we were the target demographic."
So they sent in a couple of pictures and sure enough the yard fit the profile. "We definitely had a need to make over the space," she said.
"Everything is growing beautifully now." Pointing to some non-edible flowers she motioned with her hands suggesting a teeny tiny size and said: "Those purple flowers used to be this big so yeah, it's just wonderful how everything is coming together."
Busy with keeping up with the 60 active volunteers and working sometimes seven days a week and sometimes from the moment she wakes until the moment her head hits the pillow, Stott said the workload can "get away from me pretty fast" if "if I'm not constantly checking my email."
"I've pretty much dedicated my life to (the non-profit) so it comes with the territory," she said.
The nice thing for her though is that she gets to work in paradise – that is from her own home. "I can go outside for lunch see what's growing. I'll just grab some tomatoes, throw them into a bowl, add some olive oil, Mozzarella and basil and call it lunch."
So Stott does a lot of that – going out to the garden, grabbing something and eating it in between everything else she has on her plate.
IF YOU GO:
What: Fund-raiser dinner for the California Food Literacy Center
When: Saturday, Aug. 31
Where: At Amber's house in River Park (you can get the address if you sign up)
How to sign up: Visit http://californiafoodliteracy.org