Sacto Chicken Co. Takes Over Old Merlino's Freeze Food Stand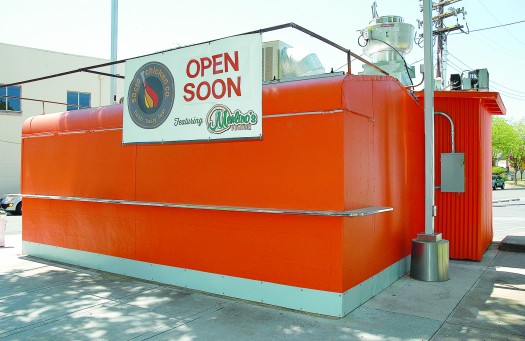 I must admit: I enjoy the Colonel once in a blue Kentucky moon. Yes I "ate the bones." But it's always good to think outside the bucket and check out a local Sacramento chicken joint. Coming soon: The Sacto Chicken Co…Bucket not included.
That's right, cruise on down Stockton Boulevard near UC Davis Medical Center and you'll see the bright, colorful, orange food stand that housed a Sacramento old school original, Merlino's Freeze – a unique frozen treat started in 1946 by Bauldie Merlino and his wife Mary.
The historic food stand is coming back to life. A Resurrection. The new chicken stand on the block is the Sacto Chicken Co., which will open near Sept. 1.
The Sacto Chicken Co. bills itself as a "No gimmicks chicken joint offering jerk and fried chicken and tasty sides." They will be serving crispy fried chicken, tender jerk chicken, fresh squeezed lemonade, tasty sides, and the ice cold Merlino's freeze.
The owner, Zak Rever, is very excited about his new chicken joint on Stockton Boulevard and says he was "drawn to the vibrant and unique Orange Freeze stand right away. I'm a sucker for funky food joints." Zak said, "I have been eager to bring a 'Jerk Stand' taste and feel to Sacramento. The old freeze building accomplishes that!"
"We are also very excited to re-ignite a fun, inviting, and pleasant vibe at our location."
I have a feeling Zak will give the Colonel a run for his money. Perhaps the Sacto Chicken Co. will become a Sacramento Institution like Merlino's. Look for the open sign soon.
Sacto Chicken Co. is located 2790 Stockton Blvd.