African American WW2 vets from Pocket celebrate 66 years of marriage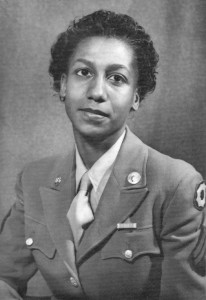 Joe and Odessa Marshall both turned 90 years old this last spring and have been married for 66 years. While they both served in the military, they didn't meet each other until a few years after the end of World War II.
In an interview with the Pocket News, they both shared such love for each other's stories, often stopping to compliment the other.
"She looked great in a uniform and I got so attracted to her because of her personality. It was so different. I never met anybody like Odessa and I developed such a great respect for her. She's still my little poochie poo," Joe Marshall said about his lovely wife when they finally did meet back in the late 1940s.
But rewind. They didn't meet in the army and much of this story has to do with their time in the army, a time when troops were segregated and Black women were just getting the opportunity to go overseas.
Joe Marshall went into the army in 1942 and was discharged in 1944. He was living in Mississippi at the time and then went to training post in Fort Riley, Kansas in the Calvary, where he got good training from his sergeant. He then went to headquarters in Breakaville, Texas before heading overseas. He was shipped to Africa where he stayed in Morocco and Tunisia. From there, he went to Sicily, then to Italy when the war ended in Japan. He was in the first troops from Europe to go to Japan.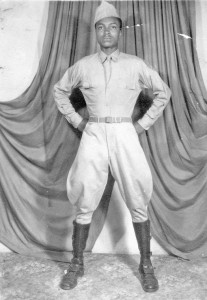 "Mama — She has a totally different story. We didn't know each other in the military. She was inducted, I think, in the same year," Joe Marshall said.
Hailing from St. Louis, Missouri, Odessa joined the army there and was inducted in Fort Leonard Wood.
"I just started school and I wanted to do something different. I was 18. To get in the army I had to put my age up. I had to be 20 to get into the army, but anyway I started in school," Odessa Marshall recalled.
Odessa Marshall saw the ad in the paper about a Women's Auxiliary Corps also known colloquially as WAC.  She interviewed, and soon got her training at Fort Des Moines, Iowa where she got four weeks for basic training under her belt before being sent to Arizona.
"They had the men in the army but didn't have women in the army, so they decided to have a women's army instead of just the women's auxiliary. So then they started WAC in 1945. We were segregated, of course, at that time. They said they had opportunity for white WACs overseas, but not for Black WACs to go overseas."
Sooner or later First Lady Eleanor Roosevelt got the Black WACs to go overseas in World War II and Odessa Marshall was in that first group.
"I told my commanding officer I wanted to go overseas, but I told (the officer) I couldn't leave Dr. Giles because he couldn't do this work without me. He said we'll get that straightened out. He never called my military name; he always called me miss. He said before you go, I want to see you in my office. I said, 'OK.' He called me in to have a seat. He said: 'What is your problem? I said "I want to go overseas but I can't leave you because you won't be able to do your operations without me.'"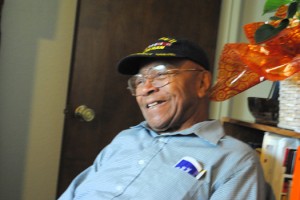 That was the first time Odessa Marshall ever saw Dr. Giles smile. "He was not the type of person to smile," she said. Dr. Giles asked her if she wanted to go overseas and of, course, Odessa said "yes." And it turned out, "He was able to do his operations just fine," she said.
Overseas, the army picked women to work as secretaries, telephone operators, but not a surgical technician. "My unit handled mail only. They had months and months of mail piled up," she recalled.
Odessa Marshall went to France and during furloughs visited a lot of places in Birmingham (United Kingdom). "From there, we went to Rouen, France," she said.
Both were discharged from the army, Joe Marshall in March of 1946 and Odessa Marshall in February 1945. They both ended up shortly after in St. Louis.
"We didn't know each of course," recalled Joe Marshall. "She lived on one end of town and I lived on the other. We went to school on the GI bill," he said.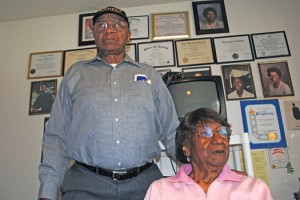 "I took some extra work to become an RN. I enrolled in Tucker business college in March," she said.
Joe Marshall said: "When I walked in one morning, there were three students enrolled that day and (Odessa Marshall) was in the office. I came in; we got to talking. She had on her army uniform and I knew right then she had been a WAC."
But he "had a very low opinion of WACs" because he had seen WACs in the army and "I had very little respect after things I'd seen overseas. But I didn't know anything about her character.
"Somehow I started noticing her in school. Of course, she looked good in a uniform … I noticed something very unique about her. She got more respect in the school than anybody else. Her demeanor was such nobody played with her. She was always quiet, always nice, but she held herself in such a way all the guys respected her. The other girls were different, but they respected Odessa. That struck me like a bolt of lighting. Here's a WAC and she's got such a fine personality. I got interested in her because she was so right, so good."
That strong attraction and admiration developed into a loving relationship that has lasted to this day.
Joe Marshall got a decent job driving a tractor-trailer and was making enough money to support his family, but Odessa Marshall wanted so badly to move to Los Angeles. She had been out here once and she fell in love with the West.
Born and raised in Mississippi, Pittsburgh and St. Louis, Joe Marshall had all of his friends out there, not to mention his good job. "I thought I could not just leave St. Louis," he said.
But Odessa Marshall became really sad. "I didn't want to leave and she got all melancholy. One day she went into one of those crying fits that I couldn't stand," he said.
But he went with it. He moved to Los Angeles before the rest of the family to earn some money for a house before the wife and kids came.
"I got pretty lonesome. I really did. I missed her so," Joe Marshall said. But he was lucky enough to get a job with a major company. "I knew I needed to get a house by the time the kids were coming. "I was living at the YMCA.  I had to find a house in LA and I didn't know LA. I had to find a house in the residential area," he said.
But he found an area in south LA where Black people could live. "We lived at 62nd … I went up and down Western Avenue to different offices. It was about 5 that evening because no one would let me have a house, but money didn't matter. They didn't want six kids," he said.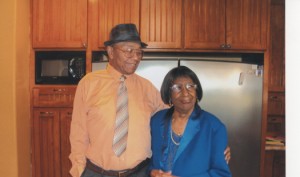 But one of those days Joe Marshall met a girl closing up. "It was a front house and back house. It had two rooms. It was one bedroom, one kitchen, two rooms and a  little laundry area  in the living room. The girl took me to Williams, a struggling real estate guy; so he would take anyone. We had to rent."
When Odessa Marshall and the kids arrived, she had no problem finding a nursing job in LA. She took care of the children during the day and worked nights, while her husband worked during the day.
After they retired, they decided they didn't want to live there forever. So they decided to move to the Pocket area and have been here for about 20 years.
It is clear both are very proud of their service and remain patriotic to this day.
Two of their children are sadly no longer with the family. Their son Johnny was killed while serving the United States in the Iraq war on April 8, 2003. And their daughter, Debra died from cancer. Sons Joe, Jr. received his Phd; Richard is a business owner in LA; Jerry lives here. As for the daughters, Denise is a counselor at Cosumnes River College, Diane is an attorney and Donna is an RN who also teaches nursing.
"Family is so instrumental in our life; we just love each other," Joe Marshall said. They have family reunions six or seven times a year.