Over the Fence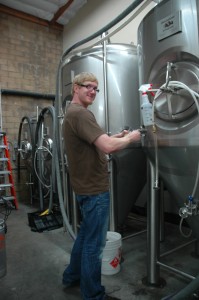 I guess the heavily guarded secret is out….or is it? Raley's actually WILL be moving on over to the former Capital Nursery spot from its current location on Freeport Boulevard. Or will they? I guess it depends who you ask. When I asked Raley's media spokeperson John Sagale about the rumored move back in April he said, "there are no plans for Raley's to move from its present location." Perhaps Mr. Segale wasn't "in the loop." Maybe he didn't want to let the cat out of the shopping bag.
According to a bright yellow flyer that is being passed around to customers Raley's stated, "We would like to announce the process for plans, zoning, and permits has officially begun" regarding their Capital Nursery spot. It goes on to say "While we don't have a target completion date at this point, we are making every effort to move as quickly as the process allows." The flyer is signed "Store Director, Ron Konkel."
Raley's officials apparently were caught off guard by the flyers. They also pulled back from what was stated in the flyer saying "a decision has not been made whether to build the new store at the Capital Nursery site or on the site of the existing store."
As for the new location, I heard from a neighborhood architect who saw the blueprints that they also have plans for a gas station at the new Super Raley's. The gas station was part of the blueprints for the new Raley's Superstore at the former Capital Nursery location. I won't bother asking their media spokesperson, though. He'll probably claim they have "no plans for that."
******************************************************************
It all started on New Year's Eve 2011. Track 7 Brewery was born. It is the brainchild of the Graham and Scott families. Geoff and Becca Scott and Ryan and Jeanna Graham.
The brewery is located in the tucked away industrial neighborhood of City Farms near Sac City College. It's a craft brewing Mecca. It's also a neighborhood watering hole that has become enormously popular among the locals in Land Park, Curtis Park and Hollywood Park.
The two families get together every Monday evening at the brewery to plot strategy over Chipotle and delicious craft beer. It's definitely a group effort. They all "put in their 2 cents". Geoff and Ryan are the brewers. Ryan is a full-time employee and Geoff very recently left his job as an underwriter to concentrate solely on Track 7. The two used to be home brewers when they were younger. They have President Jimmy Carter to thank for that. Jimmy Carter signed a law exempting home-made beer from excise tax in 1978, in effect legalizing homebrewing at the federal level. Geoff and Ryan were probably the most popular teenagers in the neighborhood. When it comes to brewing Ryan uses senses over science. "Nose and palette says it all". Science versus art. If you've had the Panic IPA at Track 7 it is brewing artistry.
Ryan Graham thought an Industrial area was perfect for a brewery after seeing a lot of industrial breweries in Southern California. When they were thinking of their brand they wanted something "that wasn't pretentious". Track 7 would never be described as pretentious. It's more funky, comfy, and laid back. The spot where Track 7 is was once an all ages punk nightclub called Club Minimal. That was back in the early 80's. Moshing has been replaced these days with brewing.
The owners have young children and encourage people to bring their kids to the Track 7 taproom. It's a family friendly place that won't drive you nuts like Chuck E. Cheese. They don't host children's parties or have anybody dress up as a Gigantic Hops plant but they do have a fun chalkboard and board games for the kids. Uno anybody? In fact, Track 7 was nominated as "Most Kid Friendly" by Sactown Magazine.
There have been rumors of expansion at Track 7. They now have three tanks for beer making and 4 fermenters so they've doubled their capacity. They knocked down a wall then had to put it back up due to some legal mumbo jumbo and the "International Council Of Builders or something" as Ryan Graham put it. It really came down to a fire code issue. "We want to protect the people". Ryan said, "The City of Sacramento definitely works with us too." Local City Council member Jay Sheinerer actually promised discretionary spending for some cool bike racks outside the brewery. "People chain their bikes to anything that's not moving".
They have recently put a lot of money back into the business. $20,000 for insulation to keep it cool inside. They also recently installed a swamp cooler that takes out the harsh summer air inside the brewery. Next door they also have a central cooling unit. So you won't sweat while sipping the suds.
They get very excited when people come into the brewery. They're also thrilled when they see somebody wearing their Track 7 gear. Becca Scott mentioned whenever she sees someone with a Track 7 shirt she blurts out, "Track 7…yeah!" all without pretentiously declaring "You know I own the joint!?".
Most of the hops they use comes from Washington. Although Geoff's Uncle Tom has an acre in the Sacramento Delta that he's tending for them on his 12 acre farm. Keeping it all in the family. Taylor's Market also contacted them about a hops partnership since Taylor's Market is getting into the hops growing business.
There are no plans for expanding into the food business. They have hooked up with Food Mob, a collection of local food trucks, which "gives the brewery a lot of food variety" according to Ryan. On Sundays they encourage people to bring their own food.
They have also had some fun local events at the brewery. A recent chili cookoff, a log-sawing contest, as well as a Stein holding contest. The winner held his stein for 8 full minutes! They're looking to have more fun events in the future.
The brewery has also become a great gathering spot in the neighborhood. Track 7 has never had a complaint since they opened. "We pride ourselves on a having a good crowd."