Vegetables aplenty at this year's East Sacramento edible garden tour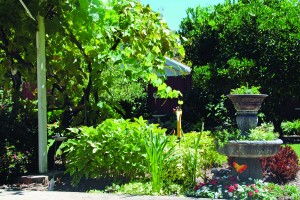 Quite often, it's a sunny day at the Sunshine Garden. A sunny East Sacramento yard, located at 39th and G streets, is sprinkled with suns, some brightly painted from Mexico and others rustically made from metal while the sun shines onto her vegetable garden.
Garden four of six at this year's Edible Gardens Tour (which will be held Saturday, Sept. 14 from 10 a.m. to 4 p.m.), homeowners Susan and John Ortiz have corn, tomatoes, squash, cucumbers, beans, onions, carrots, and strawberries growing in a large open space out back, while a grape arbor supports tables grapes and provides some shade in the center of the yard.
Organized by volunteers from the Soroptimist International of Sacramento, ticket sale proceeds of the garden tour will benefit the Tubman House, which provides homeless parents and children with housing and support for 18 months. They learn the life skills that they need growing up. Goal for them is to exit the program ready to contribute to society.
Event goers can chat with master gardeners and hear music from the Sacramento Symphonic Winds throughout the tour.
Children under the age of 12 are free as an incentive to pique an interest of vegetable gardening to the future generation. Garden tour chair Susann Hadler said children in previous years have enjoyed being outside and picking some of the vegetables from their neighbors' gardens. A vegetable gardener herself, Hadler likes to go out first thing in the morning or when it cools off in the evening. "I just sort of putter around. (When gardening) you're relaxing, but relaxing with purpose. It feels like you are accomplishing something."
Now in its third year, the tour continues to garner interested neighborhood vegetable gardeners wishing their homes to be chosen for the tour. Hadler said she's found that gardeners are so enthusiastic about showing off the fruits of their labor. Susan Ortiz was no exception. She was so excited to share what she's currently got growing and how her yard has transformed over the last 15 years.
Tending to the garden is a labor of love, but Ortiz says she enjoys doing it. "I just see little areas to fill in … I have lots and lots of flowers. I love flowers." Some of her heirloom tomatoes came up voluntarily from last year. "My husband went to pull it. I said: 'No don't do that,'" Ortiz said. As Hadler noted, the plant comes from a nonprocessed hybridized seed.
Ortiz bought a little arbor at a yard sale down the street for a couple of bucks and while on her way home from work downtown, in an alley, she found an old smoking or telephone table. She's not sure which it is exactly, but she's given it purpose in her yard as a plant stand.
That's the kind of trend going on in her yard – giving everything a purpose.
She painted an old wicker chair blue. Instead of pulling out a cement slab, she painted over it with a sponge, making it look like a brick patio. A fountain that got knocked over, she made into an herb garden planter.
One of the benches in the back has sentimental value. Her childhood friend's parents had it on their front porch and when they died, it was given to her.
Behind her orange tree is a metal sculpture she calls "Iron Man." It came from the old iron foundry on Franklin Boulevard where the Coffee Garden now is. She said the owner there, Michael Madsen contacted her years after he'd given it to her, saying: "'You know that iron man we own — the artist is becoming famous.'" Her response: "We don't own it. I own it and I am not going to sell it."
It really is an eclectic yard.
Ortiz made an old metal shed look like a small red barn. "My father put wood over it," she recalled. Then they painted it.
She's salvaged broken tiles from tile companies for mosaic tabletops. "A lot of teachers do that for art projects," she notes.
Last year she went on the tour, she put her name down on the email signup sheet. Some of the other gardens were found by word of mouth. "My friend walks dogs a lot and saw a garden and said they should be on the tour, so it's been a pretty good response. Garden owners are so enthusiastic," she said.
Some gardeners who requested to be on the tour were too far off the grid, so maybe in future years, the tour might be in another neighborhood other than East Sacramento if there are enough gardens in a small radius.
Last year's garden tour raised $24,000 and proceeds then were chosen by the Soroptimists to benefit Guardian Scholars, a program at Sacramento State that uses college students who came from foster programs to mentor high school aged foster youth. Proceeds also go toward a scholarship fund. "As a group we are able to touch so man people in more good ways than what we would be able to do individually," Hadler said.
Here's a brief look at some of the other gardens that will be on the tour.
Garden One: Rooms Full of Art
37th Street and Folsom
Owners: Eric Geiger and Phil Klamm
Enter an outdoor museum and view strategically placed art that tells about each garden room. Imagine dining in a covered area with a circulating fan or relaxing in chairs, which are pieces of art. Enjoy the sound of water cascading down a Zen fountain and note the rubber ducky placed on top of the fountain as an element of whimsy. Left of this room are the edibles – a variety of tomatoes, zucchini, melons, artichokes, bell peppers, corn – planted in redwood boxes and adorned with art pieces including garden guardians, a giant spoon and fork, a sundial, and a small cairn.
Garden Two: Neighborhood Community Garden
38th Street and Folsom Blvd.
Owners: Ty and Janine Yancey
This garden is unique in many ways. Ten neighbors raise their vegetables here in their own little park-like community garden. The property owners, Ty and Janine Yancey live on the adjoining property. The empty front lot has been put to edible use by selected neighbors, each managing their own garden plot. Watering schedules are noted on the "white board" mounted on the fence. Everyone can leave notes for each other.
Garden Three: Peter Rabbit's Garden
41st between J and M Streets
Owners: Mike and Juliana Horrell
Enter this garden through the wrought iron archway at the front pathway. See the whimsical status and various herbs, flowers, and vegetables planted alongside the pathways throughout the front yard. The landscaping has been lovingly accomplished through the hard work of the owners and their friends and family members. This garden is full of herbs and medicinal plants that the family's bunny rabbits like to enjoy.
Walk up the driveway and look for the potting bench that is used almost every day. This area also serves as a cozy spot to rest between gardening chores.
The backyard includes an outdoor bunny pen (when the weather isn't too hot) and lots of tomatoes, squash, beans, artichokes, melons, cucumbers, and pumpkins. Don't forget the nasturtiums for the bunnies. Other herbs and medicinal plants – aloe, borage, sage, chives, plantain leaf and chamomile—are also in abundance.
(Garden four is owned by the Ortiz's at 39th and G.)

Garden five: Circle of Life
40th and G Streets
Owners Donna and Josh Pane
A deep lot lies behind the main house – you are first greeted by the fragrant lavender plants that have replaced the front lawn, and then you see the purple agapanthus. Go through the garden gate and follow a path to the cottage, built in 2009. Notice the Buddha Hand lemon tree and private dining area on the right, enclosed by red curtains. Next is the large garden surrounding the Circle of Life, a gravel meditation area known formally as the Yoga Shala Peace Garden. Grape plants define the circle in this full-sun yard with an Eastern exposure. Heirloom tomatoes thrive in full sun. Zucchini and yellow squash produce abundantly along with Zucchino da Fiore- a variety that has been bred to produce flowers, but very little fruit. The flowers are used for traditional Italian summertime dishes. Several varieties of cucumber and squash grow alongside basil and sage. To the rear of the garden, artichokes and cardoon thrive. Notice the fruit trees – nectarine, peach, olive, a mission fig, and wild blackberries. The Panes own the property and Josh tends the garden. Their daughter Ashley lives here with her roommate, Nichole.
Garden Six: An English Garden
52nd between J and H streets
Owners: Trish and Tom Uhrhammer
Two houses are situated on this large property that the owners transformed from a yard covered with only Bermuda grass to a lovely English garden. A brick pathway is the floor for an outdoor sitting room sporting a variety of trees – Japanese maples and other large trees provide shade from the direct sunlight.
Pathways wind throughout the garden creating a sense of balance between a wide variety of flowers and flowering plants – including roses, fuchsias, begonias, daisies, coleus; edible plants and herbs and citrus trees
There are four corporate sponsors that organizers wish to thank:
Phyllis Hayashi, Little Real Estate Services
Mary Kobane, VP Investments, Wells Fargo Advisors
Vivienne La Cour, Avon Products
Chamberlain Financial Planning and Wealth Management
IF YOU GO:
What: Edible Gardens Tour, featuring six beautiful gardens in East Sacramento
When: Saturday, Sept. 14 from 10 a.m. to 4 p.m.
Cost: $20 in advance; $25 day of event (children under 12 are free)
Why: Benefits Sacramento area disadvantaged women and children
On the web: www.ediblegardensac.org or www.soroptimistsacramento.org