Know your neighbor: Ronnie Corrick, longtime volunteer with Women's Empowerment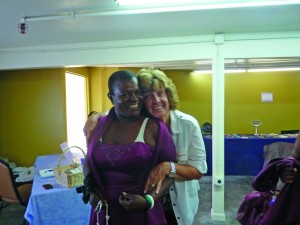 A warehouse near Loaves and Fishes undergoes a transformation each year. Filled with ballgowns, dress shoes and accessories, homeless women come there for what's inside. Truth be told, there's one thing for certain — the beauty of the garments reflects the beauty of each woman there.
"She looks like a supermodel! Every dress she puts on looks great on her." That kind of dialogue echoed through the room as women came inside, sharing their stories while trying on gowns.
One of the women, Tajuana Martin, picked out a lovely pinkish dress. She and the other women there graduated from an 8-week job readiness program through the nearby Women's Empowerment and are gearing up for graduation and gala, which is the largest fundraiser of the year.
"I graduated in December. Session 49!" Martin exclaimed. "There's nothing I can't do. I love it. I love my job. I work for the Lawn Man. As a woman going into an all men's job force I've learned girls rule."
She and the other women are getting excited about the gala, which will include a formal dinner, live and silent auctions, live music and presentations from the graduates. Community members can also choose to sponsor a graduate to attend the gala. They expect 100 students and 500 community members. Expected attendance has increased by 100 people with the hope that with more people, there will be more exposure to the nonprofit. All of the dresses, shoes and accessories have been donated to Women's Empowerment from the community. The gala will take place 5:30-9 p.m. on Oct. 3 at the Red Lion Hotel Woodlake.
Ninety-three percent of Women's Empowerment graduates regain a home for themselves and their children and 75 percent secure a job or enroll in school. Just recently, Party City on Arden Way just hired graduates from WE for seasonal work. One of the women at the warehouse picking out dresses mentioned she just started working there on Sunday. Everyone was excited about the new beginnings headed their way.
To Ronnie Corrick, an Arden-Arcade resident who has become a driving force at Women's Empowerment for her volunteer work at the donation center, the gala symbolizes so much. Not only did she fall in love with helping women "feel like Cinderella" she said the special event brings out the dignity in these women, making them feel more mainstream. "Most of these women haven't been to prom or any special event," she said. "These ladies first feel like outsiders, not like other (accomplished) women their age … They would never be at Macy's. If they are shopping, they are shopping at thrift stores. With Women's Empowerment, they can go out in the world. It's a holistic program. At the end of a session, I can't pick these ladies out on the street … It really is a transformation."
Corrick watched as women picked out items. There was one woman with such a sweet smile. "She's so appreciative, so humble," Corrick said of the woman, adding that so many women want to come back and volunteer. "They all want to give back," she said.
While they boast high success rates with the program, women who may "hit a snag", can come back to the program. So Women's Empowerment really is a resource available to these women through out their lives.
The eight week program includes so much and this is just a partial list – computer training, financial training, nutrition classes, exercise, domestic violence courses, parenting classes. As Corrick puts it: "Everything they need to get level in their lives." After they go through the program, they get household items, such as bedding, kitchen starter kits – everything they might need to set up their homes.
Each day, staff and volunteers were inspired by the potential of Women's Empowerment students and graduates striving to change their lives and create a more promising tomorrow for their children. 2012 was a year the organization felt compelled to respond to the skyrocketing number of newly homeless families and to increase the training programs that are tailored to meet employers' needs.
Surrounded by the hope inside their doors and the hopelessness outside of them, Women's Empowerment moved just three blocks away to a professional building with expanded areas for education and training as well as beautiful spaces for children to learn and play.