Tahoe Park resident releases children's book with environmental purpose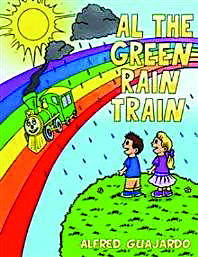 "Al the Green Rain Train" by Tahoe Park resident Alfred Guajardo takes the youngest readers on a learning adventure to rain swept landscapes, showing the beauty of rainbows a little water and sun can create as well as how devastating a torrential downpour can be on homes.
Asked why he chose a train as the force that brings rain to the land, Guajardo said: "Not knowing that 'Al the Green Rain Train' was going to be born, I was just taking a walk before it started raining. Then it started to rain, and I said: 'My buddy — the rain.' Walking a little more, I said: 'My buddy — the rain train', which worked out because the train makes clouds and rain instead of smoke and soot. It makes sense to me."
A self-proclaimed environmentalist, Guajardo said he believes each person should do his or her part like recycling and conserving water. "We have to do something positive to help our already fragile Mother Earth. We should also stress to our younger generation how important our environment is, and I also believe that Earth Day is every day."
In an interview with this publication, Guajardo commented on the reason he named the train Al. "At first, it was the 'Rain Train' and with the book being environmental, I changed it to 'The Green Rain Train', and as I kept putting the book together, I thought it would be nice if the train had a name. And my name is Alfred, so I thought Al would work."
One foggy night when the author was at his brother- and sister-in-laws' country home, sitting around a campfire, reciting poetry, his niece Selena and nephew Juan-Manuel Guajardo asked him if he could write a poem that they both understand. "I said, 'sure', and, well one thing led to another, and I ended up writing a children's picture book that they both understand," he said.
Getting "Al the Green Rain Train" published was an interesting and challenging odyssey, Guajardo said, but with the help of local librarians and his family, he was able to navigate the Internet and find his publisher, Authorhouse.
"I felt like a rowboat in the ocean, and all I had was an email address as far as being computer literate, but thanks to Sacramento's public library system, which includes the Central library and Colonial Heights, (as well as help from the) Tahoe Colonial Collaborative, my sister-in-law Irma Guajardo, and my buddy Ernie Valencia, all would help me right my ship, and send me in the right direction, with the right information. Yes, I am a true believer in Sacramento's public library system, where a beginner or novice can start, and complete their project with helping hands, and get answers when needed. I also found out that Sacramento's librarians are awesome."
Officially released, Jan. 9, 2012, Guajardo said he loves giving away copies at different events like Chalk It Up. "I feel good when I see a smile on one's face like a child or even a parent's face. It gives me a natural, emotional and spiritual feeling that cannot be bought or taken," he said.
His book suppliers include: amazon.com, Barnes and Noble, Books a Million, Authorhouse, Google Books, Fishpond.com, junglelee.com, eBay.com.
Al the Green Rain Train, Alfred Guajardo, Authorhouse, Barnes and Noble, Books a Million, Central Library, Chalk It Up, children's book, Colonial Heights, eBay.com, environment, Ernie Valencia, Fishpond.com, Google Books, Irma Guajardo, Juan-Manuel Guajardo, junglelee.com, monica stark, pictures, poetry, rain, Sacramento's public library, Selena Guajardo, Tahoe Colonial Collaborative, Tahoe Park, train, young readers