Bringing back coffee to Riverside Boulevard: Vic's Café to serve Temple Coffee and Old Soul baked goods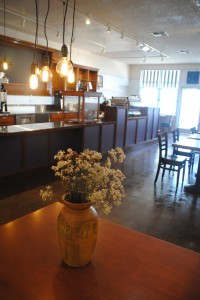 The 3100 block on Riverside Boulevard has a recent history of coffee shops that have come and gone. For xxx years until xxxx, Central Valley Coffee used to be the neighborhood go-to place for a hot cup of java. Also, there was a small coffee bar inside Land Bark Pet Supplies that closed in 2010.
To fill the void, Vic's Ice Cream owner Craig Rutledge is opening up Vic's Café next door to the parlor, where he will be serving up Temple Coffee and baked goods from Old Soul. "The beauty shop (Artisan) moved across the street and there's no coffee shop anymore on Riverside. There isn't anything around here," Rutledge said. "The closest decent coffee place is Espresso Metro. And we just have the Starbuck's on Freeport and the one inside Target. And we have the La Bou on Sutterville (Boulevard) and Land Park (Drive)."
Rather than expanding Vic's Ice Cream itself to include a coffee bar, Rutledge and his staff have been working diligently for the last few months transforming the former Artisan Salon into a coffee house. "We don't want to take away from Vic's (ice cream). The main thing is get
the coffee and pastries going," he said.
"It was a beauty shop, so we had to put in new plumbing new wiring, new flooring. It's mostly done except there's a lot of little stuff that is not done," he said.
So, there's no telling when exactly it will open, Rutledge said, as "there's still stuff to hook up. It will be at least a month or more out," he said, adding: "the city and county still have to come and
inspect."
While the café will be hiring a few new people to help out, its arrival will allow for current ice cream parlor staff to work more hours.
On the phone with the Land Park News Rutledge's voice got excited with he started to talk about how the coffee house will change the atmosphere on his block. "Imagine parents coming down. Mom gets a latte and kids get ice cream and down the road we will do other things you won't get at other places. This will augment Vic's (Ice Cream). We won't take away from Vic's," he said.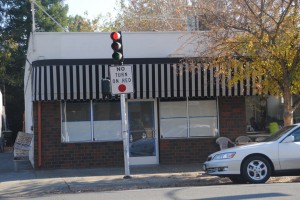 There are a lot of little things he said they would like to try after they work out the kinks of operating a new business. "We won't have sandwiches; we have sandwiches on the other side," he said, referring to the extensive sandwich menu at the ice cream parlor, which has items that range from a basic ham sandwich to a Braunschweiger, a type of liverwurst or pork liver sausage named after Braunschweig, Germany. But Rutledge looks forward to offering affogato, a concoction of ice cream and espresso that takes the form of a scoop of vanilla gelato or ice cream topped with a shot of hot espresso.
The closing time will be the same as Vic's Ice Cream and will open at 6 a.m. daily, so closing time will be 8 p.m. during most of the year and 10 p.m. through the summer.
"We know there is nothing else open (at night) except the pizza place, (Masullo's) and Riverside Clubhouse. On our corner, there is nothing open, except for Valero's (gas), which opens at 6 a.m. and they close when we (Vic's Ice Cream) close."
Rutledge said five of the staff, he included, trained at Temple for three days, six hours each. "It's an art to get everyone to do it right. We were just pulling shots of espresso and getting the right way of grinding it." Then there's the monitoring and frothing of the milk. "We didn't get into any of the art work," he said, explaining how important it is to get the proper ratio of milk, cream and froth mixed together for lattes versus cappuccinos.
"That was a month ago we did that. Ever since then, two or three days a week, everyone practices. We have 200 pounds of coffee and we're just practicing. Any time you're learning something new, it's kind of fun. From how it's handled to how it's roasted and how machines are and things like that. I didn't know all that. Obviously there's a lot of things involved. I didn't realize it was involved as it is," Rutledge said.
Jeremiah over at Temple (which has 47 wholesale accounts like Vic's) trained the Vic's staff. "They had to go through a lot," he said. "We give a follow up every six months. They will have to come back and brush them up a little bit and we'll give them another day of training."