Congratulations to our very own: Lance Armstrong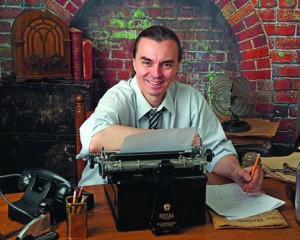 The Sacramento County Historical Society will recognize Valley Community Newspapers's very own historical writer, Lance Armstrong, at its annual dinner, to be held Tuesday, March 25 at 6 p.m. at the Dante Club, 2330 Fair Oaks Blvd.
Lance Armstrong was born at Sutter Memorial Hospital in Sacramento and has had a lifelong interest in the rich history of his native city and region.
At a very young age, Lance excelled in English courses and writing proficiency and creativity, and as a teenager, he was awarded a special medal for his excellence in creative writing by the San Juan Unified School District.
It was also during his teenage years that he created his own single-page newspaper, which he distributed to friends in various states. And because of this fact, occasionally Lance has humorously told people that by the time he was 16 years old, he was the editor of a national newspaper.
Lance's early interest in history led to his many years of researching local histories and preserving historical documents, photographs and other historical items from throughout Sacramento County and other areas of the Golden State in his vast personal collection, which is recognized as the Lance Armstrong Collection.
After graduating from California State University, Sacramento with degrees in journalism and music, Lance began his professional writing career, which includes his work for local newspapers such as the East Sacramento News, Land Park News, Arden-Carmichael News, Pocket News, Elk Grove Citizen, The Sacramento Union, Capitol Weekly, Sacramento Downtown News, Sacramento Midtown News, Old Sacramento News, Natomas Journal, The Folsom Telegraph and the Sacramento News and Review.
Lance, who is presently employed by Valley Community Newspapers in Sacramento, has used his knowledge, researching abilities and personal archives in the process of producing local history articles for each of these publications.
These informative and entertaining articles provide a valuable resource for the present and future understanding of the area's rich history.
The majority of Lance's local history articles include oral history quotations from his interviews with people from various levels of society.
His local history articles have been positively recognized by various newspapers and organizations.
For instance, in a review of local newspapers in the Jan. 8, 2009 edition of the Sacramento News and Review, one of that publication's writers, Cosmo Garvin, wrote: "Lance Armstrong's writing on Sacramento history is always interesting."
In 2006, the Elk Grove Historical Society presented Lance with an honorary lifetime membership for his continuous articles and other efforts in preserving the 150-year history of the Sacramento County city of Elk Grove.
Lance, who is also a member of the Sacramento County Historical Society, received another honorary lifetime membership six years later from the Portuguese Historical and Cultural Society (PHCS) for "his work in documenting the lives and contributions of the many Portuguese and Portuguese descended persons who were instrumental in developing the Riverside-Pocket area of Sacramento."
In commenting about the latter honor, PHCS President Mary Ann Marshall said, "We are very appreciative of the many Portuguese-related articles that (Lance) has written for the Pocket News and we are pleased with the opportunity we have to archive them for future generations to have access to them. Lance did a wonderful job in making these stories come to life."
In another honor, Lance received national recognition from the Grand Lodge of the Benevolent and Protective Order of Elks, in 2011, for his article, "Elks Lodge No. 6 has extensive history in Sacramento."
The article, which was first published in the January 7, 2010 edition of the Pocket News, was selected as the country's best newspaper article written about the Elks that year.
In addition to his hundreds of local history newspaper articles, Lance is the author of Echoes of Yesterday: Elk Grove – the first book in his Echoes of Yesterday history book series.
In 2007, Echoes of Yesterday: Elk Grove was recognized as the nation's top regional history book for that year by the American Authors Association.
Lance is presently nearing the completion of several comprehensive history books about Sacramento from the times of Captain John Augustus Sutter to present.
His other endeavors include his regular contributions as a professional newspaper photographer and volunteering as a judge at the annual Camellia Society of Sacramento Camellia Show Photography Contest. He is also a public speaker, a musician and an avid music memorabilia collector with an emphasis on collecting concert posters and LP records, ranging in genres from rock and blues to jazz and country.
American Authors Association, Arden-Carmichael News, California State University, Camellia Society of Sacramento Camellia Show Photography Contest, Capitol Weekly, Captain John Augustus Sutter, collector, Cosmo Garvin, East Sacramento News, Echoes of Yesterday: Elk Grove – the first book in his Echoes of Yesterday, Elk Grove Citizen, Elk Grove Historical Society, Grand Lodge of the Benevolent and Protective Order of Elks, Lance Armstrong, Lance Armstrong Collection, Land Park News, Mary Ann Marshall, music, musician, Natomas Journal, Old Sacramento News, Pocket News, Portuguese Historical and Cultural Society, public speaker, Sacramento, Sacramento Downtown News, Sacramento Midtown News, Sacramento News and Review, San Juan Unified School District, Sutter Memorial Hospital, The Folsom Telegraph, The Sacramento County Historical Society, The Sacramento Union