Start the Fourth of July with some exercise and community support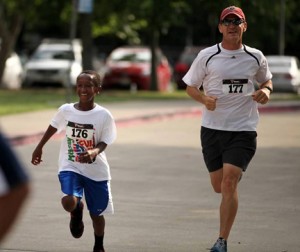 "On your marks, get set…GO!"
Those words have launched Greenhaven/Pocket residents into the 4th of July holiday for the past 19 years at the annual 4th of July Fun Run organized by Matsuyama Elementary School, 7680 Windbridge Dr. Starting at 8 a.m. on July 4, the race takes walkers and runners from the school entrance through the neighborhood, along the greenbelt path, on both 5-K and 8-K routes. Winners in each category receive awards, but the main objective of the day is simply to enjoy physical fitness and fellowship, and to raise money for the incoming 6th graders at Matsuyama to attend Sly Park Environment Science Camp in the spring.
"The entire registration fee for the event goes toward sending kids to a week of camp," explained Judy Montgomery, principal at Matsuyama. "Thanks to a number of corporate sponsors, our race costs have been covered. Participants can either designate a specific student on their registration form to receive the registration money, or they can allow us to select a student who needs the financial help."
Community members of all ages can participate in the Fun Run. To register, pick up a form in the Matsuyama office or print one at: matsuyama.scusd.edu. Then return the form to the school with the check made out to "Matsuyama Student Activities – Sly Park." All pre-registrants (received by May 30) will receive a t-shirt and pay $15. After May 30, registrants will pay $20 and will not receive a t-shirt. On-site registration takes place July 4 from 7-7:45 a.m.
After the race, participants can stay on-site to grab a snack and watch the Pocket Parade, which travels right by the school. Don't miss this great way to begin the 4th of July and support our local kids!