Arden Garden Market to debut in the neighborhood Saturday, June 21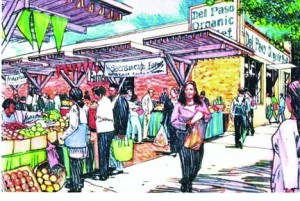 Sacramento sits within one of the richest farming regions in the world, yet has less than 50 percent of farmers markets per capita, compared to the rest of the State of California. This is about to change. Arden Garden Market, 1409 Del Paso Blvd., will have its grand debut on Saturday, June 21 from 7 a.m. to 1 p.m. As an independent marketplace, it is dedicated to an ambitious mission: Creating a food community dedicated to feeding the body as much as the soul.
The opening day of the market will feature live music and food trucks in addition to the various food vendors.
In speaking about the market to the Arden-Carmichael News, organizer Dan Friedlander said: "We see AGM as a future piece of a regional approach, where the region may have three mega markets, ours being the first. We have room for over 200 vendor booths at affordable prices three days a week outside and year round, and seven days a week for inside shoppers."
Designed by San Francisco's most renowned female architects, Cathy Simon of Perkins and Will, the AGM master plan is both "comprehensive and dynamic" said Friedlander.
Simon designed the marketplace inside the San Francisco Ferry Building as well as being responsible for planning decisions on Harvard's U.C. Berkeley and Stanford's campuses, Friedlander said.
Totally accessible by car or lightrail, the market nears Iceland skating rink and is next to 40-plus commercial buildings within several blocks that organizers hope will become food related businesses as the AGM catches on.
Meanwhile, GOOD street food + design market, a modern day marketplace that blends locally made/ grown products, live music, street food and high quality design into a one-stop shop for consumers is housed on the first Sunday of the month in the main building. Friedlander said AGM hosts GOOD on that day and they are working together to make this turn into something that runs continuously, but that necessarily isn't a GOOD project.
If you go:
What: First Arden Garden Market
When: Saturday, June 21 from 7 a.m. to 1 p.m.
Where: 1409 Del Paso Blvd. (Across from Iceland)