Know your (former) neighbor: Adam Zeboski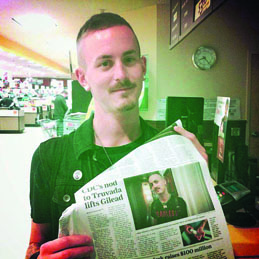 Tahoe Park native and current San Francisco resident Adam Zeboski didn't set out to become the poster child for a radical new HIV-preventative drug, but he's embraced the attention regardless because he felt it was important that those might need this new option know that it was available.
The medication Zeboski is now synonymous with is called Truvada, a pre-exposure prophylaxis or "PrEP", which nearly completely prevents those who are at risk of contacting the HIV virus from becoming infected by ingesting a daily pill. Zeboski learned about this treatment while preforming his duties as an HIV counselor.
"I became a HIV counselor in 2010, and I did my own personal research as the first trials began," says Zeboski. "I do PrEP for my own personal safety. It makes me feel more comfortable."
That feeling of comfort doesn't always come easy, according to Zeboski. Many individuals experience awkward emotions when bringing the treatment up with peers and medical professionals. That's why he decided it was important to help craft the medicine's narrative in a more human light.
"It's not widely discussed, or discussed in a negative way," Zeboski relays. "There's a slut-shaming stigma which can become a barrier from people using PrEP. It can make it hard to access and hard to talk to your doctor about and actually increase HIV infections."
In fact, a widely read article on the Huffington Post website only made things worse for would-be Truvada recipients. An article titled "Truvada Whores?" postulated that the treatment was a justification for homosexual men to engage in risky sexual behavior. The argument was akin to those made by healthcare professional decades ago when the issue of birth control for unwed women would arise. Why promote more immoral behavior among the promiscuous, the piece postulated.
But Zeboski was convinced that Truvada and PrEP-style prevention methods actually encourage the user to consider all health risks they are exposed to and take stock to live in a way that is better for their bodies.
"People start caring more about their health and well-being after starting PrEP," Zeboski claims. Because they take daily actions to support their HIV negative status, they're actually giving more consideration about their health.
Zeboski chalks up much of the current shame around Truvada to people's uncomfortableness with sexuality. But he remains convinced that perceptions will come around.
"I reached my personal goal to get the word out and make people aware of PrEP," says Zeboski. "It will become mainstream in a few years."
If that comes to pass, it will be in no small part due to Zeboski's willingness to take the charge and become the face of state-of-the-art HIV prevention methods.