Book box in Tahoe Park resembles Dr. Who police call box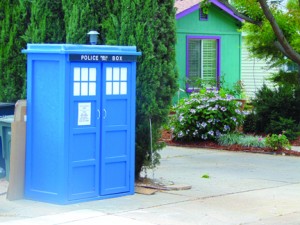 The Tahoe Park neighborhood is a new home for the Police Call Box featured in the English science fiction sitcom Dr. Who. Popular in reruns, fans of the television show playfully call themselves Whovians.
The Call Box, nicknamed Tardis, was an imaginary vehicle which allowed the heroes of the futuristic science fantasy to travel through both space and time.
In the Tahoe Park version of the blue box, which features a rooftop hurricane lamp, the passengers are library books and not people. Novels, juvenile books and a set of children's games are available for borrowers on the shelves of this little library, AKA call box.
Jeremy, a neighbor from the end of the street, explains that three weeks ago he borrowed a book of science experiments from the call box. "My girlfriend's daughter has done some neat experiments for her fourth grade class," he says. He also explains that he does not know when he needs to return the book to the box. It is his understanding, he explains, that books are "kept as needed."
A neat sign on the call box explains to anyone passing by the nature of the miniature library. Users of the informal library are exhorted to borrow but also to contribute books or other items.
Rebecca Hanson, a home health worker and neighbor a few houses down from the call box, says that she just heard about the small library. "My sister has one in her neighborhood," she explains "and pointed it out to me when she was visiting." Rebecca says that she hasn't borrowed any books but has a box of 50 or so books in her garage that she would like to give away. "Maybe there's room in there for my books," she says.
While two neighbors decline to be identified for this story, families in adjacent homes appear to be comfortable with the small library structure which sits in a driveway beneath a row of towering cypresses.
In addition to the white, instructional sign of the call box, homemade signs seem to decorate the street. Across the street, August, who has been out of work as an insulation contractor for some months, has posted signs announcing the sale of both vegetable seeds and handmade furniture. When asked about his neighbor's call box he explains that he "hadn't closely noticed it, but that the workmanship seems very skilled."
All in all, this street off of 63rd Street and near Highway 50 appears relaxed and accepting of each others outdoor eccentricities. Perhaps not surprisingly, it was the daughter of the creator of the 63rd Street call box who originated the idea of a miniature library.
According to one unidentified neighbor, she had seen a similar structure in Berkeley. From that original idea, it was only a hope and a leap for her to get dad to actually build the bright blue time machine which doubles as a small book deposit.