Featuring Capital Artists Studio Tour artists from East Sacramento, Tahoe Park and River Park
The following East Sacramento area studios will be open on the weekend of Sept. 20-21 from 10 a.m. to 5 p.m. A highlight of this weekend includes painting demonstrations at Patris Studio and Art Gallery, 3460 2nd Ave on both days from 10 a.m. to 5 p.m. The East Sacramento News thanks the following artists for submitting information about their works, which we encourage you, dear reader, to go out and see.
Jennifer O'Neill Pickering
works in three mediums: mixed media, watercolor and digital collage. She will be working on a mixed media sculptural piece at her studio, located at 53rd Street right before 9th Avenue in Tahoe Park It is in her garage that looks like a barn. Her address is 5259 9th Ave. Follow the signs! Also in Tahoe Park is the home of
Patt Illouli
(business name House Portraits), located at 2909
58th St., near the corner of Broadway and 58th Street in Tahoe Park. Patt produces both pen and ink
drawings and watercolor paintings. Working from photos that can either be provided by the client or that she takes herself, her work is sometimes mistaken for photos. But it is all hand made, the photo being used only for reference. Over the past 10 -11 years, she has made a kind of specialty of doing house portraits, though she paints people, pets, cars, boats, gardens, landscapes, etc.
John Fortes's
art studio is out of his home in a converted garage located at 5861 18th Ave. (off of 58thStreet.) Fortes's paintings have been exhibited in California, Nevada, Chicago, New York, Hawaii, Venezuela and Norway, and are held in numerous private collections, as well as, the Asian American Art Centre in New York, the Nevada Museum of Art in Reno and the Triton Museum of Art and Crocker Art Museum in California. A recipient of the Joan Mitchell Foundation Granthis paintings are often large scale explorations of self that lean towards the whimsical, dark and obscure. She will be showing a piece titled, "LimboHemia 1", which is from a series of works that explore self-imposed conflict through the layering of whimsical imagery, text and collage. Words within the painting poke fun and become a means to decode the work. In this case Limbo and Bohemia become LimboHemia, a place where no personal growth or progress occurs and where it's easier to remain static than confront the unknown. LimboHemia 1 is 8 feet tall by 7 feet wide.
Linda M. Paris
will be working out of her re-purposed garage at her house 388 36th Way. Linda's work is inspired by the "anomalies and curiosities of nature. Each medium used reflects a different aspect of nature that has inspired me at that moment." She will be showing paintings from her "White Tree Series", mixed media works from her "Books as Objects …. The Object of Books" series, and miniature dioramas from her "Anomalies and Curiosities of Nature" series. Ceramic sculptor
Frankie Hansbearry
produces whimsical pieces in addition to ceramic mosaics, watercolor paintings and some fabric art pieces and will be showing work her home studio, 4210 2nd Ave. "Smile for the Birdie," a mixed media ceramic sculpture is mounted on an acrylic-painted support. The dimensions are 16 inches by 16 inches by 10 inches.
At Marc Foster Creative, 320 Alhambra Blvd.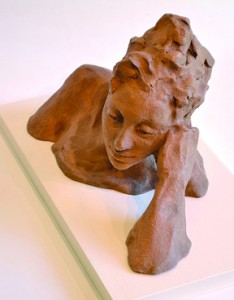 Examples of Boyd Gavin's two-dimensional work in oil on canvas and ink on paper, as well as, clay sculptures will be on display at the commercial design studio for Marc Foster Creative at 320 Alhambra Blvd. "My art is not primarily concerned with the 'likenesses' of things, but with the deeper, abstract complexity that lies behind appearances. My aim is to embody the spirit or ultimate reality of my chosen subject," Boyd explains.
Shelby Heinzer
will be showing work at the Marc Foster Creative, a studio space for metal working at 320 Alhambra Blvd. Shelby's work explores tension through dualities of color, composition and the boundaries between "representationalism" and abstract expression. She will be showing her oil painting, "Where I End and You Begin," which examines relationships in pairs and questions the boundaries upheld and torn down between two contrasting forces. Through the illusion of floating it evokes a sense of fantasy and wonder for possibilities and growth.