Crime up 50%: East Sacramento residents hear from authorities on safety issues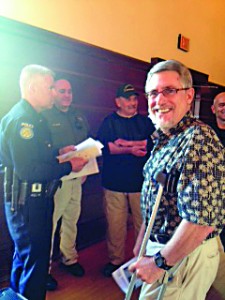 During the crime and safety meeting sponsored by the City of Sacramento at the Clunie Center Wednesday, Aug. 27, Glen Faulkner, a Pocket area resident and Sacramento Police Executive Lieutenant for East Area Command, told the standing room only crowd that his data indicates the past 90-day period included a total of 70 reported car and home break ins compared to 35 last year.
Not a good sign.
Evidence that indicates a perception that crimes are on the increase in our area may not simply be the result of something like the increase in popularity of Nextdoor.com.
The good news is that due to good community engagement, and new innovative police practices, reported crime overall in Sacramento is down. Large turnouts at community meetings such as this one give Faulkner hope that more progress can be made.
A couple of years ago, the Sacramento Police Department employed 804 officers. After the severe recession that number dipped to a low of 620, a number that has since been slowly climbing. What this means to the police is that an activated well-trained citizenry working closely with the police department is absolutely critical to our safety.
A citizenry that knows how to spot trouble, and what to do when they suspect something is not right, can help reduce crime possibly more than any other factor, says Faulkner. Therefore, one of the police department's biggest requests is for individuals to join a neighborhood watch and regularly attend neighborhood association meetings where officers often directly assist and inform the public.
Faulkner, and other officers, stayed long after the meeting was over to offer helpful tidbits to concerned neighbors letting them know that using the words "I suspect someone is casing our street" versus "there is a strange person on our street" can make the difference between meaningful police intervention as opposed to virtually no action.
The event was moderated by Council Member Steve Cohn who did a good job ensuring time was well managed in a one-hour presentation that included open Q&A along with public safety updates from Faulkner, parks safety updates from rangers Joe Cushing and Robert Conroy, and neighborhood watch and Nextdoor.com police liaison Jena Swafford. Also in attendance was Assemblyman Dr. Richard Pan and candidates Jeff Harris and Cyril Shaw who are both running to replace Cohn.
Jena Swafford helped inform us about trainings the department officers our communities, how the police use Nextdoor.com, and the robust amount of resources available on the www.sacpd.org website. Growing in popularity are home surveillance cameras which connect to home computers and which can now be registered to the police department on their website to allow the police to directly review any incidents caught on camera. Newsletters, a calendar of events, educational videos, and subscription to daily activity reports are also available on the site.
Cushing and Conroy fielded tough questions from the audience about the homeless problem we face. In fact, earlier that day Cushing had spent 10 1/2 hours helping to relocate many of the homeless. He explained that both the police and the park rangers share jurisdiction of the parks. The rangers are also suffering from budget cuts. Often Cushing has only one ranger on patrol to cover 250 parks throughout the city.
Cushing and Conroy confirmed what some in the audience expressed particular concern with – "the revolving door" and its associated expenses. It is a term used to describe when someone, often homeless and in need of help, is booked on a minor charge and then released four hours later only to be re-booked again and again. Officers directly involved say it does, indeed, exist.
As pointed out in prior East Sacramento News coverage the issue of homelessness and its associated challenges (economic and social) is a growing concern – one that has severely impacted not only Sacramento, but other communities throughout the nation.
Rather than simply tossing up one's arms and resigning to the belief that there is nothing really that can be done about these problems, models of intervention involving the police are proving that such thinking is convenient, but simply not true.
Large cities, even in highly conservative populations such as San Antonio, provide examples of models of care that dramatically improve outcomes while at the same time saving tens of millions of dollars each year.
Faulkner's newly promoted partner in the police department, Darryl Brian, explained that he is a U.S. military veteran who was stationed in Germany. He has seen many of his close friends struggle with serious issues only to end up homeless and on the street. Faulkner and Brian are now being mandated by their superiors to direct more attention to these models.
Working with Sacramento Steps Forward, a non-government organization, various agencies such as law enforcement, mental health, homeless, addiction, veteran's affairs, medical health etc. are creating effective "wraparound" services to help ensure that issues such as The Revolving Door change into Doors of Opportunity for those needing help.
Those readers wishing to find out more about our police and safety in our neighborhoods are invited to meet at Starbucks on 38th and J Street with East Sacramento area Lt. Alisa Buckley Thursday Oct. 2 at 7 p.m. The meeting was set up by Eastsacpetpal.com owner Leanne Mack.