What's in a name: How East Sac church leaders name their own children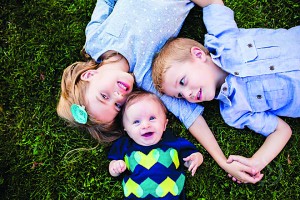 Brad Carpenter is a church leader who resides in East Sacramento. He initially contacted me after reading one of the past On the Curbs articles about Requested a smart phone app idea developed by his neighbor Sonny Mayugba. Brad explained that he was starting a new church in East Sacramento, City of Grace Presbyterian. He considered it to be a start up venture and in that respect possibly worthy of a write up.
After some thought and discussion we agreed that the article not so much focus on the startup of a new church in our community, but instead be published as part of a series of articles based on meetings with different spiritual leaders throughout our community focusing on them as neighbors, regular people just like the rest of us. After all, these people are familiar faces in our community, we may run into them at the local coffee shop, the local school, the market, the baseball and soccer games etc. My job then as a reporter would be to not so much focus on comparing or contrasting their religions, or their congregations, or the phase of their development, but instead introduce them to our community through some other commonality, something more personal.
After continued meetings, I discovered that one interesting commonality they shared was the importance that the act of naming plays in both their personal and spiritual lives. One of the spiritual leaders I met with is Native American. Sage's spiritual beliefs and the beliefs of her ancestors obviously stand in contrast to Brad's. But, their beliefs as well as their personal stories both value the process of naming. They both spent considerable time on the subject without my prompting; and, indeed, the importance the act of naming plays for all of them provides an excellent starting point in getting to know them as neighbors, as well as our community's spiritual leaders.
Let's begin then with Brad. When I mention that the process of naming, in this case his children, seems to be a recurrent theme in his particular story, he reminds me that in the Bible one of the first things God does is to name. And God said, "Let there be light," and there was light.  God saw that the light was good, and he separated the light from the darkness.  God called the light "day," and the darkness he called "night." (NIV Gen 1:3). And soon after, "Now the Lord God had formed out of the ground all the wild animals and all the birds in the sky. He brought them to the man to see what he would name them; and whatever the man called each living creature, that was its name. 20 So the man gave names to all the livestock, the birds in the sky and all the wild animals." (NIV Gen 2:19)
Because Brad was raised Christian his entire life one might expect that his children be named traditional Christian names such as John, or Sarah, or Isaac. But, Brad has three children and their names are Flannery (age 7), Asher (age 4), and Story (age 10 months). Now Asher is biblical in that it is the name Jacob gave to his eighth son. But, Brad did not name his child because of this. Brad and his wife Olivia both love literature and story telling and because of this this all of their children are based on literature, or the entirety of story telling itself rather than on the Bible, though their are Christian overtones.
For example, Flannery is a name the Carpenter's decided upon after having both admired the works of Flannery O'Connor considered by many to be one of the best short story authors of the 20th century and one of the strongest Christian apologetics. An apologetic is a Christian field of theology that tries to present a rational basis for faith. O'Connor was a devout believer whose writing presents the soul's struggle with what she called the "stinking mad shadow of Jesus." Surprisingly, Brad, a pastor, tells me that one of his favorite Flannery O'Connor stories, "A Good Man is Hard to Find", about the gruesome murder of a family on a road trip. Brad's aware that naming a child after an author who in one story uses the scene of a murder to provide a rationale for the faith of Christianity is pretty unusual. But, he also explains that he and Olivia liked the bold provocations of Flannery's style and wanted their first born son to have the freedom of expression associated with the flare and impact of the author.
Asher is a name the Carpenter's came upon while reading a jewish author, Chiam Potak, an author who wrote "My Name is Asher Lev". In short, the character of Asher is torn between leading a life based largely on the power of art, free expression, and imagination vs. the life of his parents who are Hasidic, entrenched in ritualist behaviors, but whom Asher truly adores. It's very true that Brad and Olivia obviously wanted their second child, a daughter, to also feel the freedom to express themselves true to their calling, even if that calling be different in ways from others close to them.
But, less obvious, yet still important when understanding who Brad is, is that Brad himself struggled while growing up Christian in his own household. Like the character of Asher, Brad's beliefs did not conform to all the belief of his family, particularly his father. As Brad became more in tune with his faith he realized in his teens that his faith differed from the faith of his father, a man whom Brad shares an intense love and loyalty. The realization of the distinction between his father's type of Christianity and his own, was grief ridden but in the end acceptable to both.
Perhaps most compelling is the naming of their youngest child Story. While in seminary studies Brad again felt the torque of a spiritual clash forming within himself. At the time he was being taught to preach using an outline with a particular form and function almost a cookie cutter type of approach. But as you may discern by now Brad loves narrative, and the powers of spontaneous story telling and Brad clarifies to me that the way he has come to view his life is that he is not the author of his own story and his destiny is not in his hands. being Christian Brad believes Jesus is the ultimate author, and Brad's destiny as an individual lies in His hands. Furthermore, to understand this is to understand why our lives take dramatic turns, and take us to places we would not chose. And, in the case of Brad, Olivia and Story, their story would indeed take an unexpected twist.
When Story was developing Olivia and Brad found out that she had complications, complications that are still to a large degree not understood. Story's skeletal system is not developing in the same way as ours do. And, the outcome of this is still a mystery. The doctors we able to discover the developmental issues even before Story was born, but after Brad and Olivia had landed upon her name. In fact, with Story the name had come to Brad in the middle of the night while asleep. Suddenly he awoke and the name Story was in his head loud and clear so much so that he immediately woke Olivia and told her that he had been awoken with a name for their child. And, as Brad tells it, the exact moment the doctors informed them of Story's unexpected condition, they both simultaneously realized the significance of her naming.
Story was indeed a grace that had come into their lives as part of a tale far deeper and more complex than they could ever comprehend. A story that continues to unwind itself in a very beautiful and loving way. For when Brad speaks of Story, one can sense the importance of faith in his life, his compelling feelings, and the path he and his family are on together right here in our community and on the curbs of East Sacramento.