Neighbors gear up for East Sac Garden Tour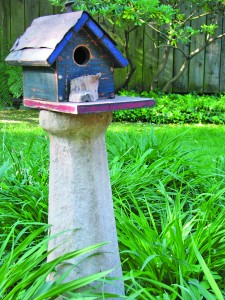 The 17th annual http://www.davidlubingardentour.com/tickets East Sac Garden Tour is a Sacramento tradition and scheduled for Mother's Day Weekend. Stroll through East Sacramento and the Fabulous 40s as you visit the seven featured gardens. All the gardens start out beautiful, but with the help of regional designers and artisans they are embellished to become works of art.
Susan Ballew, a homeowner on 37th Street, will be one of the neighbors showcasing her garden at the tour. Many of the plants, shrubs, and trees growing in Susan's yard are "transplants" from family, friends, and neighbors' gardens. Even some of the large rocks are "transplants." Perennials that came with the house have been divided and replanted in different locations. So the garden's "occupants" have a history and that makes them more personal and more interesting. Susan's garden has been planted gradually over the years and is constantly changing — and not necessarily by choice. For instance, when the side of the street lost most of its mature American elms, her shaded front yard immediately became a sun-drenched yard. The garden changed. And when she could no longer grow vegetables, or even flowers in her backyard because those trees matured, the garden changed. In fact, that half of her backyard is in transition from sun to shade and from lawn to a low-water-use area. That design is still in progress. It's been an exercise in creativity and redefining what a garden must now be.
Susan's garden was on the David Lubin Garden Tour about 10 years ago, but today it really is a very different garden. For repeat participants, don't worry, Susan said the metal horse trough will still play a prominent role! "I think my garden is casual, unfussy, and really doesn't require much maintenance. People enjoy seeing gardens similar to their own. They are inspired and can implement low-cost ideas quickly in their own gardens."
Susan truly enjoys sharing her garden and its stories. "It is an honor to be asked again," she said.
Asked why she is participating in the tour this year, she said, "David Lubin School is such an integral part of the fabric of our neighborhood, and I am delighted to help with raising money for their programs. What a wonderful way to celebrate Mother's Day — talking with people who are strolling through our beautiful neighborhood and enjoying the private gardens. It was a delightful experience for me 10 years ago and I'm looking forward to it again."
Anyone who loves gardening or Sacramento in the springtime will enjoy the tour. Other tour features include:
The ChalkTop
where David Lubin student art is displayed in a sweeping chalk gallery on their school blacktop.
Children's Art Wall
– Each year the children's art instructor, an educational enrichment option supported by the Garden Tour, puts on a children's art show in one of the featured gardens.
Tea Garden Luncheon
– Held at neighborhood institution Sutter Lawn Tennis Club and catered by http://www.alongcamejenny.com/Along Came Jenny Catering, the tea garden offers attendees a sit-down, alfresco lunch for just $15 (tickets sold separately).
Garden Tour Artisan Boutique
– If you wish to add to your own garden or embellish your home, the Garden Tour Boutique is the place get ideas for your garden.
Sweet Stop
— Sweet refreshments sold at David Lubin Elementary, near the boutique.
Three School Gardens
— Relax in David Lubin's Peace Garden, Edible Schoolyard, and the charming Kinder Garden.
Saturday, May 9 and Sunday, May 10
10 a.m. to 4 p.m.
both days
Pre-sale tickets available online:
http://www.davidlubingardentour.com/tickets
Tickets also available at East Sacramento locations. Please check the website for locations: http://www.davidlubingardentour.com.
Tickets purchased through May 8th are $20, $25 on the 9th or 10th
(children 12 years and younger are free).
Proceeds benefit David Lubin Elementary school programs, specifically academic outreach, the art program and the school gardens.