Free yoga continues to grow: Tahoe Park resident discusses Yoga in the Park at McKinley and Tahoe parks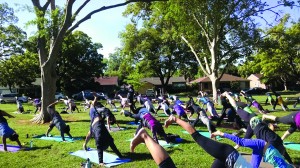 On Saturdays it's 9 a.m. at McKinley Park near the rose garden, on Sundays it's Tahoe Park. Yoga practitioners venture out to the grass, lay out their mats and enjoy hour-long yoga sessions free of charge by registered yoga teachers.
What began in 2009 by Gina Garcia with free weekly classes in her living room quickly grew to more than 50 on average in McKinley Park. And it was those classes that were some of Tahoe Park resident Zach Stahlecker's first experiences with yoga. "I consistently practiced out there on Saturdays even when I had a regular studio practice," he said. By 2013, he began assisting YITP with helping set up, clean up and offering assists (or adjustments) to students as they practice.
Meanwhile, over the last several years, Zach has seen a shift in the Tahoe Park neighborhood. "It is craving a connection to the city, and to each other," he said.
With the Sanskrit word "yoga," which is translated to mean "yoke; bring together. Or, union," Zach noted there is something very special about practicing yoga in a community where economics, age, or experience level is not an issue. So passionate about Saturdays at YITP at McKinley, he started YITP at Tahoe Park on Sundays. "My friend Jodi Dillon and I would alternate teaching Sundays. Our largest class last year was almost 70 people. And we are expecting much more than that this year."
Recently Gina has stepped away from YITP and Zach already had the experience with scheduling teachers, so it was a natural progression that he carry on these responsibilities, which he says, "is truly an honor."
There are a few additional parks around Sacramento that are contenders for YITP, but nothing is solid, he told the East Sacramento News.