Walk On the Wildside returns to Freeport on May 16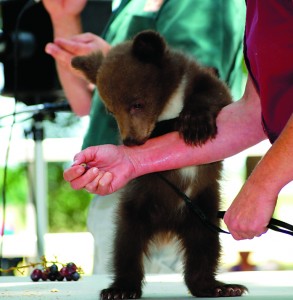 Join Regional San and its partners for the 20th annual Walk On the Wildside. This free, family-oriented day in the country includes lively entertainment and up-close views of many wildlife species.
This event celebrates International Migratory Bird Day, Endangered Species Day and highlights local efforts in protecting and restoring native Central Valley habitats and wildlife. Visitors can enjoy tours of restored wetlands, grasslands and forests on Regional San's Bufferlands. The tour provides up close views of an active heron and egret rookery. At the park, attendees may shop for native plants, art and photography while checking out conservation exhibits and live animal shows.
Event Directions: From Sacramento, travel Interstate-5 south and exit at Pocket/Meadowview Road and head east. At Freeport Blvd., turn south Continue two miles on the river road through the town of Freeport. Turn left at the signs (just opposite Cliff's Marina) and continue until you reach the Beach Lake Picnic Area.
For more information, visit www.wowsacramento.com or call 875-WILD. To learn more about International Migratory Bird Day and National Endangered Species Day, visit www.birdday.org and www.stopextinction.org.
Event sponsors include: Sacramento Regional County Sanitation District; U.S. Fish & Wildlife Service; California Department of Water Resources; Sacramento County Regional Parks; Friends of Stone Lakes National Wildlife Refuge; California Watchable Wildlife; Yolo Basin Foundation; Sacramento Area Creeks Council; Coastal Conservancy; Sierra Nevada Conservancy; Save our Sandhill Cranes; Sacramento Area Creeks Council; Yuba Sutter Chamber of Commerce – Swan Festival.
Highlights of the event include the following:
-Wild animal presentations by Wild Things, Inc.
-Folk music by Cliff Compton and Mountain Top
-Children's puppet show by Jason Adair
-Guided and self-guided tours on over three miles of open trails
-Environmental exhibitors
-Children's activity center, games and prizes hosted by local Girl Scouts
-Ollie Otter and Blue Goose Mascots
-Outdoor barbecue by Elk Grove High School FFA and Rotary Club
-Event and parking are free!
If you go:
What:
Walk On the Wildside is a FREE, outdoor festival celebrating local conservation efforts
When:
Saturday, May 16 from 10 a.m. to 4 p.m.
Where:
Beach Lake Park, Freeport
Who:
Hosted by Regional San, Friends of the Stone Lakes National Wildlife Refuge, Sacramento County Regional Parks, and the California Department of Water Resources