Bond of Brotherhood has inspired Gay Men's Chorus through 30 years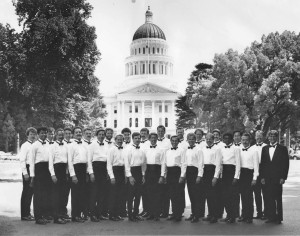 As they count down the days until their one-night-only 30th anniversary concert spectacular, Sacramento Gay Men's Chorus members are thinking about where they began and how far they've come.
On May 8, the chorus will present "Milestones: Our Journey Continues" before its largest audience, in the largest venue, of its 30-year history, Sacramento's Memorial Auditorium—a far cry from the group's first concert in spring 1985, performed at tiny St. Paul's Episcopal Church at 15th and J.
"I'm proud of the artistic quality that has evolved under Musical Director Steven Johnson and heartened to find how many men who love to sing have found a home with the chorus," said former state Assemblyman and cable industry executive Dennis Mangers of Carmichael, a founding member of the chorus, although he no longer sings with the group. "I am also gratified to find that the environment for the LGBT community has changed to the point where gay men and their straight allies in music are comfortable now calling themselves a 'gay' chorus. Such was not the case 30 years ago, when we were at risk in our employment and subject to other forms of discrimination."
Indeed, the chorus name was a topic of debate off and on for years. Members of a Sacramento gay men's social and networking group, Pillars, attended a concert of the San Francisco Gay Men's Chorus, founded in 1978, which sparked the idea to start a Sacramento gay men's chorus, recalls founding member David Kwong of Natomas, who continues to sing with the chorus.
Some wanted the new chorus to be identified as gay; others, including several who worked as teachers, were fearful of losing their jobs. In the end the group was named Sacramento Men's Chorus. "Even though by our statement, our programs, our supporters, everybody knew it was a gay group, our name allowed us the opportunity to be to work with the larger musical and arts community," Kwong says, noting that the chorus has performed with the Sacramento Choral Society, the Sacramento Philharmonic, Sacramento Ballet and Sacramento Opera as well as at senior centers and LGBT community events over the years. "There were straight members of the chorus then, and there are now," Kwong says.
"I don't think we thought about politics going into it," says Frank Lasso-Lawler of Arden-Arcade, founding member and three-time president of the chorus. "It really was a shelter, a place for people to socialize, have fun and sing."
Twenty-five to 30 men attended the first rehearsals in fall 1984, in an old building in Oak Park then owned by Metropolitan Community Church. There were springs beneath the floor of the second-floor ballroom floor, Kwong remembers, and you sank when you walked across it.
The group did a lot of cabaret shows in the early days, Lasso-Lawler says, performing at Garbeau's Dinner Theatre, closed in 2009 but recently reopened; audience members threw flowers and candy onto the stage.
After rehearsals the group would often gather at Alhambra Fuel and Transport, where someone would play piano and they would sing, Lasso-Lawler recalls. "They gave us free drinks as long as we were singing," he says.
Or sometimes it was the Spaghetti Factory for an after-rehearsal meal, where, waiting outside for a table, they would break into a doo-wop number, and the restaurant would open the doors to let the sound inside. Later they would be inundated with requests to sing at the tables of diners who were celebrating birthdays. Following the first concerts at St. Paul's, chorus members would treat the audience to cookies and champagne. "We didn't sing as well back then but we sure had a lot of fun," Lasso-Lawler says.
But the chorus's early years were also the beginning years of the AIDS crisis. More than 50 chorus members have been lost to HIV/AIDS, including two founding members instrumental in starting the chorus, Steve Mabs and Rick Whitnah. "I think to most members, the chorus is our family," Kwong says. "When we lose a chorus member we all feel it."
The chorus has ranged in size over the years from just 18 singers to its current 70-voices-strong. As it grew, it improved in musical quality and became known for creative productions combining a classical choral sound with professional-quality lighting and staging, exuberant choralography, costumes, and small-ensemble skits. Steven Johnson, who became musical director in 2012, further professionalized the group and pushed it to sell out performances in larger venues, such as Sacramento's Crest Theater.
The May 8 Milestones show pulls out all the stops, featuring guest performances by operatic soprano Carrie Hennessey, the Sacramento Children's Chorus and Aerial Evolution. AMP'D Entertainment's Arteen Kharrat, which counts the Golden Globe Awards and the Oscars among his clients, designed lighting for the production. Rob Stewart of KVIE's "Rob on the Road" will serve as master of ceremonies.
The 30-year milestone has prompted many of the chorus members to reflect on how not only the chorus but society have changed. "Thirty years ago not that many people knew someone who was gay," Kwong says. "Once you know someone, it becomes more personal, you lose the fear.
"Enjoying the sound of a chorus singing is such a common denominator among all people. When people can accept that the sound of singing is good, it helps tie communities together. Whether a person is gay or not is not a factor anymore."
Lasso-Lawler has detected a change in audience reaction. "We are appreciated for different reasons now," he says. "There were a lot of times in the early years when the audience would come out afterwards and say, 'That was nice.' Now to see the audiences walking out with excitement and high energy, I get a feeling of electricity."
For the chorus members themselves, the love of singing is important, but it is being part of something larger than themselves that keeps them coming back. "At one of our recent rehearsals we talked about why we joined," Lasso-Lawler says. "It always comes back to the brotherhood, the support we give each other."
The one-time-only performance of Milestones will be Friday, May 8, 8 p.m., at Memorial Auditorium, 1515 J Street, Sacramento. Tickets are $25 general admission, $40 VIP seating, and may be purchased online at www.sacgaymenschorus.org, at the Gifted Gardener, 1730 J Street; or from any chorus member.