Shop all things fabulous to support the Sacramento Children's Home at beautiful Arden area benefit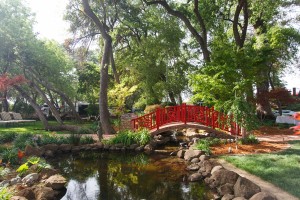 Sacramento fashionistas won't want to miss Haute Stuff, presented by Sactown Magazine. At this premiere spring event for the Sacramento Children's Home, guests will shop a unique marketplace lined with fashion, home and lifestyle temptations. Local vintner and culinary partners will offer a selection of specialty wines and delicious delicacies. The highlight of the afternoon will be an entertaining fashion show designed by Personal Stylist, Karri Grant, featuring the Sacramento Ballet and Front Street Animal Shelter.
Haute Stuff will be held on Sunday, May 17 from noon to 4 p.m. at Jardin Rue Estate. Tickets can be purchased at http://www.kidshome.org/events, and are $95 each or $320 for a package of four. Located along the Garden Highway, Jardin Rue Estate features beautiful gardens and breathtaking views of the Sacramento River. Free shuttling will be available all day from the nearby NP3 and Westlake Charter School parking lots.
Haute Stuff brings community members, sponsors, and supporters together to celebrate spring while helping to sustain programs that prevent child abuse and neglect and build strong families. All proceeds, including 20 percent of all marketplace sales, benefit the Sacramento Children's Home. A variety of sponsorship opportunities are available.
Karri Grant, Personal Stylist and Image and Wardrobe Consultant, is coordinating the fashion show. She is putting together an entertaining show that showcases local boutiques with their spring and summer designs. Guests will see grown-up florals, jewel tones, comfortable fabrics, classic black/white and nautical designs, as well as graphic prints, soft hues, suit separates for men, and playful patterns and bright colors for kids. For our furry friends – adorable cuffs, colors and bows.
Models will include many familiar faces from the greater Sacramento scene. They are all "real" people (not professional models), including women, men and children. Both the Sacramento Ballet and Front Street Animal Shelter will add special surprises to the Haute Stuff Fashion Show.
Describing how the idea for this kind of benefit came about, Laurel Sunderman, marketing and communications manager for the Sacramento Children's Home, told the Arden-Carmichael News that "many women proudly support the Sacramento Children's Home, and we wanted to create a signature fundraising event tailored primarily for them. With a broad selection of marketplace offerings – from fashion and accessories to home and garden – Haute Stuff appeals to women of all ages, economic levels and stylistic tastes."
The event gives women the opportunity to mingle, shop and celebrate their support of the Sacramento Children's Home in a unique setting. Attendees cannot get the same experience from any mall. "Ultimately, Haute Stuff brings together our community partners and our some of our most dedicated supporters for a fabulous time that promises opportunities for networking, while at the same time building awareness of the Sacramento Children's Home and raising funds to sustain programs that are helping to stop child abuse and neglect in Sacramento," Laurel said.
The Sacramento Children's Home provides comprehensive residential and community-based programs to address the issues of children and families throughout Sacramento who are at risk of or affected by child abuse and neglect. From educating parents of infants and toddlers to teaching independent living skills to young adults, the Sacramento Children's Home is able to help the widest range of clients and address the widest range of needs of any child and family service organization in Sacramento County. At nearly 150 years old, the Sacramento Children's Home is the oldest, and one of the most highly regarded charities in the area and makes a significant difference in the lives of approximately 5,500 children and 4,200 families every year. Through prevention, intervention, and trauna-informed care, the Sacramento Children's Home is opening doors to the future by maximizing the potential of children and families.
Jardin Rue Estate is the private estate of long-time Sacramento Children's Home supporters, Butch and Eileen Schuering, who have generously offered to host the event the last two years. Jardin Rue Estate is situated on the Garden Highway along the Sacramento River. Guests will be enchanted by the extensive grounds featuring beautiful gardens and river views.
This year marks the third annual Haute Stuff. The event has raised nearly $75,000 for the Sacramento Children's Home since 2013. "Many of our partners and sponsors look forward to returning to the event each year, and we are expecting this year to be our best yet!" Laurel said.
In addition to the fashion show and marketplace, there will be some fabulous raffle prizes. Themed packages will offer something for everyone – from a "sporty" package including horse riding lessons and Sac Republic tickets to a "Pamper Yourself" package featuring a spa day at Arden Hills, and so much more. The event will highlight event partners and previewing raffle items on the Haute Stuff Facebook page between now and May 17.
For event information and to purchase tickets: http://www.kidshome.org/events"www.kidshome.org/events 
Follow Haute Stuff on Facebook: http://www.facebook.com/sachautestuff