Matias Bombal's Hollywood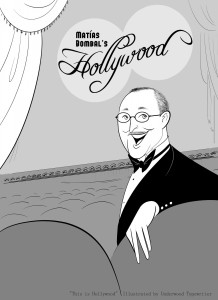 The Age of Adeline
The MPAA has rated this PG-13
LIONSGATE and Lakeshore Entertainment bring us "The Age of Adeline" in which Adeline Bowman, (Blake Lively), remains 29 years of age for almost a century through a mystery trick of fate during an automobile accident on an unusually snowy night in Sonoma, California in 1933.
In this romantic fantasy that spans the best years of the last century to the present, the eternally young Adeline is constantly running from her agelessness.
That is until she descends one New Years Eve in an elevator with a handsome philanthropist played by Michiel Huisman. Twenty-seven floors later, and with some persistence from him, she agrees, with trepidation, to come over for a date.
Romance blossoms, yet she remains guarded with her secret, which is in danger of being exposed unexpectedly when Harrison Ford, playing the father of Huisman, happens to have known and loved Adeline in the 1960s and is certain that it is she, much to the concern of his wife, played by actress Kathy Baker.
If you take your own sweetie to this movie, you'll have wonderful results for this is a lively 107 years of romantic fantasy, handsomely made. The beginning of the movie unravels in a beautiful and clever way and is marvelously imagined and carried out.
The only matter that seemed a bit forced was the closing voice over narration in storyteller fashion, which is the way the movie opens. The narration, by Hugh Ross, was okay, somewhat reminiscent of "The Hudsucker Proxy" but was a bit much at the end. This movie was directed by Lee Toland Krieger.
Hot Pursuit
The MPAA has rated this PG-13
Warner Bros. releases an M-G-M and New Line Cinema comedy which teams Reese Witherspoon and beautiful Sofía Vergara. This is in no way connected to the John Cusack movie of 1987 of the same name. his is more in the vein of a "Dukes of Hazzard" meets "Cannonball Run" and features Witherspoon as a tomboy cop assigned to protect the widow of a drug lord and bring her to trial as an informant.
Off to a shaky start, they must drive a long way to Dallas. The two are at opposite ends in every imaginable way, yet must bond together as they are chased by crooked cops and mad gunmen.
The director of this movie, Anne Fletcher, makes a Hitchcock cameo as a police dispatcher in one early scene. She's worked as an actress before turning to directing. Perhaps she should have stayed an actress.
This movie is unfunny. The chemistry between the two principals never develops, and no matter how charming Ms. Vergara may be, and she is that, she is the only redeeming aspect in this movie, which fails on many levels. Gaps in continuity and the prolonging what would have made a better television episode of 30 minutes is dragged out to 87 minutes. The preview audience laughed in many spots, however, to me, the entire production seemed trite and forced. Ms. Witherspoon has proved herself an excellent actress and comedienne in other movies, however, here her performance lacks the true ability of her talent, and seemed like she was playing dress-up for a TV skit.