On the Curbs: Compton's Market adding a full deli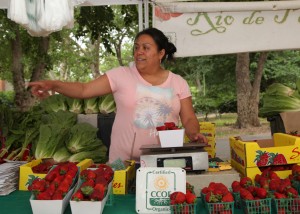 Sunil Hans and Mike Compton were personally available at one of their recent regular Friday afternoon tasting events. Featured was Sunil's mother's homemade Indian food, fresh salami, and delicious non-dairy cheeses made from nuts. What brought Sunil and Mike to the occasion was a special announcement. It is true, the store will be expanding its footprint by extending square footage to the east along the Meister Way side of the store.
The addition is planned to take place in August and will make room for a full deli, meat counter, and small coffee shop / bakery. Fresh juices and other items may also be available.
There were a number of members from the local neighborhood associations present mingling with the usual customers. The mood was very relaxed and open. The owners helped to explain what their vision is, namely to expand the store in a manner consistent with the original structure and to maintain close ties to the community throughout the process.
Feedback from all attendees during the hour I was present was very positive and Sunil and Mike received many compliments regarding the upgrades they are making to the store.
Be sure to check out the East Sacramento Farmers Market, which is every Saturday 8 a.m. to 1 p.m. at the East end of McKinley Park where the Shepard Garden and Arts Center is located. A special thank you to Ann Vuletich Clark, the Executive Director of East Sacramento Farmers Market, for bringing this to our community for the second year in a row. Puppies, children and smiles abound and the weather has been gorgeous.
Live music is a part of the scene and you can find updates, a list of the vendors, and other details on the website at http://www.eastsacfarmersmarket.com. If you or someone you know of would like to play at the market (good outdoor background types of music), please feel free to call 402-3261 for more information.
As summer approaches and more of us spend time outside, let's remember to help keep our neighborhood safe. Be sure to join your local neighborhood watch group or start one yourself. The City of Sacramento's Police website is an excellent resource to find out how to start a new neighborhood watch group. You can find that online at portal.cityofsacramento.org/Police.
If you are interested, starting on June 23 at 6:30 p.m. at One Speed Pizza (4818 Folsom Blvd.) and continuing every fourth Monday of the month, a group of neighbors and police officers will be meeting to talk crime prevention. Each meeting will have a different topic. The topic in June will be crime prevention through environmental design.
A great free phone app to use to learn about crime in your area is called RAIDS online. You can set the program to send you email updates every day, week, month or whenever. You get to view a map which you can set to highlight certain crimes such as burglaries, burglaries from autos, assaults, and drug offenses. It's an excellent example of how technology can empower citizens to become aware of what is going on around them.
Michael Saeltzer is the president of East Sacramento Preservation and a local real estate agent.