Jeff Harris continues the Pops in the Park tradition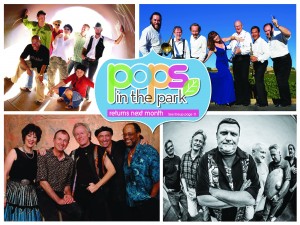 Here's a sneak peak at the talent coming to East Sacramento at the annual Pops in the Park music series. This free concert series happens every Saturday in June at different parks in District 3. Come on out for great music, wonderful food, and tasty beer and wine which all support local neighborhood programs. So, please join council member Jeff Harris as he continues the tradition of Pops in the Park. For more information, call 808-7003.
New to the district 3 office, Jennifer West, Harris' executive assistant, said that organizing this year's Pops in the Park has been relatively easy. "Jeff's the best guy to work for. And everything was extremely organized (from Sue Brown and Steve Cohn's tenure). We didn't have to reinvent the wheel and (she) has been accessible to me. We're not changing too much. It's just business as usual. It's going to be great summer." Additionally to Pops in the Park, Harris' office is continuing the Screen on the Green with two showings of "Big Hero Six" — one in South Natomas on Friday, Aug. 28 and one at Glenn Hall Park on Saturday, Aug. 29.
The schedule is as follows:
-Tom Rigney & Flambeau will be at East Portal Park (1120 Rodeo Way) on Saturday, June 6 from 6 to 8 p.m.
-The John Skinner Band-will be at Bertha Henschel Park (160 45th St.) on Saturday, June 13 from 6 to 8 p.m.
-Mumbo Gumbo will be at McKinley Park (601 Alhambra Blvd.) on Saturday, June 20 from 6 to 8 p.m.
-The Count will be at Glenn Hall Park (5415 Sandburg Dr.) on Saturday, June 27 from 6 to 8 p.m.
Now about the bands:
Tom Rigney and Flambeau
Tom Rigney, the fiery, electrifying violinist/composer, joins forces with some of the finest musicians on the San Francisco roots music scene to form Tom Rigney and Flambeau, a band that will tear the roof off of any place that has one and raise the spirits of everyone around. Rigney, now in his second decade at the helm of Flambeau, has in recent years become one of the premier blues and roots music violinists in the world. Flambeau showcases his passionate, virtuoso fiddling, his commanding stage presence, his range, depth, and originality as a composer, and of course, those notorious red boots! His bandmates are veterans of the great bands of Charles Brown, Queen Ida, Clifton Chenier, and many others, and together they generate enough heat and energy to ignite a dance floor or lift an audience to its feet.
Mumbo Gumbo
For over 25 years, Mumbo Gumbo had been one of N. California's top groups. releasing nine original-music CDs and collecting numerous "Sammie" and "Best of Sacramento" awards. The 7-piece band tours the Western United States, bringing their "genre-bending Americana" music to their many fans. Their big musical stew contains elements of soul, zydeco, folk, blues, rock, Cajun, Caribbean, and country all mixed into their uniquely festive roots-music sound.
THE COUNT
The Count is a classic rock band from Sacramento with Jim Caselli on drums, Mike Caselli on keyboards, Bruce Leino on bass guitar and vocals, Sean McAuliffe on guitar and keyboards, Ed Nelson on vocals, George Stratton on guitar and vocals. The Count is a tribute to music. Playing a unique blend of Rock and R&B with the occasional twist thrown in for good measure, The Count strives to take their audience on a journey where every note played counts.
The John Skinner Band
John Skinner's musicians have entertained in Northern California for several decades. The combo offers hit songs from the 1950s; professional horn players allow smooth transitions from swing to rock. New-Zealand-born Susan Skinner is our featured singer with other band members also chiming in on vocals. Rick Baker is the lead trumpet player and leader. The Skinner ensemble has delighted park audiences all over Northern California; enlivened thousands of galas, shows and weddings. Many Sacramentans remember summer Fridays at Town & Country Village. In the 1980s, Skinner's 14-piece group played there for seven years. This band has also backed many stars. These include Johnny Mathis, Anne Murray, Smokey Robinson, Don Rickles, Bobby Rydell, The Temptations, The Four Tops, Paul Anka and Donna Summer.
John Skinner provides a true variety band. The combo plays swing and retro tunes, jumping to Motown classics, ballads and rock. Getting people dancing is our aim and our reward.
Three popular Skinner CDs are available. Two recordings each contain 74 minutes of music from the combo. The big band CD has 60 minutes of danceable tunes. Susan offers her own CD of eight original songs, recorded with John Skinner musicians.