Local gym hosted "Totally Rad" 80s-themed spin-a-thons to help Jesuit and St. Francis students raise money for blood cancer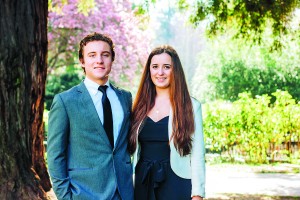 On Saturday, April 25 and Saturday May 2, California Family Fitness hosted two "totally rad" 1980s themed ride-a-thons to help Jesuit and St. Francis High School students, Maverick Kuhn and Abby Fitzgerald, raise funds for the Leukemia & Lymphoma Society.
Participants were encouraged to bust out their legwarmers and scrunchies. Geared up to take part in a one-hour cycle class, they won't soon forget, they helped raise funds for blood cancer research and were eligible to win raffle prizes like free memberships, personal training and Body Fit specials.
The Ride-a-Thon sessions were one hour, and those interested in helping support LLS were encouraged to participate in as many sessions as possible. Each Ride-a-Thon was modeled after Cal Fit's cycle classes, which are designed for members to enjoy at their own pace no matter their fitness level.
LLS is the world's largest organization dedicated to funding blood cancer research. Each year, LLS hosts a 10-week Student of the Year campaign in which student candidates compete to raise the most funds for blood cancer research in honor of local children who have survived the deadly disease.
Maverick, a junior at Jesuit, and Abby, a junior at St. Francis, partnered on this activity at both the Rocklin and Midtown California Family Fitness locations. They wrote into this publication about why they participated.
Abby said she chose to get involved with LLS in 2007 because she had a cousin who passed away from Leukemia. "The impact his fight had on my life inspired me to become a part of this great cause and encourage others to do so as well," she said.
Meanwhile, Maverick said he was directed to LLS by a friend who had raised funds for the organization in the past. "Through LLS, I met Rj Nazareno and Bailey Mcfarland, two courageous children battling leukemia. I became so inspired by their battle against cancer that I thought raising money for LLS was the least I could do. With 73 percent of all funds raised going directly toward research, I knew that LLS was the organization Abby and I could make the largest impact with."