Shades of Carmichael: A return of the Parade of Art Umbrellas comes to Carmichael Park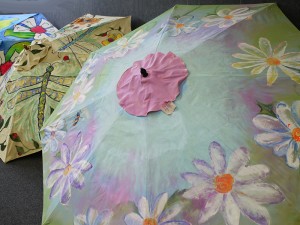 The Parade of Art Umbrellas in Carmichael Park returns! A very popular fundraiser event that benefits the Sacramento Fine Arts Center and Carmichael Recreation and Park District will take place in Carmichael Park from 10 a.m. to 4 p.m.
Can you imagine a Christo-like display of 80 artist-decorated umbrellas winding its way through the Park on the green grass and among the trees?
Artists have been working for months painting and decorating 9-foot umbrellas that will be sold at live and silent auction on Saturday, May 16. Bids begin at $65. Venders, children activities, plien air artists painting, food trucks, live music and art umbrellas will complete this event.
The event is co-sponsored by the Sacramento Fine Arts Center, Carmichael Park and Recreation District, Lind Brothers Funeral Home and Carmichael Ace Hardware.

Carmichael Park is located at Fair Oaks Boulevard and Grant Avenue.