Matsuyama rallies for student needing bone marrow transplant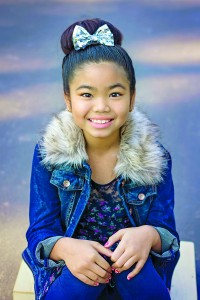 Nine-year-old Allayah Phan, a fourth grader at Matsuyama Elementary School, has a rare condition — severe aplastic anemia — and is in need of a bone marrow transplant.
So far, the only donor match (83 percent) lives in Thailand. Because the match is 83 percent, a transplant would put Allayah at risk of rejection, which could damage her internal organs.
Allayah is seeking a local donor. To help with her search, Matsuyama is sponsoring a bone marrow drive during open house, which will be held at 5:30 to 7:30 p.m. on Wednesday, May 27. Also, the Kim Quang Temple, located at 3119 Alta Arden, will be holding a bone marrow blood drive.
The Phan family has also created a gofundme account to help cover medical expenses.
On the gofundme page, Allayah writes: "I enjoy reading chapter books and watching movies with my family. My hobbies are decorating and designing things with arts and crafts. I have a dog named Boo that I love to play with. My favorite colors are blue and purple and my favorite type of candy is chocolate! I love to eat fish or pasta, but not usually together. I enjoy dancing on my free time and would like to be in a jazz and hip hop dance class."
Adds Principal Judy Montgomery, "Allayah is a Mighty Pine and a mighty fine young pine at that."
Describing the urgency of Allayah's situation, Andrea Tran, Allayah's mother said her daughter's bone marrow is working at a 5 percent cellularity, unlike the 100 percent which is considered normal. Out of 150,000 blood cells, she has about about 25,000. Allayah has undergone three types of treatments, one which used horse hormones to reverse her immune system from attacking her bone marrow and rabbit hormones another time. Since last year, Allayah has been on an immuno suppressant to have it stop attacking her bone marrow. It has worked to a certain extent, but Allayah is not functioning at a 100 percent. It can't go on forever. Doctors at the University of California, San Francisco said the worse case scenario is that Allayah won't be able to sustain 10 years of this treatment.
Diagnosed with aplastic anemia in March 2014, Allayah was actually admitted to the emergency room the month before. "She was at school, running," Andrea said. "She fell and smacked her forehead into the (concrete). It's a blessing how we caught on. We took her for an urgent visit. She had a swollen bruise on her forehead and we wanted to make sure there was no internal bleeding." The doctor found it unusual that Allayah had bruising on her back, having fallen forward. "So (the doctor said,) 'let's give her a blood test. She might be a little bit anemic.' Out of 150,000 blood cells, she only had 6,000 at the time," she said.
Asked how the anemia has affected Allayah's daily life, Andrea said her daughter is tired more often now, but if you see her, she's very happy. "She has a very good lively spirit, but because of the last treatment she was on, they put her on steroids. So her face has gotten bigger, swollen and her forehead has acne. It's just affected her confidence and she wears a mask to not get sick from someone else. But, she's still smiley. When she smiles, her eyes get small. She's so sweet. She doesn't feel sick. I don't think she knows the extent to the issue."
The support from Allayah's school and the community, has far exceeded the family's expectations. Allayah's teacher, Miss Jones, had the students make cards. Parents have made Allayah gifts. They even received a card with $50 inside. "Even with contacting Blood Source (for the bone marrow blood drive), (the Matsuyama community) is very in-tune. They made fliers with the latest picture I sent. And they put them up all over the school. They have been a great support."
Just since the Go Fund Me page went live on April 16, Andrea said they've gotten donations totaling more than $11,000. Everyone is being really supportive. A guy and girl donated 500 bucks each that we don't even know."
Andrea, a Medi-Cal/CalFresh Eligibility Specialist work for Sacramento County, said she will need to take leave for at least three months when Allayah is admitted to the hospital for chemotherapy, a process used in this case to kill the immune system. "It's her immune system that's basically defective," Andrea said. "It's been hard year. You just get used to it and we try to live in the moment. We don't know what's in the future."