Sausage city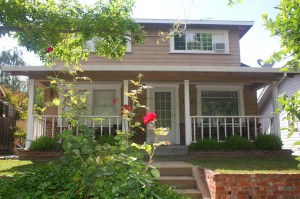 Made-Rite Sausage Co. had East Sac connections
Editor's Note: This is the third article in a three-part series about sausage factories that operated in Sacramento.
As a sausage city, Sacramento was once home to several sausage making plants, two of which were Clauss & Kraus and the Pureta Sausage Co., which were featured in previous articles of this series. And also part of the city's sausage making legacy was the Made-Rite Sausage Co.
Made-Rite, which specialized in sausages, hot dogs, luncheon meats, hams and bacon, was established at 3351-3361 2nd Ave. in Oak Park with five employees and one service truck in June 1930. The plant's address was generally referred to as 3353 2nd Ave. during its long history.
The business's original proprietors were East Sacramento residents, Frederick W. "Fred" Becker, of 1512 34th St.; Joseph Reichmuth, of 3424 I St.; John F. Tucher, of 2711 M St. (now Capitol Avenue); and Joseph Dillier, of 1107 56th St.
Later owners of the business included East Sacramento resident Fred Kaelin, Land Park residents Thores G. Johnson and Clarence W. Curnow, and Tahoe Park resident Frank Halter.
Made-Rite was not the first meat vending establishment to operate at that 2nd Avenue location, as the site was previously home to the Oak Park (meat) Market, which was owned for several years by an experienced meat cutter named George F. Gillespie.
Originally, Made-Rite had 2,500 square feet of floor space, but the plant eventually grew to occupy 52,000 square feet of floor space.
In featuring its popular sausages, in 1942, Made-Rite had an advertisement, which reads: "Ask for Made-Rite pork sausage. Tomorrow, serve this sausage delicacy…made with fresh pork…spliced just right for tangy flavor! At your dealers – Made-Rite Sausage Company – Sacramento."
Another one of Made-Rite's sausages was its liver sausage, which was advertised as a more economical product with "real eating enjoyment."
Made-Rite, in 1943, recommended the following: "For a delightful picnic-supper treat, try grilled liver sausage burgers. Just brown slices of liver sausage slowly in butter and serve between toasted halves of buns. Add onion, pickle relish or chili sauce, as desired."
In a very Sacramento move, considering that the city's official flower is the camellia, Made-Rite offered its Camellia brand products.
A 1950s Made-Rite advertisement includes the following words: "Fresh smoked for flavor! Look for the wrapper with the Camellia on it – the wrapper which retains the full, mellow, hickory-smoked flavors, and keeps ham in 'just right' condition 'til ready for your oven. Be sure – get Camellia brand at your favorite market."
For many years, this local sausage company used the slogan, "It tastes right, because it's Made-Rite!"
Part of Made-Rite's history was its bowling and softball league teams.
The Made-Rite softball team competed in the same division with the Clauss & Kraus team. Sacramento's Tastee Sausage Co. also had a softball team in a different division.
By the mid-1950s, Made-Rite had more than 200 employees, 48 delivery trucks and was distributing its products in 45 of the state's 58 counties.
A 1955 Made-Rite advertisement notes: "In 1930, only 8 prepared meat items were offered. Today, more than 100 items are distributed to more than 6,500 retail markets. Camellia brand products range from franks and sausage links through prepackaged 'specialty' items like garlic sausage and braunschweiger to smoked meat products such as hams and slab bacon. More than 20 varieties of luncheon loaves are produced in Made Rite's spotless kitchen."
And in describing Made-Rite's approach to meat processing, the same advertisement reads: "Starting with choicest cuts of beef, pork and veal, they are prepared with loving care – often to jealously guarded recipes – by men who bring to their craft an Old World skill and perfectionism."
Among the many people who worked for Made-Rite at various times during its history were Bert Ames (1919-2006), a meat cutter and graduate of Sacramento High School; Walter G. Reynolds (1917-1999), a Sacramento High graduate, who also worked for Clauss & Kraus; William Earl Dawson (1916-2006) and Ken Bakkie.
In 1959, the following Made-Rite employees each received a 10-year of service award: Harvey M. Barthel, Carl Bleuel, John Campanell, Mearl Cox, Betty Giles, Orville Giles, Walter Lautt, Irma Michael, Milton Rose, Marjorie Scott, Rynald Spitzer, Lola Viegas and Gene Whitsett.
Barthel (1926-1996), who began working night shifts at the plant, eventually became the company's president.
At a separate time, Clarence W. Curnow, Jr. served as Made-Rite's president.
The 1976 city directory recognizes Thores K. Johnson as the business's CEO.
On Aug. 24, 1984, the then-54-year-old Made-Rite closed, and filed for Chapter 11 bankruptcy protection from its creditors five days later. And with the plant's closure, 204 people lost their jobs.
At the time of its bankruptcy filing, Made-Rite had a $3.5 million deficit in debts, and had assets totaling $2.8 million.
Made-Rite received new life later that year when Stockton residents Joseph L. and Norma Kaeslin purchased the business's assets and Made-Rite name for $1.2 million. That sale was approved by U.S. Bankruptcy Judge Robert Woodward on Oct. 17, 1984.
Additionally, the Kaeslins leased the building from the Sacramento-based Sutter Developers.
The plant never again achieved the level of success that it had experienced in its heyday.
Due to declining sales, on July 18, 1986, Made-Rite ceased operations, and announced that it would remain closed indefinitely while seeking a plan to obtain financial stability.
But less than a month later, Made-Rite was permanently closed.
In explaining the company's decision to not reopen its doors for business, The Bee, in its Aug. 12, 1986 edition, noted that Made-Rite had gone out of business "after failing to produce a recovery plan to keep creditors at bay."
The closure was especially significant, as Made-Rite was the city's last meat processing company.
Less than a month after the final closure of the business, a five-alarm fire occurred at the old Made-Rite plant.
The Sept. 8, 1986 fire, which occurred in a second story office and storage area, was determined by the Sacramento Fire Department to be "suspicious" in nature, according to an article in the Sept. 10, 1986 edition of The Bee.