Art in the Park: A new biweekly FREE program this summer may be coming to William Land and McClatchy parks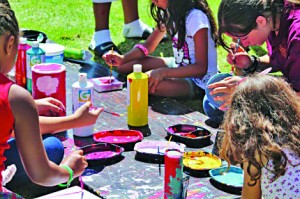 In almost all the great cities in our country the summer youth programs are set and ready to go. Youth programs are the key to growth and enrichment in our children's lives. The summer experiences that are created with art and social interaction become memories and experiences that positively impact their decision process as young adults.
This is simple, there are no free programs that are accessible to our youth given by experienced, community based artist that are willing to dedicate the time, knowledge and love that it takes to commit until now! There will be no red tape, no applications, no special privilege, no pre-requisite – just the need to want to be a part of something pretty darn cool and of course the need to paint and get a little messy. Let's not forget, meeting some pretty cool peeps too!
The concept is simple pick up your free supplies early in the morning at the designated parks, create in the park, turn your brushes and paint back into the ATP booth and then fill out a kudos ticket and have a great day!
At the end of the season, there will be a huge art show at all the parks! Kids will be coached on how to price and sell their art, and waahhhlllllaaaa! Now they have college money or candy money. Hey, organizers will let the parents decide that one! They do, however, need YOU the people to help raise the funds for supplies for this 2016 summer "Art in the Park" kickoff.
Your contributions will go towards all art supplies, permits, insurances and art show to ensure that the youth in Sacramento have a great summer. ART in The Park will begin on July 25 and every other Saturday after that until Saturday, Sept. 12, which will be the art in the park art show! Art in the Park will be at the following park locations: William Land Park (our core park) and McClatchy Park.
We are who we have been waiting for. We as the citizens of this fine Sacramento city have the ability to produce, form and create the socially conscience and cultural events and programs for our communities youth to thrive in! If we wait for government agencies to do this programing, we run the chance of some of our beautiful children missing out due to years of waiting for funding! We are Art in the Park rocks the world, and we as community artists have decided to take over the parks in the summer session to rally for art in the parks for our youth and any age that would like to learn or how to be creative with acrylics and paintbrushes. And guess what, it's all free. We have designed a great summer session of creative expression and what we need from you the community is to rally behind us in donations, attendance, volunteering and spreading the word!
Without our donations we will not be able to pull off a free day of activities! Remember all donations will go towards permits, insurance, all art supplies, t-shirts, media and marketing (websites and social media)! Let's make this a great summer for the next generation of creative leaders! Donate, support and volunteer today! Thank you in advance.
Art in the Park can be found on Twitter and Facebook. To donate, visit https://rally.org/f/3eY8hW8lfQh
Cleo Cartel is a local artist, activist, master builder and stylist. She is organizing these events.