Top rated radio personality, a Land Park resident, reminisces on his lengthy career and his famous Cafe Rock
"I told the guy in Wisconsin I gotta get out of here. Help me. How about anything on the West Coast? Anything."
Nineteen-eighty was the year and that's when radio personality Bob Keller packed his bags and landed a gig on-air at the legendary free-form Sacramento radio station, KZAP.
From Key West, to Madison, to Sacramento – most of Bob's radio success has been here in Sacramento. First in the 1980s at KZAP, then a morning stint at KQPT The Point, and now at The Eagle where he's done middays for over 20 years.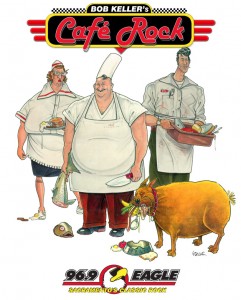 Bob resides in Land Park with his wife Shelly and his faithful dog Maggie.
He's lived in the Land Park neighborhood for more than 30 years. You may see Bob swimming laps at the YMCA, jamming on his fiddle at Old Ironsides with his jam band, or playing golf in William Land Park.
"I'm all about three things," Bob said. "Doing the best radio I can at this price range. I'm about golfing. And I'm about fiddling. Those are the three things that interest me."
Bob also loves his home and neighborhood.
"It's a great neighborhood it's a real neighborhood. People walk around it. You see the eyes of pedestrians walking by my house on the sidewalk and they say 'hello.' There's a lot of people walking their dogs, that's cool.
"Plus you live in Land Park, I mean, three blocks away is the best park in town," he said.
Bob might just be the best radio deejay in town. You can hear Bob Keller Monday through Friday from 10 a.m. to 2 p.m. on 96.9, The Eagle. He hosts the Café Rock at noon. Before there was a Hard Rock Café, there was Bob Keller's Café Rock.
The Café Rock is theater-of-the-mind radio with kooky characters like Chef Ptomaine, waitress Betty Varicose, busboy Sal Monella, as well as wacky sound effects with Bob Keller smack dab in the middle of it all, like an orchestra conductor. It's like Bob is broadcasting live from a local Sacramento greasy spoon, but he's really just in the Eagle studio on Madison Avenue.
I met with Bob at New Helvetia on Broadway. He came wheeling up on an old vintage bicycle wearing a WIND youth services sweatshirt and beige cords. Bob is definitely not pretentious. If he showed up in bike regalia from REI, I would have been disappointed.
We ordered a couple of pints and sat down at a table next to the big window that looks out onto Broadway. I asked the very stereotypical question: "What's the typical workday for you?"
"The workday for me, Greg, and this is one of the reasons I'm still doing it, is because I've streamlined my job to absolutely only what I need to do and what I need to do is be on the air. That's all I need to do."
He went on to say, err tout, "I'm a specialist. I get ratings. That's what I do."
This is classic Bob Keller. It's why he has lasted so long on the air.
Also, Bob has good reason to be confidant. He recently snagged a 16 share! That's Nielsen ratings gold.
It's easy to see why Bob gets the good ratings.
Coming out of Kiss's "Rock and Roll All Nite," Bob opens the mic and wisecracks, "As long as I get a nap in, I'm good to go."
Bob's witty, off-the-cuff remarks about the music is what makes him and the Café Rock unique.
Bob told me his best two years in radio broadcasting were at The Point with Ken Shuper. Bob was the morning host and Ken Shuper was the newsman/sidekick. KQPT The Point was a little upstart station back in the early 90s in Sacramento.
"It was completely new, Ken was a great sidekick, and I could play a vast variety of music. Bands you couldn't hear anywhere else. That was fun, I could do anything and say anything and I had a great following of people. The people who followed the program were hip."
I spoke to his old radio sidekick and Land Park golf buddy Ken Shuper and he told me "those were the days" at The Point.
Ken had been doing news in the morning for two or three years and the station had "gone through a couple morning guys" and they told him "We're bringing in Keller."
They hit it off right away.
The first day he was on the air at The Point, Bob did a live remote broadcast from Tower Café with special guest comedian, Jack Gallagher. "Another Land Park denizen," Ken said. Ken was back at the studio doing the news and he could tell right away, even on that first day, that he and Bob had chemistry. Ken said, "Even without seeing each other or having met we just hit it off." And I thought, "This is gonna work."
Ken added, "Bob came in the next week and we just rolled…it was a lot of fun.
"We would do this thing where every Friday morning 'The Fish Patrol' would go out to a local coffee shop and broadcast live. They'd set up and people would come up and sit, talk and just hang out."
If you wonder why Bob Keller gets the ratings and why people love his show, the suits don't mess with him.
"Here's the strange thing about radio to me," Bob said. "I have pretty much done the same thing all the time I've been in radio. There's not much that's different about my show and my approach. I've never been told what to say or what I can't say in terms of content."
Bob also has insight about radio. "Radio is now a sonic service that you have on in the room. My show is for people at work each day. They're working, the songs are on, and then I come on with my little screwball stuff. It's really not about me, it's really about a music service."
"The difference between me and Jack FM, which doesn't have any real people there, or Pandora, which doesn't have anybody there, is that it's got a live human being at the other end of the line. So, I love having contact with people's voices on the air. There's a connection to the city, you know?"
Just then a young woman named Mallory strolled across the brewery, came up to Bob, and said, "Hey man. Hi. I heard you say Fishhead Friday after I recognized your voice."
"Oh my God, there's no hiding," he said. Bob was being his sarcastic self because he enjoyed the attention from the young redhead. I asked Mallory what she liked about Bob's radio show and she told me, "He makes the music personal and that's why I listen to him everyday."
Bob, who grew up in San Francisco, is a big San Francisco Giants fan. They used to have "Sacramento Day" at Candlestick Park once a year against the Los Angeles Dodgers. The reps from the Giants came to the Eagle radio station and wanted to advertise Sacramento Day. They also asked Bob to throw out the first pitch at the ballgame. What a thrill!
Bob came up with the idea of having Sacramento folks singing the National Anthem. The radio station decided to have auditions. People were sending and calling in their renditions.
Bob only wanted them to sing the really hard part of the national anthem. You know. "ANNND the rockets red glare…"
"Just send that part in. That's all I wanna hear," Bob told his listeners.
He found a state worker with an operatic voice to sing the National Anthem at the game. They were in the Giant's dugout with Will Clark, Kevin Mitchell, Robbie Thompson – all waiting to line up for the National Anthem.
"We all line up for the National Anthem on the field and this woman goes to the mound, 'And from Sacramento please welcome so and so who won a radio station contest to sing the National Anthem.'
"She nails it. The crowd freaked. They were was falling out of the upper level; they were so happy. It was a cool experience."
Bob also threw out the first pitch to Gary Carter. "I threw a strike," he said. Bob asked Gary if it was a strike and he said, "Yeah. It was a 26 mph strike."
It was Bob's change-up.
Bob also told me a story about golfing with Alice Cooper in Granite Bay. Once they finished golfing, Bob drove him back to the Clarion from the golf course. Alice had a gig that night at the Memorial Auditorium. On the drive home, they played trivia, "Alice, remember the name of the band that 'blah blah blah' … Oh yeah. I met those guys. Remember this, remember that?"
They got along famously. "Alice is a great conversationalist," Bob said.
Bob told me he has three or four moments that will absolutely be with him for the rest of his life. One was throwing out the opening pitch of the Giant's game. Another was hosting the Jerry Garcia memorial at Capitol Park on the day of his death. Also, when he broadcasted live from San Francisco for the Bill Graham Memorial in Golden Gate Park.
Another big moment for Bob was broadcasting live from the Grammy's in New York City all week long. Five days of broadcasting. "I interviewed so many people that week. It was amazing."
Bob thinks the time that may have capped it all was in Copenhagen at an outdoor barbecue that Budweiser had sponsored. The Rolling Stones showed up in two beat up white Volkswagon vans.
Bob said, "A guy announced the Stones are here and would like to meet you guys. No pictures. They'll be here for 10 minutes then they have to get ready for the show."
Barbecue, beer and the Rolling Stones under a tent with Bob. Bob told me Keith Richards comes up to him and asks, "So when did you guys get in town or something to that effect."
Bob, who's interviewed plenty of famous musicians, was star struck. "My tongue got caught in my throat. I couldn't talk. And after I choked for about two minutes, Keith finally just said, 'What the F is wrong with you, mate?' And walked away. That wasn't right. He didn't have to hurt me like that."
Bob was almost physically hurt when Jimmy Buffet came to town. Bob knew Jimmy from his Key West, Florida radio days back when Jimmy was just starting out. But once Jimmy Buffet became big, he had bodyguards. Backstage at the Jimmy Buffet concert at the old Cal Expo Amphitheater Bob was walking up to Jimmy to say "hello," and as soon as he got about 10 feet away, one of Buffet's body guards puts Bob in a choke-hold and dragged him off before Jimmy could even see him.
Bob's got a lot of good stories. Some can't be printed, though.
If you'd like to hear more of Bob's stories they can be found from 10 a.m. to 2 p.m. on 96.9, The Eagle.