International Kids Festival brought 15,000 people to William Land Park for free festivities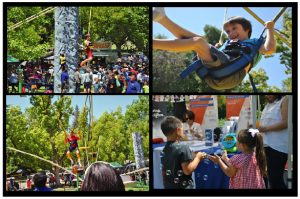 About15,000 people enjoyed the 11th annual International Kids Festival on Saturday, May 23 in William Land Park. Not only did the festival have almost 100 business vendors, it also included major attractions like pony rides, rock climbing walls, bungee jumping, jumbo inflatables, and miniature train rides combined with professional stage performance of different cultures such as Hawaiian, Polynesian and Mexican. The event had almost 600 volunteers including the children who performed on stage.
For what started as a family picnic with only 200 people 11 years ago, it over the years it became more successful and more people started attending. "We believe the international part contributes to the growth of the festival," stated Margret Okunev, one of the festival's coordinators and director of operations for Russian American Media, the event's primary sponsor. Margret helped checked in business vendors, volunteers and the stage performers.
Margret said the goal of the event is to promote diversity and to show children the different cultures beyond what they are used to seeing at home. "We want to teach them that we have to embrace our heritage and be acceptable of other cultures. We truly believe that children should value their own heritage, that way they can appreciate and accept other people and their different heritages – This way we can have a brighter future!"
Russian America Media started 17 years as a newspaper and has grown to a full spectrum media company. "Not only do we have printed publications but we also want to engage the community by partnering up with local non profits in our area to be able to put on these community events, Margret said.
The date for next year's event is being advertised for Saturday, May 28, 2016.