Matias Bombal's Hollywood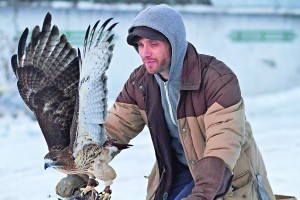 ALOFT The MPAA has rated this R
Sony Pictures Classics brings us some very talented actors in an allegorically told existential tale "Aloft". In it, we delve into the emotional separation of a mother and son played by Jennifer Connelly and Cillian Murphy. The story is told in two storylines, past and present, and centers around a central childhood tragedy. Set in a frigid, grey and bleak iced over world in the great north, Cillian Murphy's mother has followed a healer known as "the architect" played William Shimell who indicates to her that she too has a gift as a healer. Her son has just lost a Falcon that he was nurturing, in later life, and as we see in the modern section of the movie, he will become devoted to falconry. Yet as an adult, he is betrayed by her mother's abandonment of he and his brother in favor of the "Architect". He is bitter and resentful.
The movie also features the pretty blond actress Mélanie Laurent, as well as Oona Chaplin, who recently did a nice turn in the romantic "The Longest Ride" the latest screen adaptation of a Nicholas Sparks book.
This picture is directed by a talented and intellectual movie maker from Peru, Claudia Llossa. This is her third feature, and first in English. I found this to be a movie that would appeal to other actors, for it offers a great study in the craft of acting. However, with all of its sophistication and mood, it will fail to please the moviegoer out to be entertained for a night at the movies. This is because the past and present are not clearly defined, and you are not sure of what you are looking at or when it occurs in the narrative. It is a very difficult movie to watch. The narrative itself is not linear, so only at the end of 112 minutes of running time do you find out how things tie together, but before then you are left wondering what is going on. So you are left with a desire to leave, but intrigued by fine performances by capable actors.
This movie was a frustrating experience for me at best. I may only view movies with the collective amalgam of my own experience- just as each of us. I try to open my mind for other possibilities and viewpoints, yet watching this to the very end was unsatisfactory for me; I longed for some element in the story to grab on to, rather than the feeling of wandering around in a dream. In a recent interview, the director was quoted as saying she did not want it to be so clear. She is successful in her goal. It is as if you walked into a room where you knew no one and tried to figure out what they were all talking about. You long for a familiar face… anything, and no luck. So this picture is for the intrepid moviegoer only, where a non-traditional way of seeing a story told for the screen might be an attractive aspect. For me it was not. This is by no means a bad move, nor is it poorly made. It is non-traditional, a case of art cinema, which like performance art without a narrative, may seem a jumble to many.