Heating up the boulevard: The Sacramento Taco Festival celebrated Mexican culture and paid tribute to the delicious taco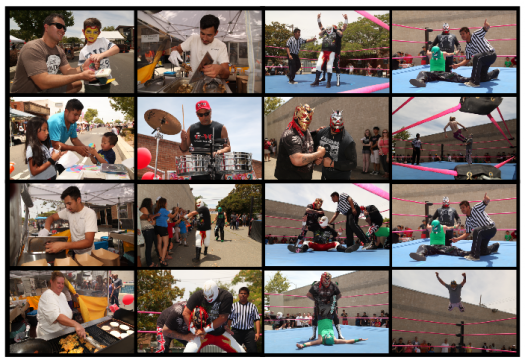 The Sacramento Taco Festival brought added heat to Del Paso Boulevard on the 99-degree Saturday, June 20. Featuring Lucha Libre wrestlers, Chihuahuas and tacos, the event was expected to drawetween 2,000 to 3,000 people to the daylong festival.
Held on Del Paso Boulevard between El Camino Avenue and Arden Way, The Sacramento Taco Festival was cohosted by SacramentoVice Mayor Allen Warren and SacLatino Magazine. Two years ago when the festival was first held, organizers primarily attracted the crowd of about 1,000 taco lovers through social media marketing. Then, the winning taco was from El Michoacano (Franklin Boulevard) and the winner of the taco eating contest was a 5-foot, 20-year-old woman from Sacramento, who beat out a couple of very large guys. "She won $75! She was very happy and made the event that much more fun. If we work things out as planned, we will be making this into an annual event," says Adrian Perez, event coordinator.
The tacos are made by the different taco makers at the event. Since the average person eats three tacos, several thousand tacos are made and consumed. From vegetarian, chicken, carnitas, adobada, and asada tacos to the more tacos, for those with iron stomachs, the taco festival also included tacos made from stomach, intestines and head.
The wrestlers are professional and can be seen on a variety of levels from World Wrestling Entertainment, Inc. to local wrestling events. From Los Angeles, the wrestlers specialize in Mexican wrestling, which includes masks and a lot of high flying maneuvers.
The idea of doing a Taco Festival came from the owner of a local taqueria, Taqueria Jalisco, on 16th Street.
Providing further background organizer Adrian Perez explained that Daniel, the owner of Taqueria Jalisco told him about National Taco Day. "So I looked it up and found that it's unofficial, but October 4th is known as National Taco Day. Knowing the fresh tacos a very nutritional, we talked about doing a festival. I discovered that several cities celebrate the taco, but at different times during the year…Chicago, Dallas, Phoenix, and now, San Jose. Knowing Sacramento is different than those cities, we decided to make ours into a street festival featuring a mascot that is native to Mexico, the chihuahua. We also wanted a fun look, so we opted to do a 60s throwback. As a result, we have a real 'hippie' poster with promotions using tie-dyed shirts."
Perez said he was originally going to hold this event in a park, but after a good discussion with Vice Mayor Warren, he agreed that Del Paso Boulevard has the look of a community lost in the 60s and some great businesses, existing and coming in. "Moreover, the layout makes it ideal for a real street festival. So, here we are. And, the surrounding community loves it," he adds.
Because there was so much excitement leading up to this event, Perez didn't do any press releases until the day before because the media was already contacting the organizers even two weeks before that. "We also had two other large events contact us to see if we could cross promote. We tied in with the Hello Kitty Festival at Sleep Train Arena, and a scholarship beauty contest being sponsored by D'Primera Mano Magazine. But, overall, Sacramento has never seen anything like this and we are the first to hold an event celebrating tacos in Northern California," Perez said.