Over The Fence with Greg Brown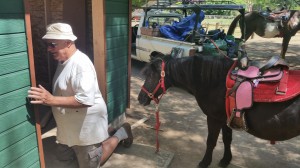 Forrest works on the shed, as a pony looks on. / Photos by Greg Brown
There are always interesting things happening in William Land Park. If you look around, you'll observe people doing stuff. I noticed a couple of guys with hammers and saws doing stuff over by the pony rides. They were building a brand new storage shed at the Land Park Ranch.
The pony lady was thrilled! The ponies even seemed to notice.
Who are those guys? Those guys are Forrest Neff and John Salido who are part of the Land Park Volunteer Corp. The LPVC! You'll actually see their good deeds all over William Land Park. Just look for the LPVC signature. It's carved all over the park. "We like to put our signature on things," Forest said.
The idea for the new pony shed got started when Forrest was taking one of his many walks through the park. "I walk the park a lot and I noticed their cashier stand was a total wreck. I thought I'd fix it up and build them a new one." Then, Forrest noticed the dilapidated storage shed in the pony ride area.
The old storage shed was dilapidated, small and housed lots of black widows.
"I got a hold of the park guy and I told him if you buy the materials for the shack we'll build it." The park guy agreed and the city of Sacramento "ponied up the dough" for the shed rebuild.
All they had to do was push the little shack down because it was totally rotted out. His partner on the project, John Salcido, piped up, "The thing was held together with spider webs and rusty nails."
Forrest and John pose for the paparazzi in front of the new Land Park Ranch shed.
The shed looks really nice and sturdy. It's dugout green and has a sloped roof with a gutter in the back for when it rains. The new Land Park Ranch pony shed even has a skylight.
I told Forrest it looked really nice.
"You like it huh? Well, we do things right," he said. Forrest is no nonsense.
The volunteers worked diligently on the new storage shed, although the pony lady told me they "like to take a long lunch" over at Mulligan's Café at William Land Park Golf Course.
Forrest sheepishly told me, "John said I gotta have a plan to see what you're building. I told him, John I don't have a plan." Then he went home and drew a picture of a two-seater outhouse.
It's a darn nice outhouse.
Forrest is an electrical contractor by trade. He didn't need to Google "How to build a shed." He just "learned by watching" over all these years. He told me, "anybody could do it."
I'd like to have one of those storage sheds in my backyard. I got some bikes and lawn equipment taking up a lot of space in my garage.
The pony rides need reliable storage. They have to have somewhere to store the horsefly spray, Hooflex, and of course the tasty horse cookies.
The LPVC has done quite a few things Forrest and the crew are proud of. They put barbecue pits all over the park. They installed stone benches over by Swanson's Pond, as well as the pergola over by the WPA Rock Garden. Just look for their autograph!
Over the saws and drills Forrest and John were listening to the soothing sounds of classical music. "It soothes our souls as we work," Forrest said. The ponies didn't seem to mind.
Chalk Talk In Land Park
Lets talk chalk. Chalktalk 916 is a new phenomenon sweeping Wentworth Avenue in Land Park. It even has its own hashtag. #Chalktalk916
What is Chalktalk?
Chalktalk is a daily message billboard for the neighborhood. Local talk with chalk. It covers pop culture, sports, inspirational messages, goofy sayings, holidays, music lyrics, topical stuff, the works!
The chalkboard greets you in front of the home of Rory Tira. She's in charge of the chalkboard. The board sits on a chair next to a tomato plant, a white picket fence and a brick walkway that leads to the front door of the home. There's even a cowbell to clang! This time of year there are American flags surrounding the chalkboard. It's a free speech Americana thing.
Rory likes to keep the messages short and simple. Rory said, "The best messages are short and tight."
Some messages give sage advice, "Never leave your wingman." Another stated, "Time Cools All Jets." Others are somber, "Oh Charleston, Oh America." Quite a few are celebratory. "CKM Ladies all the way!"
On the day I dropped by Chalktalk it was all about USA Women's soccer. "USA 4pm vs DEU #BELIEVE"
Chalktalk doesn't delve into the "controversy of the week." Chalktalk did, however, celebrate the recent Supreme Court decision over gay marriage. And why not? The deciding vote and majority decision was written by C.K. McClatchy grad Justice Anthony Kennedy. Chalktalk read,
"SCOTUS
Justice Kennedy
McClatchy '54
Go Lions"
The idea for Chalktalk was born at Track 7 Brewery, where a lot of good ideas spring to life. Last spring, Rory and a couple friends of hers came up with the idea. It's been gaining momentum ever since.
And people are noticing.
Chalktalk has become a celebrity of sorts. Local residents are slowly driving by to read what the daily message is. Others have had their picture taken with the chalkboard.
Chalktalk recently celebrated its one year birthday. There have been three incarnations of the chalkboard. A friend of Rory's actually made her a new big yellow board as a gift.
Another gift the chalkboard received was on Christmas Eve. A box of new chalk. I guess Santa likes Chalktalk.
Rory told me Chalktalk has three types of followers. Drive-by readers, walkers, and online followers as well. Rory said, "We have fans from London to Israel." Chalktalk is International!
One woman told Rory that she "used to drive a different way to school and one day she went down Wentworth." Now she always drives down Wentworth past the chalkboard to see what the message will be.
Chalktalk has stalkers!
And with good reason. Chalktalk has a feel-good vibe to it. Fun, lyrical quotes regularly pop up on the chalkboard. Beach Boys, Journey, and Bruce Springsteen are just some of the musical artists whose songs are quoted on the board.
Rory told me most of the ideas for Chalktalk pop into her head while driving around town. She jots the ideas down while driving. People also send her suggestions. She even takes requests!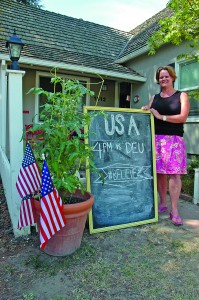 Rory Tira of Land Park poses in front of the chalkboard with a daily message. It's Chalktalk on Wentworth. / Photos by Greg Brown
So next time you're driving down Wentworth, slow down, look around and maybe you'll stumble upon ChalkTalk916 in Land Park. It's also on Instagram #Chalktalk916.
It's the chalk talk of the town.
Got an item for Over The Fence? Greg@valcomnews.com