Not for the faint at heart: The Alternative Arts Collective presents gripping production of Macbeth at the Chautauqua Playhouse
When the Uptown Sacramento-based The Alternative Arts Collective suffered a fire last year in the middle of its run of "Angels in America," cast and crew scrambled to honor the thespian credo of "the show must go on."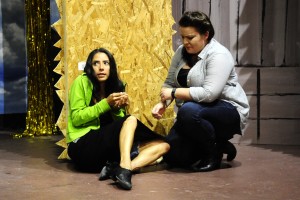 "We ended up finishing the production of 'Angels' (using the workshop as a make-shift dressing room) and then moved out of our Blue Box theater space," said TAAC Artistic Director David Blue Garrison. "We've been homeless ever since."

Far from down and out, Garrison and company have launched a project called "Midtown Blue." 

"It's a web series on YouTube," said Garrison. "It's been an awesome experience. We also did a fundraising production of 'A Midsummer Night's Dream' for three nights that was an enormous success. That production was hosted at the ArtSpace 1616, and in September we'll be doing 'Steel Magnolias' at BlackTop Comedy for two weekends – all in an effort to get us closer to getting a new/permanent home." 

At the moment, however, Garrison is readying its production of William Shakespeare's "Macbeth," which is set to open "on the road" at Carmichael's Chautauqua Playhouse July 31 and run through Aug. 15.

"I've know Rodger Hoopman for a while," said Garrison, "having worked with him on a few projects.  Over the last few years, he's invited TAAC to come to Chautauqua to do something and we've never been able to make it work.

"TAAC loves to perhaps spread itself a bit thin, but this time it worked out and he wanted to give us an opportunity to produce something large on a proper stage and here we are. I will admit however that 'Macbeth' was not my first choice, even though I've directed 'Hamlet,' 'Tempest' and 'Lear.' 'Macbeth' was the obvious next choice, I was actually preparing to mount 'The Visit.'"

Calling the Broadway hit one of his "all-time favorite shows," Garrison's desire to mount the show locally was impossible due to its Broadway run.

"They froze the royalties for the script. And in a mad scramble, I relented and allowed myself to do 'Macbeth.'" 

In true TAAC fashion, Garrison wasn't aiming for a commonplace or traditional take on the Bard's classic – not that inspiration was dripping from his pores.

"This was the first time I went into an audition for a Shakespeare adaptation that I had no real concept for," admitted Garrison. "I mean, I knew the show very well, and knew that in some way I could make a commentary on current politics, a militant country, etc. But I let the actors who auditioned inform what I ultimately did with the show.

"And through development, even after casting the show has evolved and morphed into what it is now and I'm very proud of it. Right now, we are about two-and-a-half weeks out from opening, so naturally we still have a lot of work to do. There are many sound cues in the show, lighting, set stuff and polishing up the staging, but I can see between the cracks, it's a strong show.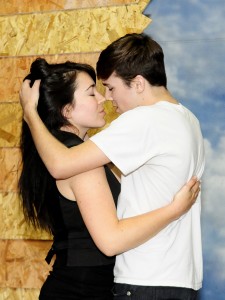 "

Though Garrison is sticking closely to the original text, his ultimate aim is to provide an accessible, entertaining and interesting evening (or afternoon) of theater that will surprise and delight.

"This production is the most different from other versions of the show in that the cut has been extreme. I never hesitate to change a line or switch a scene when adapting Shakespeare. Beside being public domain, he and I also share a birthday, so I feel it's my divine right to meddle with the text," laughed Garrison. "In this production of 'Macbeth' the largest difference is that Lady Macbeth not only lives past her famous 'Out damn spot' scene, she is also the major mastermind in all the plotting. A large majority of Macbeth's lines have been given to Lady Macbeth. Thus she is the neck turning the head that wears the crown, whichever way she pleases. Ashley Eigenman, who plays Macbeth in my production, is almost a victim of Lady Macbeth. Another layer that has been added is that Kyle Burrow, a 20-year-old actor is playing Lady Macbeth in a pseudo-David Bowie, androgynous performance. He spends the majority of the production in heels, not as a woman, nor a drag queen by any means, but simply a man who prefers to look and dress like a woman. It's been great fun to develop."

"Another thing exciting about this production are the three witches. All three played by one actor, Aviv Hannan. And she's stunning. I don't really want to reveal quite yet how she does it. But it's fantastic."

"The audience can expect from this production, a lot of blood and guts, some sensual content, but also a gripping production where the actors are perfectly serving up a story. Not for the faint of heart, but Bard buffs and those who usually avoid Shakespeare are likely to have a great time. "